October 11, 2011 -
Barry Dorey
Week 5 rookie report card
I was able to view a number of games this past weekend, so with that in mind there will again be two editions of the rookie report. The first game up will be Philadelphia at Buffalo. The Bills are among the surprise teams in the league in this early season with a 4-1 record. Included in the victory column is a win over the Patriots, a team the Bills weren't able to beat for almost eight years. Sunday's win over Philadelphia was brought about by the Bills intercepting Michael Vick four times. This makes it two out of the last three games where the Bills have intercepted a Pro Bowl quarterback four times in one game. The Bills started two rookies in this game as did the Eagles. For today's edition we will talk about those players. Later in the week, we will look at the rookie quarterback matchup of Blaine Gabbert against Andy Dalton as well as some of the rookies in the New England-New York Jets game.
Chris Hairston – Buffalo
Hairston, the Bills' second 4th round pick this year, got the start at left tackle because of an injury to Demetrius Bell. The Bills line had played very well going into the Philly game giving up only two sacks in four games. With a rookie left tackle you might have thought that the line would have lost some of that production but it didn't. The Bills were able to put up 331 yards of offense and they gave up only one sack. The sack wasn't Hairston's fault.
Hairston has great size at 6-6 and 326 pounds and very good strength (33 reps at the Combine). He is a good but not great athlete and can play a bit tall, but he overcomes his shortcomings with aggressive play and natural power. In the run game he was able to get off the ball quickly and at times get movement. I seldom saw him stalemated. His angle blocking was excellent. He showed some inconsistency getting out to linebackers. While he had some good blocks he also missed some because either he took a poor angle or wasn't quick enough. One good thing I saw was that when he went to his block, he consistently looked to finish. In pass protection, he did a fairly good job. He can set quickly, slide and recover. With his longs arms he showed a good punch and is able to get separation from his opponent. While he isn't a top knee bender, he has natural strength and power to anchor. On the negative side he gave up a pressure and hit on the quarterback but his overall play was solid. Going forward, I feel he is best suited to play on the right side but by being the third tackle on Buffalo's line he has to be ready to play both sides. He gets a well-earned B.
Marcell Dareus – Buffalo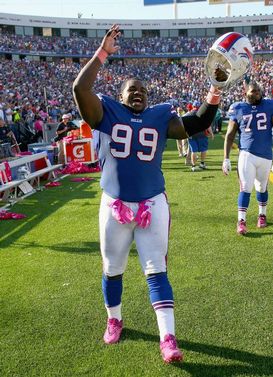 Marcell Dareus is making his mark in Buffalo.
I have written about Dareus before in this column and his play hasn't changed. He is very consistent versus both the run and the pass. He has great size and strength and does an excellent job holding the point and keeping blockers off linebackers. While he didn't have many tackles, except for one play, he played his assignments well. On the one play he charged hard to the inside, didn't hold containment and let the running back get outside of him for a long gain. As a pass rusher, he didn't get any sacks, but I had him for two pressures and a hit on the quarterback. I doubt he will ever be a 8-10 sack type of player because that's not his game but if he can consistently get 6 or 7 as well as get a consistent push then he will be considered a top inside player. Dareus earns a solid B for this game.
Danny Watkins – Philadelphia
Watkins was the Eagles' first-round pick and Sunday's game was the first start of his career. Like you would expect in a first start he had some inconsistency, but his overall play was good. Watkins is a strong competitive kid who plays hard every play. In the run game he gets off the ball quickly and there were plays when he was able to get some movement. On a 10-yard touchdown run by LeSean McCoy he had a great backside block. On most run blocks he shows good leg drive and sustain ability. Watkins is athletic and takes good angles to the second level. In pass protection, he had some trouble with bull rushes a few times giving up a couple of pressures. He also showed a good punch and was able to mirror his opponent through counter moves. Most of the time his hand use was good but he did get called for an illegal use of hands penalty that nullified a Michael Vick TD. The good news is that Philly was able to overcome the penalty and scored again a few plays later. Overall, this game was a learning experience for Watkins but it will obviously help him going forward and he should turn into a good NFL guard. He earns a B.
Brian Rolle – Philadelphia
Rolle got the start at the WILL outside linebacker position and even though he was often out when Philly went to their nickel package he still came through with 9 tackles including a tackle for a loss. Rolle has many of the tools needed to be a top linebacker. He has speed, quickness outstanding competitiveness and instincts. The one thing he lacks is size. He is 5-9 and 230 pounds. On many plays because of his instincts and competitive nature he overcomes his size but there were a few plays where it did him in. There were a couple stretch plays Buffalo ran where he just couldn't get through the block and once when blitzing he got stopped cold. Still his game was impressive. Because of his quickness and instincts he puts himself in excellent position to make plays. He is strong, explosive and a big hitter. In pass coverage, he has a good drop but he doesn't consistently keep good position. This will improve with experience. Overall, Rolle may lack size, but he is a football player and he comes to play. There have been other short linebackers that have excelled in the league and I wouldn't bet against Rolle because of his outstanding competitive nature. He gets a B+ for his play Sunday.