October 14, 2011 -
Greg Gabriel
Week 5 rookie report card: Jets-Patriots
New England and the Jets were supposed to fight it out for the AFC East this year, but through five games that's not the way it is. New England is tied with Buffalo at 4-1 while the Jets are already two games back with a 2-3 record. Last Sunday, New England beat the Jets 30-21 in a game that was not as close as the score. A number of rookies took part in that game and we will take a look at their play. The one player I wanted to see in the game, Jets rookie nose tackle Kendrick Ellis, did not play.
Muhammad Wilkerson
Wilkerson was a surprise early entry into last year's draft. He was a true 3rd year junior who came out after a strong season at Temple. Watching tape of him in college I saw a very talented but raw player. He has great size to go along with long arms and good speed and quickness. He lines up in a variety of places in the Jets defense, playing both the left and right sides as well as on the nose at times. In college I felt he was getting by on natural talent and was not that technique sound, but he has improved his pad level and hand use dramatically since he has been with the Jets. Still he can occasionally be slow to get off blocks both in the run and pass game.
What Wilkerson does is flash; he can be a non-factor for a series or two and then make some great plays. He finished the game with 4 tackles and no sacks but I had him for two pressures and one hit on the quarterback. He usually gets off the ball quickly and can stay low but will get tall at times. When he keeps his pad level down he can be tough to block because he is so strong and powerful. There were a number of plays where he was disruptive. There was a running play early where he got rid of the blocker very quickly to stop the play for no gain. Right now he is better versus the run than as a pass rusher but he has the athletic tools to be a good rusher. He needs to develop his technique and moves. He utilizes a bull rush more than anything else and doesn't seem to feel comfortable using counter moves. In saying that I will also point out that when he gets off the ball real quickly he gets right by his opponent.
Overall, Wilkerson is still a work in progress with a very high ceiling. There is no telling how good he may become. He earns a B for this game only because there still is some inconsistency in his overall game but I look for some big things from him in the future.
Jeremy Kerley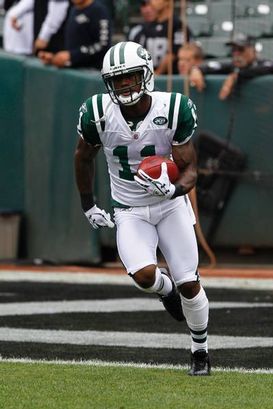 ICONJeremy Kerley is quick with excellent run instincts and sure hands.
Kerley was the Jets 5th round pick out of TCU. He was used as the Jets 4th receiver in this game and also returned punts. He had a productive day versus the Patriots with 3 catches for 35 yards and a touchdown as well as 2 punt returns for 20 yards. Two out of the three catches were big plays, obviously with the one being an 8-yard touchdown on a crossing route. Earlier in the game on a 3rd and 5 he ran a little hitch route for the 4-yard reception, short of the first down -- a typical rookie mistake. He has to know where the first down mark is and run his route deeper than the mark.
Kerley is talented, and while he lacks great size and timed speed, he is very quick and has excellent run instincts to go along with sure hands. As a returner, he adjusts well, makes good decisions and has some elusiveness. I doubt he will ever be a Pro Bowl-type returner but a club can win with him. Overall, this was the first game that he got extended play as a receiver and played well. I see him as a slot receiver in the future who could be fairly productive because of his hands and quickness. He gets a B.
Stevan Ridley
As we get deeper into the season, Ridley continues to get more playing time. Against the Jets, his stats weren't that impressive but he plays hard. He finished with 7 carries for only 13 yards. He also returns kickoffs and had 3 returns for 71 yards. Ridley is quick with good instincts and vision. He can make a cut in the hole and has a burst when he sees some day light. What he doesn't have is top after contact power. On only one of his runs was he able to get good yardage after taking a first hit. He runs low and he just isn't real powerful. He needs space to be effective. As a blocker he is willing and will face up. He wasn't targeted in the passing game.
As a returner, he shows a little more power because once under way and at full steam he shows some explosiveness. He has good run instincts as a returner and consistently finds a seam. He earns a B-.
Nate Solder
This is the second time I have written up Solder and he seems to get better every game. He usually lines up at right tackle, but in this game he also played some tight end and was used on the left side when they went to an unbalanced line. As a college player, I questioned Solder's power and ability to move people in the run game. He has gotten better as a pro. He plays with a low pad level and keeps his feet moving on contact. While he will still get stalemated at times, more often than not he is able to get some movement. He has very good body control and does an excellent job making blocks at the second level and in space. In pass protection, he has good lateral movement, can recover and mirrors well. He plays with good knee bend and anchors well. He usually has good hand use but did have a holding call when he didn't keep his hands inside. Overall, Solder will end up on the left side when Matt Light retires. He has the athleticism to easily play on the left and if he keeps improving he will be a very solid left tackle in the league. He gets a B+.