October 14, 2010 -
Greg Gabriel
Week 5 rookie report card, part 2
Today we will look at the San Diego at Oakland game from Sunday. The Raiders beat the Chargers for the first time in years in a very physical game. San Diego's special teams put them in a hole early by having two punts blocked; the Raiders got a safety out of one and a touchdown out of the other. San Diego also gave up a long kick return in this game.
The Raiders have two rookies starting on defense (Lamarr Houston and Rolando McClain) and another (Jared Veldeer) who gets significant playing time at left tackle on offense. The San Diego rookie who gets the most playing time is running back Ryan Mathews.
Rolando McClain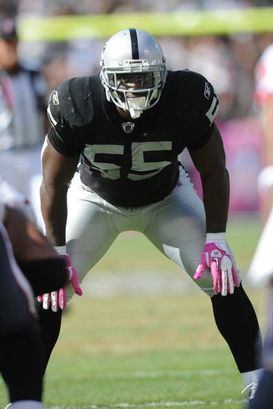 ICONRaiders LB Rolando McClain
McClain, the Raiders first pick, starts at middle linebacker and never comes off the field. He has great size and strength with good athletic ability. He lacks great speed but because of his instincts and quickness he finds the ball and makes plays. He is a quick reactor and is very stout at the point of attack. He is a natural knee bender and can play with leverage. For a rookie he uses his hands really well and does a very good job getting rid of blocks. He fills very quickly and is a tenacious tackler who hits and wraps. I didn't see him miss any in this game. Many rookie linebackers struggle in pass coverage but not McClain. He gets depth in his drops and shows zone awareness and he also does a good job in man coverage. Early in the game, he reacted quickly to a screen pass and was able to stop the play for little or no yardage. He also did a good job picking up a back in the flat. Late in the game he closed very quickly to make the tackle on an under route, again giving up little yardage. I did not see him used as a pass rusher so we can't grade that area. Overall, I like his game; he is an aggressive player and earns an A- for his play.
Lamarr Houston
Houston was a second-round pick for Oakland. The surprising thing is he played tackle at Texas and many thought that would be his position in the pros, but right now he is starting at left defensive end. He only plays in their base defense and comes out in obvious pass situations. He is a little short for a DE but he has long arms. While he has good instincts and finds the ball quickly, he can be a little late getting off the ball. This can cost you at this level because it gives the offensive lineman a chance to get position. Still, he plays hard, is very strong and does a good job holding the point and getting rid of blocks. I like his hustle and determination; he pursues the play really well. He didn't do much in this game as a pass rusher; he was able to get a pressure and was the second man in on a sack but did not get credit for it. With his strength he is able to get a push on his opponent but at this time hasn't mastered the ability to put moves together.
Overall, I still think that he will eventually be an inside player but he holds his own outside. His pass rush skills are more suited for playing inside, he lacks the explosiveness needed to be a good outside pass rusher. He gets a B- for the game. He needs to become a better pass rusher to earn a higher grade.
Jared Veldeer
Veldeer was the Raiders third-round pick out of Division II Hillsdale College. He did not start this game but got significant playing time in the 2nd and 4th quarters at left tackle. Division II offensive linemen don't usually play much as rookies, but this week we were able to grade two (Veldeer and J'Marcus Webb of the Bears). Webb had some pedigree to him having started out at Texas but Veldeer was never a top recruit out of high school. Still, he has developed into a pretty good football player. Many tall guys (Veldeer is 6-8) don't bend well, but that's not the case with Veldeer. He has good feet and balance and plays with good knee bend. He plays from both a two-point and three-point stance and has good snap reaction. When run blocking he gets to his block quickly and shows better than adequate power. He runs his feet well and looks to finish. He usually does a good job getting to the second level but there were a few plays where he took bad angles and missed. In pass protection he can set quickly and really did a good job getting and keeping position on his opponent. He can move his feet, slide, recover and can anchor well. He also showed good awareness in picking up stunts and blitzes.
Overall, this player still has to get a little bigger and stronger and he will once he goes through an NFL offseason program. He has gotten playing time this year at both center and tackle, but tackle is his more natural position. I feel he is going to turn into a fairly good player. He gets a solid B for his performance Sunday.
Ryan Mathews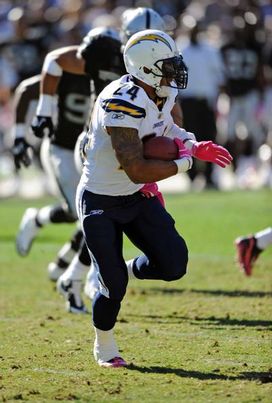 ICONChargers RB Ryan Mathews
Mathews, the Chargers first pick, did not start but was their leading rusher in the game with 59 yards on 9 carries. He was not thrown to during the game. Mathews plays in a rotation with Darren Sproles and Mike Tolbert and seldom is in the game for obvious passing situations. He is a strong runner with speed and power. He runs with real good lean and I didn't see him knocked back once. I like the way he attacks his tacklers, more often than not he delivers a blow. He is a patient runner who does a good job following blocks and then bursting to the open seam. With his speed he gets the corner turned easily. He is quick footed in the open field and can make people miss. In the few plays where he had to pass block he did a good job. He gets good position, delivered a blow and showed he can anchor. I'm sure as the season goes on, Mathews will become more of a bell cow type for the Chargers; he was the most complete back in last April's draft. He easily earns a B+ for this game.
Want to work in the NFL? Click here to register for the NFP's "Chalk Talk" session on October 22nd in Chicago.