October 12, 2010 -
Greg Gabriel
Week 5 rookie report card
Chicago at Carolina
J'Marcus Webb
Webb, the Bears 7th round draft choice, made his first NFL start against the Panthers. He has received playing time in each of the last three games so this wasn't his first regular season action.
Webb is an interesting story. He was a four-star recruit out of high school and originally played at the University of Texas. He played a lot as a true freshman but because of some off field problems he left Texas after his freshman year. He then enrolled at a junior college before ending up at West Texas A&M. He is a very talented but also very raw player. Playing at the Division II level you don't get the technique coaching he would have gotten at Texas. What he has is great natural traits. He is over 6-7, weighs around 330 pounds and has extremely long arms. When you are scouting offensive linemen, tackles in particular, you always want to find guys with long arms. It gives them a leverage advantage.
In this game, he played well. Still, there is much room to improve. He gets off the ball quickly and has good explosion on contact. He does a good job sustaining his blocks by running his feet and looking to finish. Because he is so tall he will get overextended at times. This shows up in pass protection at times also. He got beat once to the outside because he overextended and didn't slide well. Because of this the defender pressured the QB, causing a poor pass. His overall pass protection was good. He keeps his hands up and shows a very strong punch. He can bend his knees and anchor. It's when he gets lazy with his technique that he overextends. For a big guy he has good athleticism. He is able to get to the second level and adjust on the move. Webb will get better with playing time. For the game he deserves a B.
Jimmy Clausen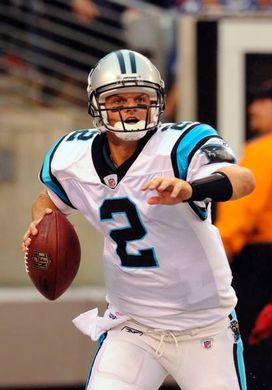 ICONPanthers QB Jimmy Clausen struggled against the Bears this past Sunday.
I liked Clausen coming out, but he is struggling right now. All the problems aren't his fault, but when you become a starter in the NFL you are expected to win games. The Bears were able to consistently pressure Clausen. While he shows ability to move around in the pocket, at this time he is not good at finding open receivers while on the run. In his defense, he was playing with two rookie wide receivers, so they were all learning on the fly so to speak.
Clausen's stats for the game were poor. He was 9 of 22 for only 61 yards and an interception. In his defense he had at least 4 dropped passes. But he also underthrew an open receiver on a post route that may have been a potential TD. He was under constant pressure and was sacked at least 4 times. While saying that, he has a tendency to hold onto the ball too long and stares down the receiver he is going to throw to. I don't want to kill his performance because he had some nice throws; he just wasn't able to get into any kind of a rhythm. I believe he will become a winning quarterback in the league, but he has a long way to go. I can't grade him any better than a D+ for the game.
St. Louis at Detroit
Ndamukong Suh
I wrote up Suh for his first game against the Bears and he has shown real improvement now that we are five weeks into the season. His stats for the game were good. He had 3 tackles and I counted at least 2 pressures on the QB. He also had an interception of a ball that he tipped into the air. After the interception he ran for about 20 yards giving us his best impersonation of a running back. He gets off the ball quickly and his pad level is lower than it was in game one. He has better hand use and is able to shed blocks more quickly. He consistently got penetration and was more disruptive. He plays hard and shows good pursuit.
Overall, if he keeps improving at the same rate, he will be a top defensive tackle in the NFC before long. He earns an A-.
Jahvid Best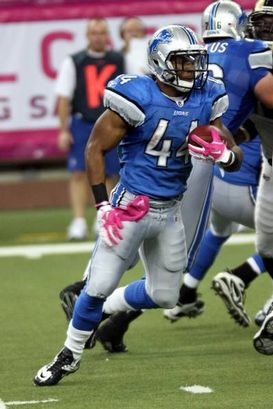 ICONLions RB Jahvid Best is off to a nice start in Detroit.
Best struggled some in the first game. He looked much more at ease in this game. He is very quick to the hole and has very good run instincts. What I liked in this game was his open-field running ability. He has loose hips and very good change of pace. He can stop and restart very quickly with instant acceleration. I mentioned in my first report that the Lions needed to play him in a rotation and that is just what they did on Sunday with Kevin Smith. They complement each other very well. Detroit has plays designed to get Best in space and that is where he is the most dangerous. He is an excellent receiver and does a great job getting open. I thought that he ran with more power in this game also. He did a better job attacking tacklers. Best earns an A- for this game.
Sam Bradford
Bradford has also shown great improvement since week 1. Though the Rams got blown out in this game there was a lot to like about Bradford. He is in command on the field and is the obvious leader of their offense. The Rams don't seem to have scaled back their offense; they run a full allotment of plays. Bradford is much more relaxed and doesn't hurry things. He is a very good athlete and does a good job moving around in the pocket and buying time. He is very good throwing the ball while on the run with accuracy. He has a strong arm with good accuracy and ball placement. I like how quickly he gets the ball out of his hand. His stats weren't great for this game (27 of 45 for 215 yards and 2 interceptions) but he lost his best receiver (Mark Clayton) and had some passes dropped. Bottom line is he didn't win the game or make enough big plays but he is a much better quarterback than he was in week 1. He has the makings of being a very good quarterback in the league. For the game he earns a B.
Want to work in the NFL? Click here to register for the NFP's "Chalk Talk" seminar in Chicago on October 22nd.