October 21, 2010 -
Greg Gabriel
Week 6 rookie report card, part two
Today we will look at three of the Cleveland Browns rookies who received a large amount of playing time in the team's loss to Pittsburgh. The players we will look at are Colt McCoy, T. J. Ward and Joe Haden.
Colt McCoy
The Browns were able to draft quarterback Colt McCoy in the third round of last April's draft. He may turn out to be the best pick in the round. McCoy has an enormous amount of talent and the only reason he lasted until the third round was because he measured only 6-1 at the combine. When you studied McCoy last year while at Texas the first thing you saw was he is a winner. He was not only the leader of the offense but the leader of the entire team. He was highly respected by both the coaches and his teammates. He was a four-year starter and won a lot of games. His intangibles are second to none.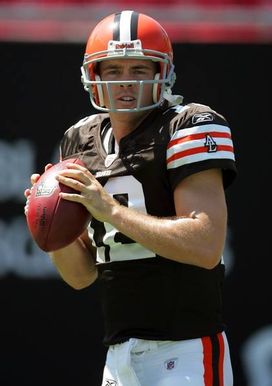 ICONWas Colt McCoy the steal of the draft?
When the Browns drafted McCoy the plan was for him to sit and learn as a rookie and then compete for the starting job his second year. But because of injuries to both Jake Delhomme and Seneca Wallace , McCoy was forced into action. Even though the Browns lost to the Steelers 28–10, there was a lot to like about McCoy's game. His stats were impressive, completing 23 of 37 passes for 281 yards with a TD and 2 interceptions. Much of his passing yardage came in the fourth quarter when the Browns were playing catchup, but still his overall game was impressive. He was very poised and confident on the field. He looked in charge. From a technical standpoint there was a lot to like. He is athletic, has very quick feet, a quick compact delivery and is accurate. He has very good arm strength. Because of his quick feet and feel for pass rushers, he is able to extend plays. In the fourth quarter there was a play where he faced a strong pass rush, he was able to step up in the pocket and then roll to his right, find the open receiver and hit him for a touchdown. His ability to make plays with his feet is outstanding. While his arm strength is good he also throws a tight ball which is important when you have to play in windy places like Cleveland.
I really liked his patience. He goes through his progressions and finds the open receiver. I saw only one forced ball in this game. That came on his first drive when he tried to throw deep into double coverage. He found out quickly throws like that lead to interceptions…because it was intercepted. His other interception came on a tipped ball.
Overall, I think Cleveland has found its quarterback. The Browns may stick to their plan and let McCoy watch and learn when Delhomme is ready to return, but they have to feel good knowing that if Delhomme gets hurt again McCoy is ready to play. He had an impressive first game that earns him a B+.
T. J. Ward
Ward starts at safety. He has received a lot of publicity early this season for his play. In this game he was credited with 11 tackles but in watching the tape I didn't see that many. He is an aggressive player and a very good tackler. He doesn't miss many because he wraps up so well. His run support play is excellent. Where he struggled in this game was in coverage. On one play there was a corner blitz and his responsibility was to pick up the receiver. The receiver was Mike Wallace, who happens to be one of the fastest receivers in the league. Wallace ran right by Ward to make a 51-yard catch. Later that same series, Ward had deep responsibility but was late getting to the play and gave up a 40-yard reception. He did show good over the top coverage later in the game. He also closed quickly to stop a quick wide receiver screen play.
There are some plays when he is used to blitz but he was not effective doing that in this game. Overall I like the way he plays the game. The Browns play him in a way that utilizes his strengths and that makes him effective. I think that he will always have some trouble in coverage because he lacks great speed but this is a player they can win with. He earns a B for this game.
Joe Haden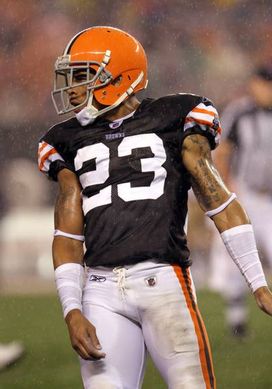 ICONJoe Haden is an effective cover corner.
Haden does not start but comes in as the third corner in their nickel defense. He also returns kickoffs and is a gunner on the punt team. When he comes in to play corner he lines up at left corner and Sheldon Brown moves inside to cover the slot.
Haden is an effective cover guy. He shows a good jam and good mirror ability. He plays physical. On the first pass thrown his way this game, the ball was overthrown and Haden was able to make the interception and return it 61 yards. He is an alert zone player; he saw Rashard Mendenhall swing into the flat and was able to close quickly to make the tackle. He is a good explosive tackler.
As a gunner he shows hustle and stays under control. He was able to down one punt on the 1-yard line. He is an effective but not great kick returner. He had 2 returns for 45 yards in this game.
Overall, I don't think it will be long before Haden becomes a starter for the Browns. He earns a solid B+ for this game.
Want to work in the NFL? Click here to register for the NFP's "Chalk Talk" seminar in Chicago this Friday.