October 19, 2010 -
Greg Gabriel
Week 6 rookie report card
The Seahawks traveled to Chicago after their bye week and just about dominated every phase of the game against the Bears. On defense they were able to put consistent pressure on Jay Cutler, played tight coverage and held the Bears running game in check. On offense they had a balanced attack and had about a 9-minute time of possession advantage.
Four rookies had considerable playing time for Seattle during this game. They were Russell Okung, Earl Thomas, Walter Thurmond and Golden Tate.
Russell Okung
Okung started at left tackle going up against All-Pro defensive end Julius Peppers and more than held his own. Peppers totaled two tackles, no sacks and no pressures. Okung played Peppers probably better than any tackle has so far this season.
Okung plays from both a 2-point and 3-point stance. He has excellent initial quickness in both the run and pass game. When run blocking he is explosive on contact and does a good job sustaining blocks. He was excellent getting to the second level. On Justin Forsett's 9-yard TD run, he made contact with Brian Urlacher at about the 6-yard line and drove him into the end zone. He was used to pull a few times and did a very good job getting in front of the back and adjusting on the move. In pass protection he was unusually patient for a rookie. He was able to set quickly and showed a strong punch. He kept good position and showed very good ability to slide and recover versus moves. He is a natural knee bender and was excellent with his anchor. Except for one play, he showed considerable awareness in protection. On the play in question he was slow to read a stunt and the quarterback was pressured into a bad throw. Overall, when you're a rookie and you keep one of the best defensive ends in the game in check you deserve an A and that's what he gets. Great job.
Golden Tate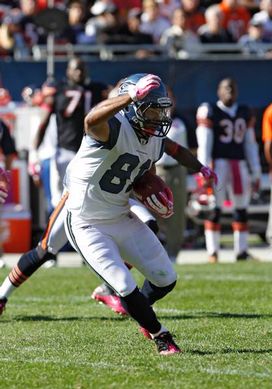 ICONWR Golden Tate struggled in the return game against the Bears.
Tate is the primary punt returner for Seattle. He also lines up as a wide receiver in some of the team's three and four-receiver sets. Tate lacks great height and is built more like a small running back than a receiver but he has great quickness and body control to go along with good playing speed. The Bears' special teams led by coach Dave Toub are among the best in the league in all phases of special teams. They were able to hold Tate in check. Going into the game Tate had 8 punt returns for 144 yards. In this game he had 4 returns for -2 yards. He also fumbled on one return. He made some poor decisions in the return game. On one play when he should have called a fair catch he ended up losing about 10 yards scrambling around. As a receiver he shows his speed and quickness. He has very good body control and gets in and out of cuts quickly. He did not have any catches in this game. He was overthrown twice but did show his route-running skills. Because of his poor production and questionable decision making in the return game he gets a D for this game.
Earl Thomas
Thomas starts at free safety. He is an outstanding athlete with great speed and very good instincts. He finished the game with only 4 tackles, not great numbers, but did a very good job in coverage and that doesn't show up in the stat sheet. Seattle asks Lawyer Milloy to play down in the box but still Thomas can be an aggressive run support player. He is good at getting rid of blocks and is a sure tackler. On a short check down pass to Forte he had a jarring tackle.
In coverage he has great range. A few times he was able to get to the sideline in deep coverage to either pick up a receiver or help out in double coverage. He is very aware and doesn't let receivers get behind him. He has the feet and suddenness needed to play man. Though he did not have any interceptions in this game, he already has 3 on the year.
Overall this is a very consistent player who will keep getting better and will be the cornerstone of Seattle's secondary. He gets a B+.
Walter Thurmond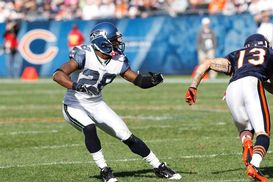 ICONCB Walter Thurmond
Thurmond did not start but when Kelly Jennings was hurt he had to come in and play right corner. Chicago went after him right away and he gave up a crossing route to Devin Aromashodu but after that he settled down and played well.
Thurmond was projected to be a high draft choice last April but he had a severe knee injury late in the 2009 season and so there were questions as to when he would be ready. Seattle drafted him in the 4th round and he could turn into a very good pick. He has great body control. He turns smoothly and has a burst coming out of his turn. Though he is not a very big guy he can be a physical player. He showed good tackling skills in Sunday's game with 5 tackles. He also played the ball well getting 2 breakups. He earns a B.
Want to work in the NFL? Click here to register for the NFP's "Chalk Talk" seminar in Chicago this Friday.