October 28, 2010 -
Greg Gabriel
Week 7 rookie report card, part two
Last Sunday, the Oakland Raiders went into Denver and played probably their best game in years. In the process they set a team scoring record of 59 points, and that was with sitting on the ball most of the fourth quarter. The Raiders have a number of first-year players making contributions and we will talk about some of them today.
Jacoby Ford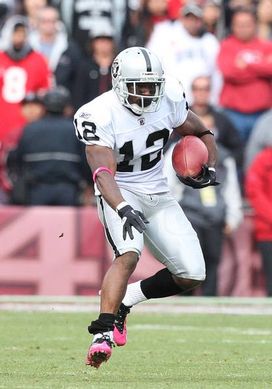 ICONJacoby Ford has an increased role in the Oakland offense.
Ford was not playing much when I wrote up the Raiders rookies a few weeks ago. Now he is an important part of the offense. He also returns kickoffs but did not get an opportunity Sunday with all kicks going deep into the end zone.
He plays mostly split out. In the game he was thrown to 3 times and caught 2 passes for 15 yards. One was a comeback where he came out of his break extremely fast and the other was a short dump off in the red zone that he ended up taking to the 1-yard line. He put a great move on a DB during his run.
He was also used on reverses twice and picked up 29 yards. Ford has great speed and body control and when he gets in the open field he is a threat to take it the distance. He has good hands and can adjust to poorly thrown balls. Even though he didn't have an opportunity to make a lot of plays, he took advantage of every chance he got and gets a B+ for his play.
Jared Veldheer
Veldheer was a backup a few weeks ago but was getting a lot of playing time; now he is a starter. He started the game at left tackle but when center Samson Satele got injured he slid down to center and played the rest of the game there. That versatility is an outstanding trait. While at left tackle he played very well. Both his run and pass blocking were strong. He had two key blocks on run plays that turned into big gains. He is strong and explosive and looks to finish every block. He has good body control, plays with good bend and has very good balance. For a rookie he uses his hands very well. His play at center was much the same. He is very consistent and showed good ability to get out to the second level. His improvement over the last few weeks has been dramatic. He gets a solid A.
Rolando McClain
Like Veldheer, McClain has shown improvement in the last few weeks. He starts at middle linebacker and is becoming a big part of the Raiders defense. He was only credited with two tackles but he also had a sack and a broken-up pass. When I watched him before he was not used to rushing the passer. In this game, they put him in position to make plays as a pass rusher. He has some natural pass rush traits with good hand use and an explosive burst off blocks. McClain reacts very quickly and is consistently around the ball. His pass coverage has improved, showing good ability in both man and zone. He looks much more comfortable on the field and plays very aggressively. I like the way he hustles. He will be a top player for years to come. He deserves a solid A for Sunday's game.
Denver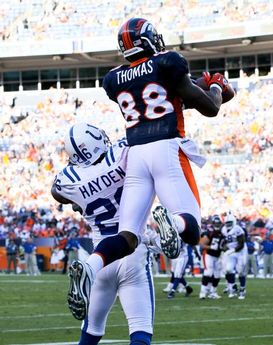 ICONDemaryius Thomas didn't make much of an impact against the Raiders.
Just like with the Raiders, I wrote up the Broncos rookies a few weeks ago. With the game being a blowout and the Broncos turning the ball over 3 times their offense only had the ball 21 minutes. Rookie receiver Demaryius Thomas, who had been playing well, only had a ball thrown his way one time and had a catch for 6 yards. He also fumbled the ball on a reverse. Tackle Zane Beadles is still starting at right tackle and showed improvement. His run blocking is better because he comes off the ball a little quicker and stays lower. He does a good job getting to the second level. Overall his pass protection was fairly good but he did get beat once by an outside speed rush and another time by an inside spin move. He didn't give up sacks but the quarterback was pressured. I thought his hand placement was a little better also. He earns a B.
Perrish Cox
Cox is starting at right corner because of injuries. He was the Broncos 5th round pick. Going into the 2009 season, Cox was thought to be a high-round prospect but then he was suspended from Oklahoma State's bowl game. Add to that poor workouts and he no longer had high-round potential. He did not play very well in this game. He was injured early in the second half and did not return.
Cox is very athletic with good hips and adequate playing speed. Coverage is not his problem, tackling and run support is. He struggles to get off blocks and is generally passive in support. He waits for plays to come to him and doesn't attack. He missed at least 2 tackles in the second quarter, one leading to a Raiders touchdown. He dives at runners instead of meeting them face up and then bounces off. In coverage he showed good man-cover skills in the red zone. He has the feet and quickness to mirror receivers through moves. He also showed good ability to play the ball. His zone play was generally good but there were a few plays where he gave the receiver too much cushion. Overall, because of his poor run support and tackling I can't grade him better than a C- for this game.