October 26, 2010 -
Greg Gabriel
Week 7 rookie report card
In the Green Bay–Minnesota game Sunday night, Packers first-round pick Bryan Bulaga started at right tackle and really did an excellent job. Green Bay drafted Bulaga to eventually replace Chad Clifton at left tackle but he looks natural playing the right side. He plays from both a 2-point and 3-point stance and consistently shows good snap reaction and initial quickness. I liked his run blocking, he gets into the block quickly and has a natural hip roll on contact and keeps his legs driving. He keeps good position and more often than not he was able to get some movement. I liked his ability to finish and also the way he looks for second blocks. He gets to the second level very easily and adjusts well. For a rookie his pass protection was very good. He sets quickly and consistently gets good position on his opponent. He has very good balance and shows the ability to slide laterally and recover back the other way while keeping good position. There were only a few plays in which he was beaten by the first move or a counter move and only one time did I see him give up a pressure to his opponent. He always keeps his hands up and shows a strong compact punch. Overall, Bulaga was a very solid pick for the Packers. He gets a well-earned B+ for this game.
Tampa Bay
In Tampa Bay's victory over the Rams, the Bucs had a considerable amount of first-year players contribute on both offense and defense. On the offensive side, receiver Mike Williams and running back LeGarrette Blount had excellent production, while on defense Cody Grimm and Gerald McCoy played well.
Mike Williams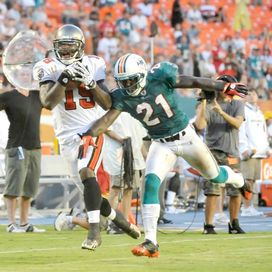 ICONMike Williams has 28 catches for 365 yards and 3 touchdowns on the year.
As a rookie, Williams is already the Bucs number one wide receiver. He has 28 catches for 365 yards and 3 touchdowns. In Sunday's game he caught 5 passes for 82 yards, including a catch and run in the final minute of the game to set up the winning touchdown. He showed good route running ability, being able to get open versus both man and zone. He is a fluid athlete with excellent body control; because of this he is able to get in and out of cuts very quickly. He does a nice job dropping his weight when making cuts. He showed excellent hands in this game and really competes for the ball. Twice he made tough catches in traffic, one time outjumping two defenders. He is a very good runner after the catch with excellent run instincts. Williams was a second-round talent that was drafted in the fourth round because of off-field issues while at Syracuse. While in college he was not the most mature player on the squad, but while saying that if he keeps playing the way he has the first part of this year and stays out of trouble he is going to make a lot of money for himself.
LeGarrette Blount
Going into the 2009 football season at Oregon, Blount was also looked at as a second- round talent. But as most of America saw, his behavior after the Boise State game cost him. He ended up not being drafted and was signed by Tennessee after the draft. Though he played well during the preseason, he was one of the Titans last cuts and Tampa Bay quickly claimed him. Sunday he looked like the second-round talent scouts thought he was. He had 11 carries for 72 yards and also had a 46-yard run called back because of holding. Most of his touches came in the second half. Blount is a very powerful inside runner with excellent initial quickness. He runs with very good lean and when opponents tried to tackle him he consistently was able to get yards after contact. He has very good run instincts and vision, showing pick and slide ability and can break it to the outside when a lane opens up. He showed a good willingness to pass block but there were a few times when he did not get good position on pass rushers. He gets an A for his effort and production Sunday. The Bucs may have found an excellent big back.
Gerald McCoy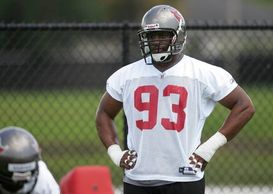 ICONGerald McCoy starts at defensive tackle for Tampa Bay.
McCoy, the Bucs first-round pick, starts at defensive tackle. He lines up as their "3" technique player. He has very good snap reaction and first step quickness. He stays low and was consistently able to get penetration to disrupt the run game. He showed that he is difficult to block 1 on 1. He has good instincts and is around the ball. Though he had only 2 tackles his effort was excellent and he was very disruptive. He is similar as a pass rusher. He has quick hands and with his explosiveness is able to get a push. He redirects well to put moves together. He showed very good pursuit hustle but he lacks great long speed. He is a more quick than fast player. He earns a solid B.
Cody Grimm
Grimm, who was the Bucs seventh-round pick, was a linebacker at Virginia Tech and converted to free safety. He showed outstanding speed and athleticism in workouts at the combine and for coaches, thus the conversion. He has played well to date this season and has 2 interceptions through 6 games. In Sunday's game he had 5 tackles.
When you convert a player to another position you always have to worry about his instincts at the new position. Grimm looks fine. He reacts well to both the pass and run. When in zone he shows good receiver awareness and keeps good depth in his drops. He was able to cover both backs and receivers man to man. He is aggressive in run support showing both good shedding and tackling ability. He can be very aggressive in run support.
Overall, Grimm has been a starter since week 3 and in the last 4 games he has totaled 27 tackles. He seems to feel more comfortable every week. He gets a B+ for Sunday.