November 04, 2010 -
Greg Gabriel
Week 8 rookie report card, part two
I have been waiting to write about the San Francisco 49ers rookies all year and just haven't had the chance. The 49ers have played poorly and I wanted to write up a game when they played well as a team. Sunday they traveled to London to face the Denver Broncos and I was able to get a good look. They have two rookies starting on the offensive line. The two, Mike Iupati and Anthony Davis, were both first-round picks in April's draft. Going into Sunday's game, the 49ers knew they were going to have to run the ball well to control the game — and run it they did to the tune of 42 times.
Mike Iupati
Iupati starts at left guard and is really playing well. He has great size and natural power. He stays low in his stance and comes off the ball very quickly. With his power he is explosive on contact and has good leg drive. He does a good job keeping his hands inside and with his excellent balance is seldom on the ground. He has good quickness and agility and does a good job getting to the second level. I only saw one play where he didn't take a good angle to the linebacker. He is not asked to pull that often but is effective when he does. In pass pro he sets quickly, has a good punch and sinks his hips. He anchors well. He is athletic enough to slide and recover and has good mirror skills. As with his run blocking he does a good job keep his hands inside. He gets an A- for Sunday's game.
Anthony Davis
Davis starts at right tackle. He has great size and for a big guy he can move around well. I thought going into last year's draft that based just on talent he was one of the best tackles in the draft.
In Sunday's game he was a bit slow getting off the ball. This wasn't just once or twice but almost every play. He consistently is the last guy out of his stance. He has a tendency to get a little tall with his first steps and though he is very powerful he is not real explosive on contact. He often loses some ground before recovering and winning the battle. With his size and natural power he is able to get movement when he sustains the block. There were a few plays where he showed some nastiness and just drove his opponent back. He has to learn to do this every down. Like Iupati, he is not asked to pull that often but he is effective in space and adjusting on the move.
In pass protection he is inconsistent. He can set quickly when he wants and has the lateral agility to stop wide speed. He has a very strong punch and has the quick feet to mirror. His problem is that he doesn't consistently finish. There were plays where he had position but didn't sustain the block and ended up giving up pressures on the QB. He has the talent to do it, it's the mental toughness to finish the play.
Overall, this player has the physical traits to be a dominant tackle in the league if he wants to be. He has to push himself to be more consistent. He flashed a B+ but gets a C+ because of his inconsistency.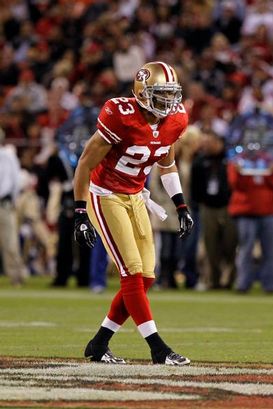 ICON49ers rookie safety Taylor Mays
Taylor Mays
Mays was the 49ers second-round pick and starts at strong safety. He's the only rookie that starts on defense. He is another that has prototypical size and athleticism for the position. He has all the natural tools to be a great player. In this game, except for one play, he played fairly well. On the one play he was in zone and had deep middle. He bit on play action and was then late to see and pick up the receiver going deep. The result was a 71-yard catch and run by Denver. Only Mays' great catch up speed prevented a Denver touchdown.
Though he has great physical traits, he lacks great instincts and that is what is preventing him from being a top player at this time. Because he is not sure of his instincts he can play tentatively and give up some plays. At times he just gives to much cushion. His transition skills are good and this can help make up for the big cushion.
He is a good run support player. With his size I would think that he would be more aggressive than he is but he gets the job done. He is a good tackler but not a blow up tackler.
Overall, with experience, his instincts will improve. He doesn't play badly; you just expect more because of his physical traits. He earns a B but I feel he will become a consistent B+ to A type player. He is an interesting guy.