November 02, 2010 -
Greg Gabriel
Week 8 rookie report card
The San Diego Chargers entertained the Tennessee Titans Sunday in a must-win game for the Chargers if they wanted to keep their playoff hopes alive. In an entertaining game, San Diego won 33–25. Because of many injuries at the wide receiver position, San Diego had to play rookie Seyi Ajirotutu for a significant amount of time and he came through with 3 catches for 48 yards. Their first-round pick Ryan Mathews was the only other rookie to get a lot of playing time on offense for San Diego.
Seyi Ajirotutu
At about 6-3, 215 pounds, Ajirotutu fits the mold of San Diego receivers. He has good not great playing speed, and also has good body control. He showed good route-running skills with the ability to get in and out of his cuts quickly. With his size and long arms he has an advantage over many DBs. He has good hands and showed good ability to adjust to the ball. His run after catch skills were more than adequate. Overall this player has obvious talent and looks like he can be a valuable backup for the Chargers. He gets a B for the game.
Ryan Mathews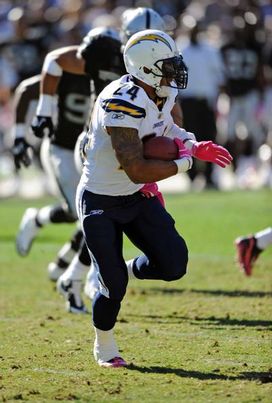 ICONChargers rookie RB Ryan Mathews
Though Mathews started this game, he shares time with two other backs (Darren Sproles and Mike Tolbert). Every time I watch Mathews he seems to get a little better. He is becoming a complete back. In this game he had 11 carries for 43 yards and a touchdown and also had 3 catches. Early in the season he wasn't used much in the passing game but he seems to be more comfortable in this phase of the game and should gets more reps. His pass blocking is better and he has soft hands. As a runner he is patient but also very physical. He attacks his tacklers by running with excellent lean and exploding into opponents on contact. He is consistently able to get yards after contact. He has very quick feet to change direction and burst to an opening. His play has been very consistent as a rookie. He earns a B+.
Tennessee Titans
Alterraun Verner
Verner was a backup to start the season but when Jason McCourty got injured, Verner moved into the starting spot at right corner. McCourty was back playing Sunday but Verner still got the start. McCourty came in for the nickel and Verner moved inside to cover the slot. Verner has played very well so far this year. He has 2 interceptions, 8 pass breakups and 37 total tackles. This is a player that I really liked going into last April's draft. Though he is not the most physically gifted player, he was one of the most ready to play corners in the draft. He has outstanding instincts and ball skills. He lacks great top-end speed but his movement is so efficient he makes up for his lack of top speed. In this game he showed good cover skills in man, zone and off coverage. He gave up a couple catches but consistently had good position. He moves very quickly in transition. Though not a real big guy, he plays the run well and is a good tackler. He earns a solid B+ and will be an effective player for the Titans for years to come.
Marc Mariani
Mariani is the main Tennessee kick returner. In this game he had 7 kick returns for 157 yards and 1 punt return for 19 yards. He handles the ball very well showing excellent judgment and hands. He doesn't dance around and wait for a seam; he catches the ball and is a fearless north/south runner. He hits it up the middle very quickly. He has good run instincts and excellent speed. He also is used on the kickoff team and shows no hesitation. He is aggressive and a good tackler. When a rookie is a team's 5th or 6th receiver he has to make his mark on special teams to get playing time and that is exactly what Mariani is doing. He earns a B+.
Damian Williams
Williams is a backup receiver but because of an injury to number one receiver Kenny Britt he got a large amount of play time on Sunday. He came away with 2 catches for 43 yards. He also had a catch called back because of a penalty. He was thrown to 8 times but I did not see any drops. He is a big receiver (6-1, 200 pounds) with good playing speed and very good body control. He showed good route quickness and was able to uncover versus both man and zone. He was very good at finding the open area in zones. He is not a burner but plays like a solid 4.5 type and shows a burst going after the ball. He showed good hands and good run skills after the catch. Many rookie receivers don't block very well but he showed good blocking skills in this game. He earns a solid B for the contest.