November 09, 2010 -
Greg Gabriel
Week 9 rookie report card
In one of Sunday's biggest and best games, many rookies made substantial contributions. The Kansas City Chiefs played in Oakland in what was a very good and physical game. Both of these teams have made remarkable turnarounds since last season and the play of rookies has a lot to do with it.
The Raiders are starting two rookies on offense and two on defense. All contributed in their overtime victory.
Jacoby Ford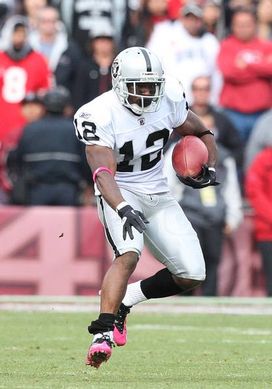 ICONJacoby Ford went off against the Chiefs, making significant contributions in the win.
Ford was the star of the game. He finished with 6 catches for 148 yards and had three plays that were huge.
Ford returned the 2nd half kickoff 94 yard for a touchdown, showing great speed and run skills. In the fourth quarter he set up the field goal that tied the game with a great leaping catch between two defenders. He literally took the ball away from Brandon Flowers. It ended up being a 29-yard gain and on the next play the Raiders kicked the field goal to send the game into overtime. In overtime, Ford again beat Flowers on a post route for 47 yards, again making an acrobatic catch to set up the game-winning field goal.
At least four of Ford's catches were extremely tough catches. He showed a remarkable ability to concentrate and adjust to the ball. Early in the season, Ford was not getting much playing time, but now he has become an important part of the offense. He earns an A+ for this game.
Jared Veldheer
This is the third time I have written about Veldheer and each time I come away impressed. This is a player who attended at a tiny Division II school a year ago that is starting and playing winning football in the NFL as a rookie. He is going up against the best and holding his own. It says a lot about the kid. He has had some problems but he is a great competitor. He still needs to get stronger in his lower body and has a tendency to get tall when in pass protection. When he does get tall and his opponent gets into his body he gives ground. While saying that, he has good hand use and never quits. He goes until the whistle blows.
Veldeer has contributed at two positions as a rookie. He has had to play both left tackle and center and plays well at both positions. He did give up a sack and also got called for holding late in the game but overall he played well. For a rookie his run blocking is good. He keeps his feet moving on contact and consistently looks for a second block. This player has a bright future and will keep improving. He may never become a blue chip pro but he will certainly be a red chip player. He earns another solid B.
Lamar Houston
Houston starts at left end but only plays in the Raiders base defense. He always comes out in passing situations. Early in the season I thought he was getting off the ball a little late but not Sunday. He had excellent snap reaction and was playing very physical. He made plays the first two plays of the game. He showed good pass rush ability with a pressure and hit on the Kansas City quarterback on the opening play and then on the next play stuffed the offensive lineman to make a stop for no gain.
Houston is strong and explosive with good hand use. He is becoming a force against the run. As I have said before, I still think he may end up as an inside player. With his quickness and explosiveness he may become an every down player at tackle. He earns a B for this game.
Rolando McClain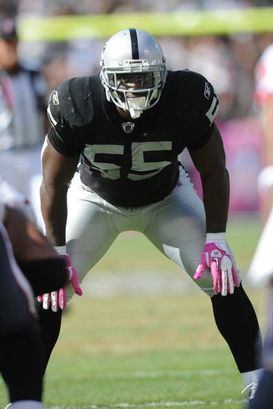 ICONOakland's Rolando McClain was injured in the game against Kansas City.
McClain was consistently around the ball early in the game but then got injured and did not return. The way he started I felt he was on his way to an A-type game but we will instead not grade this game. We hope his injury was not serious.
Kansas City
The Chiefs also have a handful of rookies getting considerable playing time. Dexter McCluster is injured and has not played in the last two games, but three others got a lot of time in Sunday's game. They are Eric Berry, Tony Moeaki and Javier Arenas.
Eric Berry
Berry starts at safety and had an excellent game Sunday. He had 4 tackles, 2 sacks, another pressure and 3 hits on the quarterback. Early in the game he did an excellent job taking out a lead blocker. He is a very good support player who reads things quickly and attacks, showing excellent tackling ability. He was used often on safety blitzes this game and again was excellent. He does a very good job disguising his blitzes so he doesn't show them pre snap. He then comes hard and with his speed is very difficult to block. In coverage he is alert and shows excellent range and receiver awareness. On the negative side, he was called for an illegal block on a punt return, nullifying a 72-yard touchdown return by Arenas. Overall, Berry is beginning to look like a veteran, but because of the penalty he gets an A- for the game.
Javier Arenas
With McCluster being out, Arenas is doing all the returns and is also the nickel back. If it weren't for penalties he would have had a career day returning kicks. He had a 72-yard punt return for a TD called back and also a 41-yard kickoff return called back. He shows very good patience and instincts as a return man. With his quick feet and body control he is consistently able to make defenders miss. In coverage he has a good jam and very good mirror skills. While not a burner he has exceptional quickness. He had a real nice breakup of a pass at the goal line. His line negative was he fumbled one of his kickoff returns. Still. he earned a solid B+ for his overall play.
Tony Moeaki
Moeaki is the move tight end or H-back. He will also line up as a conventional in-line tight end. He has very good athletic ability and body control to go along with good speed. As a receiver he is becoming a top target for quarterback Matt Cassel. He caught 6 passes for 63 yards Sunday. He is very good at uncovering versus both man and zone. He has excellent hands and is a strong runner after the catch. What may be best though is his blocking. He is strong and aggressive. He does a very good job both in line and on the move. With his body control he does a great job adjusting on the move. He gets an A for Sunday's game.
On Thursday we will have our midseason All-Rookie team.