October 21, 2014 -
Greg Gabriel
Weekend flashback
To date, the 2014 professional and collegiate football seasons have been very interesting, to say the least. Looking at the current college football polls, the voters have five teams from the SEC West in the top six slots. That includes both Mississippi State and Ole Miss. When is the last time we saw something like that?
The Big Ten, which used to be one of the top conferences in the nation, is now probably fifth in the power five. Top to bottom, that league is weak.
After their loss at Florida State Saturday night, Notre Dame is still in the top eight, but I guarantee that the Fighting Irish are a better then than three or four of the squads currently ranked in front of them.
In the NFC, most of the clubs that we figured would be on top are struggling. Both San Francisco and Seattle have three loses and they have only played seven and six games, respectively. In the AFC, Baltimore is playing better than expected and Cincinnati, after a fast start, is struggling. And, of course, Peyton Manning is having another Peyton Manning-type season. Manning is 38-years-old, yet he still is playing at a very high level.
The SEC West
Like most evaluators, when you watch college tape day after day, it becomes obvious that top to bottom, the SEC is the strongest conference in college football. But when the polls have four SEC West teams in the top seven or eight slots, that is a bit much.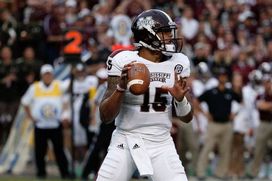 Dak Prescott and the Bulldogs currently sit atop the polls.
I don't get caught up in the polls all that much, especially now because it's still early. Ole Miss, Mississippi State, Auburn and Alabama still have many tough games ahead and, in the end, there will only be one SEC West team in the first ever college playoff.
The Big Ten
Looking at the polls, Michigan State is ranked ahead of Oregon. How can that be? When the two clubs met earlier in the season, Oregon beat MSU by 19 points. If head-to-head competition doesn't tell us which team is better, than what does?
Yes, Michigan State is strong and when you look at their schedule, they only have one tough game left between now and the Big Ten Championship. On November 8, MSU hosts Ohio State and for all practical purposes, that game will decide which squad is the best in the conference.
Ohio State is sitting at 5-1 and every week they run up the score on a poor opponent. OSU lost to a very average Virginia Tech team and the school's wins came against different versions of The Little Sisters of the Poor. Navy, Kent State, Cincinnati, Maryland and Rutgers? Come on! Personally, I feel that Michigan State will easily defeat Ohio State, but that isn't saying a lot because the Big Ten is weak.
Notre Dame
While the 2012 Notre Dame team got to the National Championship game, this year's squad is stronger. The 2014 version is young, fast and athletic. Head coach Brian Kelly has figured out that in order to compete with the SEC, he has to recruit SEC-type athletes.
I have seen every Notre Dame game to date this year and this team is very impressive. I don't remember seeing a Notre Dame team with as many good athletes. What will make future opponents take notice is that all the top players are underclassmen. The Irish will only lose a couple of starters on each side of the ball to graduation this year.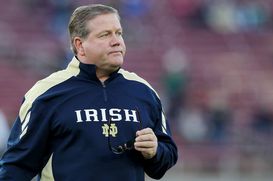 Kelly has done an outstanding job of recruiting quality talent at Notre Dame.
As good as they are in 2014, Notre Dame will be even better in 2015.
Looking at their loss Saturday night at Florida State, the Irish scored what looked like the winning touchdown in the final seconds, only to have the TD overturned by an offensive interference penalty. I'm sorry, but that call was a joke.
I have watched the play in question a number of times and the last thing that happened there was offensive interference. To begin, Florida State corner Ron Darby blew the coverage. He was supposed to do a switch and pick up Corey Robinson, the inside receiver.
What Darby did was grab outside receiver William Fuller after Fuller did an outside move before coming across the face of Darby on an inside slant. Inside receiver C.J. Procise was trying to do a short hitch and he was flat-out grabbed by the Florida State defender. If the FSU defender had kept his hands inside it would have been a good jam, but his hands and arms were outside the frame of Procise. That defender should have been called for defensive holding. Instead, Fuller was called for interference, but he did no such thing. In reality, Florida State was rewarded for doing everything wrong on that play and Notre Dame was penalized for doing everything right.
Such is officiating in today's college football.
The NFC West
Going into the season, I don't think you would have found many people who didn't have Seattle and San Francisco rated as the two best teams in the NFC West. Some people may have had the order switched, but the consensus was that they were the two best teams.
Now, seven weeks into the NFL season, neither of those two teams are on top. The Arizona Cardinals are the first place team with a 5-1 record and a comfortable two-game lead in the division. Their record includes a 23-14 win over San Francisco.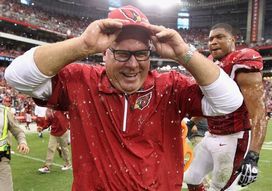 Bruce Arians has the Cardinals on top of the NFC West.
Right now, Arizona is as good as any team in the NFL. The Cardinals have won despite losing quarterback Carson Palmer for three games with a shoulder injury. Backup Drew Stanton stepped in and played excellent football in relief.
The Arizona record is a testament to what an outstanding job head coach Bruce Arians is doing. Kudos also have to go to defensive coordinator Todd Bowles. The Arizona defense lost pretty much the middle of their front seven from last year due to injury, league suspension and free agency, yet they still have played outstanding football on the defensive side of the ball.
At the end of the season when new head coaches are hired, Bowles should be one of the first names on most short lists.
Peyton Manning
Going into the 2012 season, there were a number of people around the league who felt Peyton Manning was done. He missed most of the 2011 season with a serious neck injury. Not only has Manning come back to play, but he is still playing at a very high level.
This year, Manning's numbers are as good as they have ever been. He has completed 68.7 percent of his passes for 1,848 yards, 19 touchdowns and only three interceptions. Those numbers are as good as his numbers have ever been throughout his long career.
Manning is in his 17th season and is 38-years-old. To be able to do what he is doing is a testament to his overall passion for the game. As scouts, we look for players with high football character. Peyton Manning is the poster child for that term. He just may be the best who has ever played the game.
Follow Greg on Twitter: @greggabe