September 23, 2014 -
Greg Gabriel
Weekend flashback
We've seen an awful lot of bad news coming out of the NFL this season because of the off-field issues of a few players. While the mainstream media appears to be focused on those issues, they are missing some great football that is being played every Sunday.
Once again, Week 3 of the 2014 NFL season brought us some outstanding games. Here are my thoughts on a few:
Washington at Philadelphia
If you had never watched an NFL game before and you chose this one as your first, you would have come to the conclusion that these two teams don't like each other very much. The physical style of play that erupts in the Washington-Philly rivalry is what makes this particular matchup so much fun to watch.
The game got so physical that there was a brawl in the fourth quarter after Washington nose tackle Chris Baker blindsided Eagles quarterback Nick Foles following an apparent Washington interception. Eagles tackle Jason Peters took exception to the hit and a brawl commenced. Peters and Baker were ejected leaving both teams lines shorthanded.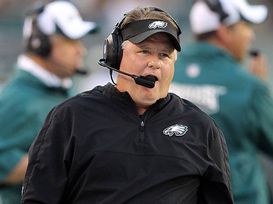 Kelly and his coaching staff have a lot of problems to solve on defense.
Philly came back from a first half deficit to beat Washington 37-34. In my mind, the two big stories in the game were the continued outstanding play of Washington quarterback Kirk Cousins and the Philly defense putting their team in a hole for the third consecutive week.
When RG3 went down with an ankle injury in Week 2, Cousins came off the bench and since that time has played so well that he probably won't lose the job when Griffin gets healthy. In those two games, Cousins has completed 52 of 81 passes for 677 yards, five touchdowns and only one interception. His quarterback rating for the two games is 105.8. That rating is far better than his career rating of 79.
I'll be the first to admit that I was wrong on Cousins. When he came out of Michigan State and after his first two years in Washington, I felt he was going to be no better than an adequate NFL backup. During his first two years Cousins demonstrated just that, but if the last two games is an indicator of how he has grown as a player, the Redskins have found their quarterback. Now what happens to Griffin?
Cousins is an excellent fit for Jay Gruden's offense. He can see the field, make the right decisions and is accurate. He has plenty of arm strength and enough athleticism to keep plays alive with his feet. His poise during the last two games has been excellent.
In Philadelphia, the offense is as good as any in the league. However, the Eagles' problem has been their defense. In each of this season's first three games, the defense has put the Eagles in a hole.
In the opener against Jacksonville, Philly fell behind 17-0. In Week 2 at Indianapolis, they were down 20-6 and Sunday the deficit was 10 points. In fairness, the Philly defense has played much better ball during the second half of each game, but they can't keep putting the offense in such a disadvantageous position. They aren't going to be able to consistently keep working their way back from these deficits.
This is not something new, as the Eagles' defense struggled for a good part of the season last year as well. They had a huge turnover in personnel during the offseason, but the results have remained the same. My feeling is that the inexperience of the Eagles defensive staff is costing the team. While the Eagles defensive staff is very experienced as far as coaching, that experience is in college football. For a good part of the defensive staff, this is only their second year coaching in the NFL. This has to have an effect.
While Philadelphia has the most talented team in the NFC East, the defense has to get better quickly. If it doesn't, the day will come when the offense can't bail them out.
Minnesota at New Orleans
Even though the Saints had not won a game so far this season, no one was expecting the Vikings to come in and beat New Orleans in their home opener. The Saints have now won 17 games in a row at home with Sean Payton as the head coach (they did lose some home games when Payton was serving his Bountygate suspension).
Minnesota is struggling trying to find a ground game without Adrian Peterson in the lineup. They didn't find it Sunday, as the Vikings rushed for only 59 yards on 22 carries.
The big story for the Vikings was the injury to quarterback Matt Cassel, who was replaced by rookie first-round pick Teddy Bridgewater. While Bridgewater did some good things, his overall play was like a rookie quarterback playing in his first game. He completed 12 of 20 passes for 150 yards with no touchdowns or interceptions.
Cassel will be out for a while and now Bridgewater is the quarterback for the foreseeable future. This will be important period for the franchise as they already failed with a recent first-round quarterback in Christian Ponder. If Bridgewater doesn't succeed, the front office in Minnesota could be in trouble.
Indianapolis at Jacksonville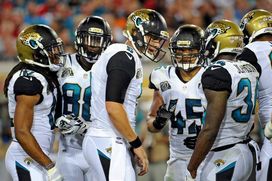 Three weeks into the season and the Jags have turned the offense over to Bortles.
As long as we are talking about rookie quarterbacks, we have to bring up this game. For the third straight week, the Jaguars offense has not been able to do much. The Jags lost to the Colts 44 – 17 on Sunday.
After veteran quarterback Chad Henne couldn't get the Jacksonville offense moving in the first half, he was replaced by rookie Blake Bortles, who was the third overall pick in last May's draft and the first quarterback to hear his name called. The Jacksonville plan was for Bortles to sit and learn this season and take over in 2015. Losing has a way of changing plans and the learning process is over. Bortles is now the Jaguars' starting quarterback.
Bortles had his moments in the second half. He completed 14 of 24 passes for 223 yards, two touchdowns and two interceptions. He had a long pass of 63 yards to Allen Hurns for a touchdown.
Bortles' next two games are against San Diego and Pittsburgh, two teams with strong defenses, so it will be interesting to see how the rookie responds. Bortles has the talent to be a good NFL quarterback, but he needs help from the defense. In three games, the Jaguars defense has given up just under 40 points a game. No quarterback can play well when he is always playing from behind.
Follow Greg on Twitter: @greggabe