October 14, 2014 -
Greg Gabriel
Weekend flashback
We saw another weekend of great NFL football conclude Monday night with the San Francisco 49ers coming back from a 14-0 deficit to defeat St. Louis on the road 31-17. While controversy continues to surround the 49ers in regards to head coach Jim Harbaugh, one thing is certain: This is a very good 49ers team. If the opposition isn't on its "A" game, they don't stand a chance.
Jay Glazer reported Monday on Fox Sports Live that there is no way Harbaugh returns to the 49ers in 2015. I have known Glazer for the better part of 20 years and he rarely reports things that aren't about to happen. He is close to some people involved in this situation, so we have every reason to believe that his report is accurate.
Dallas Cowboys
God help us, the Cowboys are in first place. We all know what that means: Until Dallas loses, we all get to hear Cowboys owner Jerry Jones boast about how great his team is and what a wonderful job he has done as general manager.
While Jones' boasts are nauseating, we have to give him credit. A few weeks back, Jones said the Cowboys were going to be in the playoff hunt and were actually a lot better than people were giving them credit for. He was right.
Right now, this Dallas team is clicking on all cylinders. Tony Rome is on the top of his game, the offensive line is playing better than any line in the league and the defense has been excellent.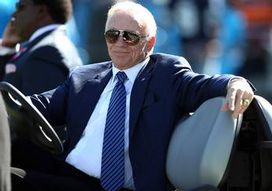 Jerry Jones and the Dallas Cowboys are riding high after six weeks.
As far as I'm concerned, it's no coincidence that with Rod Marinelli as the defensive coordinator, the Dallas defense has done a complete turnaround. Marinelli is one of the great defensive minds in the league. He is an outstanding motivator and pays strict attention to detail. Plain and simple, the man knows how to coach.
Many in the media and public were down on Marinelli when he failed as the head coach in Detroit. Having worked with Rod for a few years, I know better. His failure in Detroit was not his doing. He was working with one of the most inept front offices in the NFL.
If Dallas continues cruising and the defense keeps plays excellent football, Marinelli should be a name to consider when the next round of head coaching hires takes place at the end of this season.
Chicago Bears
The Bears are having a true roller coaster season. They look great one week and horrible the next.
The formula for success in the NFL is to win at home and split your games on the road. That hasn't been the case for the Bears. They have played two games at Soldier Field this season and lost both. Not only did they lose those games, they played their worst football in those matchups as well.
The Bears have played four games on the road so far and have won three of them. All three wins have come in tough places (San Francisco, New York and Atlanta). If the Bears can win out at home, they still will be in the thick of things come playoff time.
Sunday in Atlanta, the Bears played their best game of the season. Chicago was down four starters on the defensive side of the ball, yet the defense totally shut down a potent Atlanta offense.
All the linebacker starters were out as well as the nickel corner. Former Pro Bowl corner Charles Tillman has been out for a few weeks and the starting safety went down with a shoulder injury early in the third quarter.
Despite all the injuries, the Chicago defense held Atlanta to 287 total yards and just 13 points. This was an Atlanta offense that was averaging 43 points a game at home. The young group of linebackers played a very aggressive game, kept their mistakes to a minimum and used their speed and athleticism to their advantage. Let's not forget that first-year player Demontre Hurst playing as the nickel corner for the first time came up with a key interception. Just maybe these young guys should keep on playing when the injured vets are ready to return.
On the offensive side of the ball, Bears receivers Brandon Marshall and Alshon Jeffery were totally healthy for the first time since the opening week. The result was the Bears were throwing more vertical routes and had 381 yards passing.
Jay Cutler perhaps played his best game as a Bear. He not only made some great reads and throws, he didn't turn the ball over nor did he force even one throw. Just maybe, we are seeing a new Jay.
Florida State
I can't believe what I'm seeing at Florida State. On Friday, the New York Times and FoxSports.com each came out with some scathing articles about possible cover-ups in the Jameis Winston sexual assault investigation and how misdeeds by football players at FSU are treated lightly. Those reports were followed by an ESPN report that just like Georgia running back Todd Gurley, Jameis Winston may have autographed hundreds of items for cash. The same dealer who was involved in Gurley's case is involved with Winston.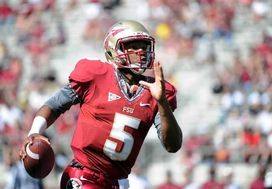 Another day, another Jameis Winston scandal.
When Georgia found out about the possible activity of Gurley, they suspended the running back right away. That's not the case with Florida State, who has done absolutely nothing. Why? Second-ranked Florida State has a home game Saturday night against fifth-ranked Notre Dame. The Seminoles can't go into this matchup without their Heisman Trophy-winning quarterback. Maybe Florida State will look into the allegations next week when the game isn't so important.
I'm shocked that Florida State is allowing Winston to play. It is an embarrassment to the school, the state and college football in general. Why the Florida State Board of Trustees hasn't stepped in is beyond me. After reading the Times and Fox Sports articles, Winston shouldn't be anywhere near the football program.
Monday during his early week press conference, Florida State head coach Jimbo Fisher asked, "What are we supposed to do….tell the kids to stop signing autographs?" Does Fisher really think we are that stupid? In my book he has lost all credibility.
Follow Greg on Twitter: @greggabe