September 09, 2014 -
Greg Gabriel
Weekend flashback
The NFL opened its 2014 season this past week with some tremendously exciting contests. If you were a betting man and supported the underdogs, you probably put a few extra dollars in your pocket on Sunday. Needless to say, I was surprised by the outcome of many games.
In college football, except for a couple of contests, the always strong SEC basically had the week off with most of the schools scheduling a different version of the Little Sisters of the Poor. With the new playoff format in place, the schools that schedule patsies like that should be penalized. Some of these schools could hold a scrimmage with tougher competition.
The college polls
I've been an opponent of the preseason and early season polls for years because they have no meaning. The early pools are often based on what a team did the year before and in college football, that is ludicrous. With players graduating, leaving early for the NFL and new recruits coming in, there is an enormous turnover in personnel. A college team has to take on a new identity each year as new players become leaders and stars. They are far from being the same team as they were the previous season.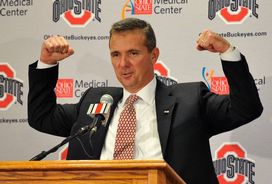 Urban Meyer and the Buckeyes fell on their face Saturday against Virginia Tech.
Case in point would be Ohio State. Both their offense and defense lost key players to the NFL and on top of that, during preseason practices the Buckeyes lost quarterback Braxton Miller for the season due to injury.
In their opening game, Ohio State struggled against Navy and then was beaten in all three phases of the contest at home on Saturday in a loss to Virginia Tech. The Buckeyes do not look like a Top-25 team to me, yet they are still ranked at No. 22.
Last week in their opener at home against Texas A&M, South Carolina was blown out of the water. Somehow, the Gamecocks came back this weekend to beat an average East Carolina team by 10, yet they are still ranked. I could go on and on, but a team that loses early in the season does not deserve to be ranked. They have to earn their way back.
The Big Ten commissioner thinks the "BIG" will still be in playoff hunt
This past weekend was an embarrassment for the Big Ten. The conference did not win a key game all weekend and three of their top teams were beaten convincingly.
Michigan traveled to Notre Dame in the final game of their rivalry and got spanked 31-0. It's the first time that Michigan has been shutout in the series. Michigan State, who won the Rose Bowl a year ago, traveled to Oregon and lost 46-27. Ohio State lost at home to Virginia Tech and, to make matters worse, both Purdue and Northwestern lost to MAC teams. Iowa needed 14 fourth quarter points to beat Ball State and Rutgers barely got by FCS school Howard.
The Big Ten as a whole is weak this year. For the most part they are a slow conference with average players. I feel it's a long shot that any of their teams even comes close to a playoff berth.
Notre Dame
The Fighting Irish have played two games while missing three starters due to an academic situation. Yet, playing shorthanded, the Golden Domers still have won each of their contests fairly easily. The biggest change I have seen in this Notre Dame team is how the defense is playing.
New defensive coordinator Brian Van Gorder has the Irish playing an attacking 4-3 style defense. This Irish team has more defensive speed than any Irish team in recent memory.
Quarterback Everett Golson is playing outstanding football after having missed the 2013 campaign because of an academic suspension. In two games, Golson has completed 37 of 56 passes for 521 yards and five touchdowns. He has yet to throw an interception.
Looking at their schedule, Notre Dame could very well be 6-0 when they travel to Florida State. We will find out that weekend just how good the Irish really are.
The NFL
As I wrote above, if you bet the underdogs, you likely won a lot of money over the weekend. In my mind, the biggest upsets were Buffalo beating Chicago, Miami defeating New England and Atlanta edging out New Orleans.
Chicago-Buffalo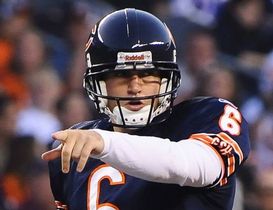 Jay Cutler once again melted down in the clutch.
Looking at the Bears' first drive, it appeared as if this game was going to be a blowout. Chicago went 66 yards in four plays in 1:55 for an easy score. After that, the Buffalo defense tightened up and quarterback E.J. Manuel played the best game of his career, going 16 of 22 for 173 yards and a touchdown. He also did a very good job keeping plays alive with his feet and picking up yards when he couldn't find a receiver.
As for the Bears, once again quarterback Jay Cutler made a dumb throw at a crucial moment and was intercepted.
With the score tied at 17, Chicago had a third-and-one at the Buffalo 34. On a rollout to his right, Cutler found all his receivers covered. Rather than throw the ball away and attempt the go-ahead field goal, Cutler threw across his body to a tightly covered Brandon Marshall and was intercepted by defensive lineman Kyle Williams. In my mind, that play was the turning point of the game, as Buffalo went down to kick a field goal and take a 20-17 lead.
Until that play, Cutler was playing good football, but as he has done many times in the past, his ego got in the way. With the Bears traveling to San Francisco next week, Chicago could be in deep trouble.
As for the Bills, the guy with the last laugh is head coach Doug Marrone. There have been reported arguments over personnel usage between Marrone and the front office. Marrone did it his way and came away with a hard fought victory.
Miami-New England
Many (including myself) had the Patriots walking away with the AFC East. Well, after Week 1, the Jets, Bills and Dolphins are 1-0 and the Patriots are 0-1 with the defeat coming in the form of a divisional loss. The Dolphins didn't luck into this win, they won convincingly 33-20.
Miami won the time of possession battle and rushed for 191 yards against the usually tough New England defense. New running back Knowshon Moreno notched 134 yards on 24 carries. The other stat I found interesting was that the Dolphins sacked quarterback Tom Brady four times.
Many of us had the Patriots winning the AFC East almost by default. It looks like this division will be a lot better than we expected.
Atlanta-New Orleans
Going into opening weekend, I had the Saints as the second best team in the NFC. The Falcons struggled last year and weren't much better in the preseason this year. Well, Sunday wasn't the preseason and the Falcons came back twice from 13 point deficits to win in overtime 37-34.
Matt Ryan threw for 448 yards and three touchdowns in the victory. All four Atlanta wide receivers had strong games, catching a total of 21 of Ryan's passes for 356 yards. Going into the game, the offensive line was a huge concern for the Falcons, yet they allowed only one sack in 44 passing attempts. New offensive line coach Mike Tice has to get a lot of credit for the result.
Credit also has to be given to the Atlanta defense, as they held Pro Bowl tight end Jimmy Graham to eight catches for 82 yards and no touchdowns. While eight receptions is impressive, holding Graham to only 82 total yards and no scores is a huge accomplishment.
Going into the game, I felt New Orl eans first-round pick Brandin Cooks was going to be a difference maker. While he caught seven passes for 77 yards and a touchdown, Cooks' average was only 11 yards per catch and that was a win for the Falcon defense.
Just as I felt New England was going to easily win the AFC East, I felt New Orleans would walk away with the NFC South. After one game, it looks like both divisions will be much tougher than I originally thought.
Ray Rice gets cut and suspended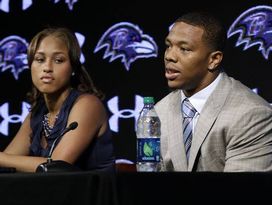 Ray Rice is finished in Baltimore.
As I was writing this column, word came over the wire that Baltimore terminated the contract of running back Ray Rice and just a little while later, the league suspended him indefinitely. Having seen the video, I applaud Ozzie Newsome, John Harbaugh and Roger Goodell for acting quickly. The video is shocking.
There is no way a thug like Rice should be allowed the privilege of playing in the NFL. He belongs in prison. That was assault, plain and simple.
Follow Greg on Twitter: @greggabe