August 23, 2010 -
Greg Gabriel
Weekend postgame thoughts
San Francisco
There were some who criticized the 49ers for taking two offensive linemen in the first round of April's draft. I thought it was a great move. You can't have too many good offensive and defensive linemen. If you are strong up front, you always have a chance.
The 49ers took guard Mike Iupati and tackle Anthony Davis. Head coach Mike Singletary almost immediately installed the two as starters. They will go through their rookie growing pains but the move will pay off in the long run. They are both big, physical players with enormous talent. I did work on both last year and really liked them. Their play last night was strong and they will get better with each game.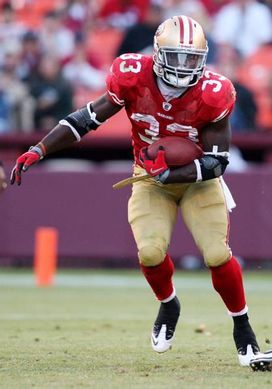 ICONAnthony Dixon will see the field for San Fran with the retirement of Glenn Coffee.
Fourth-round pick Anthony Dixon got a lot of reps in the backfield with starter Frank Gore out and Glenn Coffee suddenly retired. Dixon can be a solid backup and get some rotational play time. He is not a nifty, elusive runner but he is a good strong inside runner who can get tough yards.
I like the way quarterback Alex Smith has progressed. This is the first time he has had a chance to play in the same offensive system two years in a row. It has settled him down and he is playing with more confidence. He is reading the field better and is much more decisive with his decision making. He gets the ball out of his hand quickly and has accuracy.
Backup Nate Davis did some nice things. He has a strong arm and can make plays with his feet. He has a way of making things exciting.
The 49ers have done an excellent job putting this team together. Don't be surprised to see them challenge Arizona for the NFC West division title.
Minnesota
Brett Favre made his return but it was a short one. He only took four snaps. After he took a vicious hit by 49ers linebacker Patrick Willis on a blitz, he did not return.
Tarvaris Jackson, Sage Rosenfels and rookie Joe Webb took the rest of the quarterback snaps and had their moments, but it's safe to say that how Favre goes, so go the Vikings. I will say that Webb has some interesting traits. He has excellent speed and athletic ability. Many thought he would be a wide receiver or running back. It is going to take some time, but the Vikings may have a true "diamond in the rough" with Webb.
Second-round pick Toby Gerhart cannot do all the things that Chester Taylor did for the Vikings but he will be an excellent backup to Adrian Peterson.
Chicago
The Bears struggled for the second week in a row. The offense is still not in sync and the defense gives up too many plays.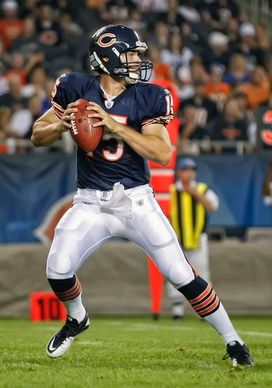 ICONThe Bears are having trouble finding practice reps for rookie Dan LeFevour.
Quarterback Jay Cutler was sacked five times, and except for Matt Forte's 89-yard run the running game was a nonfactor. Rookie QB Dan LeFevour may become a player in the league but it will take time. Until last week he got virtually no reps in training camp or in the OTAs. With a new offensive system being installed all the reps go to Cutler and backup Caleb Hanie. Hanie is out probably another week with a shoulder injury.
The defense was on the field for more than 34 minutes Saturday night. That was the same problem they have had the last two years. They have to find way to cut their opponents' time of possession to under 29 minutes a game.
Oakland
The Raiders are an improved team. While Jason Campbell is not ready for the Pro Bowl, he is a huge improvement over JaMarcus Russell. He is much more poised and accurate and has leadership ability.
Both the Oakland offensive and defensive lines dominated those of the Bears. When Darren McFadden returns from a hamstring injury, the team's running game will get even better.
Five of the six Raiders sacks came from linebackers, but OLB Kamerion Wimbley plays down as a defensive end in passing situations.
Tomorrow, we will take a look at the Cardinals and Titans from tonight.
Click here to purchase the Total Access Pass/Fantasy Draft Guide from the NFP.