August 16, 2010 -
Greg Gabriel
Weekend postgame thoughts
Opening preseason games are treated very differently from coach to coach. Some treat the preseason games as a necessary evil. They just want to get out of the contests without injury. Others look at them as a tone setter for the rest of the season. Especially if the previous season did not go the way they had hoped.
For years, I was a believer in the former way of thinking but I have gone the other way recently. I see how coaches like Bill Belichick, John Harbaugh and Sean Payton treat these games and they are right. Their teams do not go through the motion as others do. They play hard and physical and their key players play more than just one series. These coaches are trying to set the tone for the whole season. They treat every game as important and they want to win. They show more than just a vanilla offense and defense. I think that in the long run this way of thinking pays off for the team and gives them some momentum going into the regular season.
Over the weekend I had a chance to view a number of games, and here are some thoughts on some of those contests.
Tampa Bay at Miami
Just before kickoff a rain storm broke out and left the field in horrid conditions. Because both baseball and football are played at Sun Life Stadium, the baseball infield became a pile of mud. Footing was atrocious, making it very difficult to evaluate talent. Still, I was able to get a look at some young players.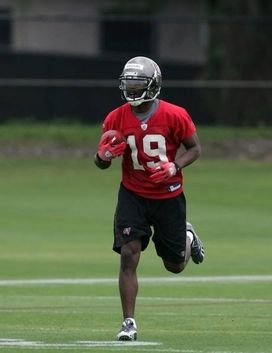 ICONCould Mike Williams be one of the steals of this past April's draft?
Tampa Bay's fourth-round pick Mike Williams, a wide receiver out of Syracuse, was a starter in his first game and came up with a big catch to set up the Bucs first score. He beat man coverage and made a great adjustment to the ball. Williams is an interesting kid. He had first- or second-round talent, but because of some off field issues while at Syracuse he dropped to the fourth round. It will be worth watching to see if he continues to improve. If he keeps his head screwed on straight he may be a steal for Tampa Bay,
Miami started its first three draft picks. First pick Jared Odrick was a starter at DE. He showed good instincts and reactions. He is strong at the point, uses his hands well and hustled in pursuit. Second-round pick Koa Misi started at outside linebacker. He is perfect for the 3-4 scheme. He has the size, strength, speed and quickness to become a quality pass rusher from his outside linebacker position. We saw flashes of that Saturday night. His pass drops were also good. Third-round pick John Jerry was a starter at right guard. He has great size and natural power. He got off the ball quickly and was able to get some movement with his run blocks. Like most rookies, he still needs work in pass protection.
Detroit at Pittsburgh
Like the Miami game, rain had an effect on playing conditions. The first half ended early because of lightning. Pittsburgh decided not to play quarterback Ben Roethlisberger and started Byron Leftwich instead. Leftwich played fairly well but he had drives hurt by fumbles in the first half. The Steelers running backs had at least three fumbles. The player that stood out was quarterback Dennis Dixon. Dixon looked really improved. Because of his speed and athleticism, he can and does make plays with his feet. He is becoming a reliable passer.
First-round pick Maurkice Pouncey got a lot of play time with the second offense. He has great quickness and power, and he does a very good job making second-level blocks. He is a very physical player and I often saw him looking for second blocks. He should be a starter before long.
Fourth-round pick Thad Gibson played a steady, consistent game. Thad was a down DE at Ohio State and he is making the transition to outside linebacker. He has excellent speed and plays hard every down. He has some natural pass rush ability.
Lions first-round pick Ndamukong Suh started at defensive tackle and showed he belonged. He missed about a week of practice getting his contract worked out, but you can see he will become a top player for Detroit. He is extremely strong and explosive. He got a good push with his power pass rush.
Detroit's other first-round pick, running back Jahvid Best, made some big plays. He has outstanding speed and quickness. He gets the corner turned very quickly. In the open field he can be very dangerous. He also showed soft hands.
Chicago at San Diego
Chicago disappointed. The Bears are in a position where they have to win this year. Saturday they didn't look like they will challenge for the division this year. One of the things the Bears wanted to improve this season was the run game. In Saturday's game, the running backs ran 17 times for 32 yards. That is not going to win a lot of games in the NFC North.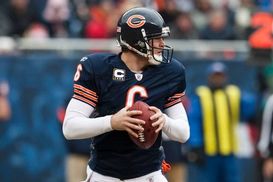 ICONJay Cutler didn't get much of a chance Saturday night to work in the new offense.
While most of the offensive starters played a good part of the first half, quarterback Jay Cutler only played in one series. I felt that was odd being they are playing in a new offensive scheme. Backup quarterback Caleb Hanie had his moments before he left the game with a shoulder injury. He makes plays because of his ability to move around in the pocket.
In 2009, the Bears defense could not get off the field. They gave up a number of plays when in third-and-long situations. Saturday was no different. They showed virtually no pass rush and the secondary gave up too many plays. On a bright note, third-round pick Major Wright played a very strong game at safety. He is physical and an excellent tackler.
For San Diego, first-round pick Ryan Mathews looked excellent. He has all the tools to be a very productive back in the NFL. He is a very strong runner with top run instincts and the quick feet to make defenders miss. San Diego played without a number of key players yet still dominated.
Click here to purchase the Total Access Pass / Fantasy Draft Guide from the NFP and receive a free Deuce Brand watch while supplies last.