August 07, 2014 -
Greg Gabriel
Weekend preview
The first full slate of NFL preseason contests commences Thursday night with six games, the two most intriguing of which feature Seattle visiting Denver and San Francisco traveling to Baltimore. These are rematches of the last two Super Bowls.
Seattle at Denver
It will be interesting to see how Denver handles this game after getting blown out by the Seahawks last February. Usually the first preseason game features the starters playing just a few series before the second and third-team players take over for the majority of the evening. While I'm sure Seattle will treat this like any other preseason game, we might see the Broncos play with a little attitude, especially because the game is in Denver.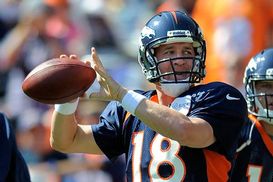 The last time Peyton Manning saw the Seahawks, he was on the wrong end of a blowout.
Aside from the physicality of the game, the Broncos will want to find out if first-round pick Bradley Roby (CB) from Ohio State is ready to assume either a starting role or a spot as the nickel corner. The other thing Denver wants to see is if second-round pick Cody Latimer (WR) can perform a serious deep threat for Peyton Manning. When watching tape of Latimer I thought he played more like a 4.6-type, not the 4.40 he ran at his pro day.
San Francisco at Baltimore
As opposed to the Seattle-Denver matchup, I'm sure the San Francisco-Baltimore game will be treated much more like an opening preseason contest. Like most early preseason games, the main storyline will be how the rookies perform.
Baltimore's first-round pick was linebacker C.J. Mosley from Alabama. Both the fans and the Raven coaching staff will want to see if Mosley plays with the same kind of fire that drove Ray Lewis.
The other main storyline for Baltimore will be how rookie running back Lorenzo Taliaferro plays. With Ray Rice being suspended for the first two games of the season, Baltimore needs to find a back who can carry the load while Rice is out.
Friday's Games
The national spotlight will rest on two games Friday night: Tampa Bay at Jacksonville and Oakland at Minnesota. Three of the top rookie quarterbacks will be making their NFL debuts in those two games.
Tampa Bay at Jacksonville
This will be Lovie Smith's first game as head coach of the Buccaneers and I'm sure the first team players will be going all out during their limited time on the field. Lovie preaches the importance of creating turnovers to his defense every day at practice, so it will be interesting to see how many, if any, turnovers are forced by the first team defense.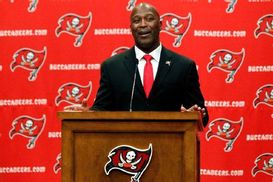 Will Lovie Smith's new defense rack up any turnovers this weekend?
On the offensive side for Tampa Bay, it will be the first time we get a look at Jeff Tedford as the Buccaneers offensive coordinator. I'm on record as saying that Tedford will be an excellent offensive coach in the NFL. We will get to see at least a little of his work with new quarterback Josh McCown.
For Jacksonville, quarterback Blake Bortles, who was the first quarterback selected in May's draft, will be making his debut. While I am sure that Chad Henne will start, we will get to see plenty of Bortles. I for one will be looking to see how Bortles reacts to Smith's pressure defense. The other thing I want to see is if rookie receivers Marqise Lee and Allen Robinson can do much. Lee is slated to start, while Robinson has been slowed some in practice with a hamstring injury.
Oakland at Minnesota
This is the game I'm most looking forward to, mainly because I had Oakland rookie quarterback Derek Carr ranked as the top signal-caller in this past draft.
Matt Schaub will get the start for the Raiders, but I expect him to give way to Carr after the first quarter. For Minnesota, Matt Cassell will get the start with rookie Teddy Bridgewater coming in at about the same time as Carr.
Vikings offensive coordinator Norv Turner has been raving about Bridgewater, so I'm sure he will make calls that play to Bridgewater's strengths. Both Carr and Bridgewater should be playing against the second string defenses, so it should be fairly easy to compare them.
Saturday: Cleveland at Detroit
The big news out of Cleveland over last few days is that Johnny Manziel has been getting reps with the first team offense during practice. Brian Hoyer should start for the Browns, but will we see Johnny Football playing with the first or second offensive line? Against an attacking Detroit defense, it might be better to have the top line playing with Manziel.
The national media will be critiquing every move that JFF makes, so get ready to be overloaded with Manziel highlights Sunday and Monday.
A look back at New York vs. Buffalo
For the Giants, first-round pick Odell Beckham (WR) did not play because of a hamstring issue. Fourth-round pick Andre Williams (RB) out of Boston College received a lot of playing time and looked good.
Following the game, ESPN was asking if Williams will be this year's Eddie Lacy? I say no because there was never a question about Williams' run skills prior to the draft. The questions evaluators had about Williams were his ability to catch and pass block. Both of those traits were sub-par when Williams was at Boston College. Lacy, on the other hand, was an accomplished receiver and a better-than-average pass blocker while at Alabama.
As for Buffalo, first-round pick Sammy Watkins played little and was only thrown to once, which did not result in a catch. What did jump out was the play of three rookie offensive linemen.
Seventh-round pick Seantrel Henderson got the nod at left tackle because regular starter Cordy Glenn has yet to practice. Henderson was a second-round talent who got drafted in the seventh because he failed numerous drug tests at Miami and scouts questioned his football character.
Henderson's overall play was good. He gave up a couple of pressures early but bounced back and showed fairly good technique along with being physical. This was a good game for him to build upon.
Second-round pick Cyrus Kouandjio played with the second offensive line and struggled. Kouandjio was thought to be a first-round talent but many teams failed him on their medical exam because of a bad knee.
Kouandjio gave up two sacks and a pressure while he was in the game. Instead of showing knee bend, he was a waist bender with very average lateral movement. In addition, his recovery quickness was poor. Kouandjio was drafted to be the starter at right tackle, but off of that game he is a long way from being a starter.
The third rookie lineman to get significant playing time was guard Cyril Richardson from Baylor. Richardson looked good as both a run blocker and a pass blocker and played a consistent game. He should challenge for a starting job.
Follow Greg on Twitter: @greggabe