September 24, 2010 -
Greg Gabriel
Weekend preview
There are some interesting NFL and college games this weekend. Here is a look at a few.
Carolina at Cincinnati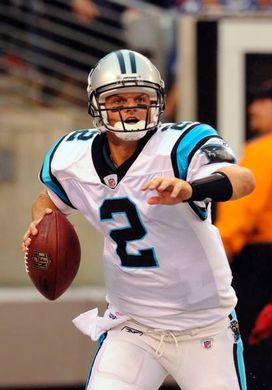 ICONJimmy Clausen will make his first NFL start against the Bengals this week.
Jimmy Clausen gets his first NFL start against the Bengals. If Clausen is going to have any kind of success, the Panthers have to protect him. While the Bengals have only one sack in their first two games, they have 10 hits on the opposing QB. Carolina's run game has to improve; they have averaged only 108 yards per game in the first two contests. A better run game will give Carolina possession time and that alone can help a rookie quarterback tremendously. Cincinnati is just getting into gear after a tough opener in New England. They can strike quickly with Terrell Owens and Chad Ochocinco and they have a top run game with Cedric Benson.
Green Bay at Chicago
We will find out Monday night if Chicago is a pretender or a contender. The Bears were lucky to beat Detroit but played probably their best game in two years with their win at Dallas. Unfortunately for Chicago, we are finding out that Dallas isn't nearly as good as advertised. With Green Bay's offensive line hurting, they are going to have to find a way to help rookie Bryan Bulaga block Julius Peppers. While Chicago's passing game has been very good, they have to get the ground game in gear. Left tackle Chris Williams will miss this game and right tackle Frank Ominyale will move over to start in his place. Kevin Shaffer will start at right tackle. Chicago's passing game is as strong as it's been in years. They have speed in Devin Hester, Johnny Knox and Devin Aromashodu to go along with possession receivers Greg Olsen and Earl Bennett. Chicago's secondary will be tested by the Green Bay offense. Aaron Rodgers always seems to have success against the Bears as does Greg Jennings. But the key may be how Chicago defends Jermichael Finley. He may be the best receiving tight end the Bears face all season.
Cleveland at Baltimore
Baltimore is coming off a poor showing at Cincinnati and will want to make amends in front of the home crowd. Even though the Ravens made significant changes in offensive personnel during the offseason it hasn't shown on the field yet. This could be the breakout game. If Cleveland goes 0-3, the questions will start on who is going to be the next Cleveland coach. I'm already hearing two things. One is Mike Holmgren would bring in Jon Gruden because of the mutual trust they have in each other. The other is Holmgren would take over as coach. Coaches don't like going out on a losing note, which is what happened to Holmgren in Seattle. In Cleveland, he would have a chance to turn things around and go out a winner.
College
Alabama at Arkansas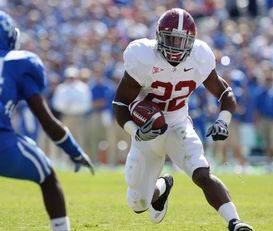 ICONThe return of Mark Ingram makes Alabama even stronger.
If you go by the rankings, this is by far the biggest game of the weekend. Alabama is ranked 1st and Arkansas is 10th in the AP poll. In my mind this game isn't close. Alabama is strong everywhere. They have the best running game in the country with Mark Ingram and Trent Richardson, and their passing game is outstanding. Julio Jones is a top wide receiver and probably a top draft pick when he comes out. While the defense lost many starters from last year, they have more speed and may be more talented.
Arkansas has an experienced team led by quarterback Ryan Mallett. He is a good college player but not as good as many of the media "experts" say he is. Last week I said that Mallett was not a sure fire first-round pick and I took some heat. I do believe he is a good pro prospect and he will get drafted. Maybe in the first round but I wouldn't draft him there. Elite quarterbacks need top accuracy and ball placement. Completion percentage is not always a good gauge in looking at accuracy. A quarterback has to put the ball in a place where his receiver can do something after the catch. I have seen many throws by Mallett where the receiver has to either wait on the ball or make an adjustment to make the catch. He can get away with that in college; you can't get away with that in the NFL. In the NFL you have a very small window in which to place the ball. Throw it outside that window and your opponent has an interception. Over the years there have been a lot of quarterbacks drafted in the first round that shouldn't have been. Just look at JaMarcus Russell.
Click here to win cash today playing fantasy football with the NFP and FanDuel.