September 17, 2010 -
Greg Gabriel
Weekend preview
Week 2 of the NFL season is upon us. And while it's early in the season, the New York Jets and San Francisco 49ers are already at a crossroads.
New England at New York Jets
This is a must game for the Jets. After losing on Monday Night Football to the Ravens, they have to come back strong. A loss will put them two games behind New England and all the preseason hype will be down the drain. New England started strong with a dominant win over Cincinnati. Even though they are playing with many new players on defense, the Patriots still made stops when they had to. The offense struck early and the defense put pressure on Carson Palmer. They forced two turnovers and had a special teams TD. Offensively, they still move the ball with Tom Brady. The additions of tight ends Rob Gronkowski and Aaron Hernandez give New England two more playmakers to go along with Randy Moss and Wes Welker. Speaking of Welker, I don't think anyone thought that he would come back from knee surgery as quickly as he did and play as effectively as he did.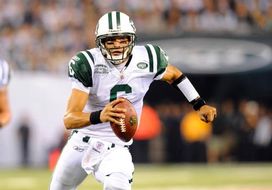 ICONMark Sanchez has to be more effective for the Jets to snag a win over the Pats.
The Jets defense played well Monday night but the offense was stagnant. They only put up 178 yards. I expected more from quarterback Mark Sanchez. He looked indecisive and timid. The key will be if offensive coordinator Brian Schottenheimer can get Sanchez to be more effective. They have to get the ball down the field to receivers Jerricho Cotchery and Braylon Edwards. If the Jets start 0-2 it will be a difficult task for them to regroup and make the playoffs.
After reading all the Jets preseason clips and watching "Hard Knocks," I couldn't help but think that somewhere up in football heaven late Giants GM George Young is having a chuckle. Early in my career when I was with the Giants, the Jets were making a lot of headlines in the New York press. I mentioned something to George about it, and in his typical cynical response he says, "It's all BS. Every year the Jets win the offseason with their moves but when the season starts it's back to reality and the Jets lose."
I had to clean up George's wording some but you get the picture.
New Orleans at San Francisco
Much like the Jets, San Francisco had a lot of preseason hype. Many, including myself, had the 49ers as the favorite in the NFC West. On opening day, Seattle took it to the Niners with a 31-6 win. It was the most startling result of opening weekend. San Francisco looked strong in the preseason on both offense and defense but neither unit played well against Seattle. Turning the ball over twice, converting only 1 of 15 third down situations and punting five times was hardly the look of a top-flight offense. Most disturbing, however, were the number of reports of tension between players and coaches. Situations like this can destroy a team.
Much of the unrest centered on play calling and the amount of time it takes to get plays in to the quarterback. The 49ers had to call a number of untimely time outs and had three delay of game calls in the first half Sunday. Coach Mike Singletary has to take control and solve this problem or the season could be over fast.
Saints coach Sean Payton is a great play caller and isn't afraid to take chances. He finds a weakness and attacks. New Orleans is loaded at the skill positions and all complement each other. They can score quickly or grind it out. The defense, much like the offense, is attacking. Coordinator Gregg Williams can be relentless. They have depth and don't really have a weakness. They consistently keep an offense off balance. I look for the Saints to be 2-0 by midnight Monday.
College football
There are not a lot of games with national implications this week in college football. If you believe the early season rankings, the best game is No. 9 Iowa at No. 24 Arizona. Some other interesting games are the annual Florida-Tennessee battle, No. 8 Nebraska at Washington and No. 12 Arkansas at Georgia.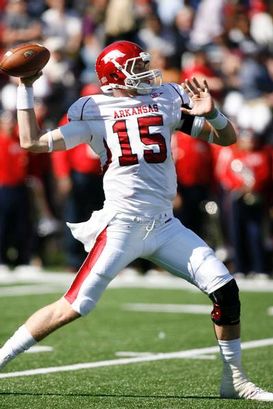 ICONCan Ryan Mallett increase his completion percentage this season?
There are many "draft experts" who have Arkansas quarterback Ryan Mallett as a sure first-round pick. I don't see it. While he is big and has a strong arm, he lacks consistent accuracy and instincts. I know he has put up big numbers in the first two games but Arkansas has played outmanned Louisiana-Monroe and Tennessee Tech. Let's see how he does against good SEC defenses. Last year he completed on 55 percent of his passes in an offense where he should complete 65 percent. At Michigan in 2007 he had 43 percent accuracy. Accuracy is a must for any quarterback to succeed in the NFL.
Mark Ingram
2009 Heisman Trophy winner Mark Ingram makes his 2010 debut Saturday against Duke. He will make a strong Alabama team stronger. An interesting side note is when four-star running back recruit Isaiah Crowell visited Alabama recently he told Bamaonline.com that Coach Nick Saban told him if he came to Alabama he would be splitting time with Trent Richardson next year. Did Saban tell Crowell something that none of us know? That this is Ingram's last year at Alabama and he will be playing in the NFL next year? I'm sure we will find out soon enough.
Click here to win cash today playing fantasy football with the NFP and FanDuel.