August 12, 2011 -
Greg Gabriel
What can we expect from the 1st-yr coaches in preseason?
This weekend we finally have football games to watch with the opening of the 2011 preseason schedule.
As we all know, the opening preseason games are without a doubt the worst games we will see all year. This year, because of the lockout, I expect that the games will be even worse. You will see each team use about 75 players and the play will be sloppier than usual. Teams that have been in a system for a while will probably look a little better than the teams with either new coaching staffs or new coordinators, but either way it will be bad football. Teams had no offseason programs or OTA's to work on timing and installation. Adding to that is the fact that veteran players who switched teams were not able to practice with their new teams until a week ago. Add to that a group of rookies who have only had two weeks of practice and the uncertain conditioning of many players and it will all lead to poor execution and mental mistakes. With that being said, let's look at a few of the interesting stories in this week's games.
Rookie quarterbacks debut
Many clubs invested high draft picks in quarterbacks in last April's draft, the most visible of whom is first pick Cam Newton. As of now, Newton is listed as the number 2 quarterback on Carolina's depth chart. I would look for Newton and second-year player Jimmy Clausen to get equal time this week. These are two vastly different players and the one who gives Carolina more spark and big-play ability will take the lead in becoming the opening game starter.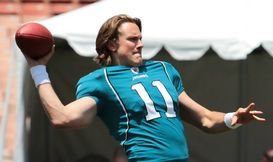 Can Blaine Gabbert take advantage of David Garrard's absence due to injury?
In Jacksonville, because of injury to David Garrard, first-round pick Blaine Gabbert will get the start. I was not a big fan of Gabbert before the draft; I questioned his accuracy and decision making so I am anxious to see him play and would love to be proved wrong.
Both Tennessee and Minnesota drafted quarterbacks in the first round but also signed veterans after the lockout. Donovan McNabb signed with the Vikings and former Seattle QB Matt Hasselbeck went to Tennessee. It will be interesting to see how quickly the vets adapt to their new surroundings and how the rookies play in general. Christian Ponder in Minnesota I feel is more ready for the pro game than Jake Locker is in Tennessee.
The other interesting rookie quarterback debut will be in Cincinnati where Andy Dalton will get the start versus Detroit. I saw a lot of tape of Dalton and it wouldn't shock me if he turns out to be a better quarterback than the four drafted before him. He may not have the physical tools of some of the others, but he is smart, instinctive and doesn't make many bad decisions.
Head coaching debuts
Just as many fans are looking to see how the rookies play, there will be another large group of fans very interested in how their teams perform under new head coaches. Officially there are seven new head coaches in the league, but two of them — Jason Garrett in Dallas and Leslie Frazier in Minnesota — actually acted as the interim head coach of their clubs the last part of 2010. The difference for these two coaches is they have now hired their own staffs and will be able to coach the clubs using their own philosophies. Because they have been with these clubs as coordinators they have a feel for the personnel, now it's getting the players to understand how the new coaches want things done and to execute properly.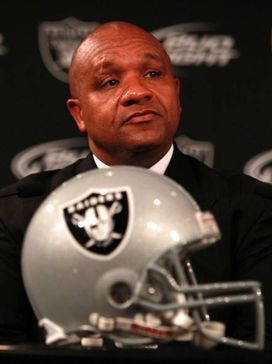 Hue Jackson hopes to have a long career with the Raiders.
Hue Jackson in Oakland is in a similar situation as he was the Raiders offensive coordinator last year. Jackson is a very good coach and has a chance to be the Raiders coach for quite a number of years. The Raiders played well last year, but because of cap problems they were unable to re-sign many of their free agents, some of whom were among the best at their position in the league (Nnamdi Asomugha, Zach Miller). This makes Jackson's job that much harder, but I feel he will do an excellent job working through it. The fourth new head coach who was on the staff of the team he now coaches is Mike Munchak in Tennessee. Munchak has been with the Oilers/Titans his whole playing and coaching career and has a strong passion for the franchise. Being a former offensive lineman (and a great one at that) and line coach bodes well for Munchak. Football history tells us that former offensive linemen and/or coaches turn out to be strong head coaches (Andy Reid, John Madden, Joe Gibbs).
The new head coaches (Ron Rivera in Carolina, Jim Harbaugh in San Francisco, Pat Shurmur in Cleveland) have a much tougher job. The first time they ever had a chance to work with their players was just two weeks ago. In that short time, we can't expect good execution but we can see if the players respond well to the new staffs with aggressive, intense play. This group of coaches really knows little about their players, so it will be a learning experience for them as well as the players.