March 13, 2011 -
Greg Gabriel
What decertification means to QBs in the draft
The decertification of the NFLPA could have a dramatic influence on this year's draft as far as quarterbacks are concerned. With no CBA in place and the players being locked out that means that there will be no OTA's or offseason programs. This will have an effect on all the rookies as they will be way behind once training camp finally begins. The position that will be influenced the most is the quarterback position, and it could also have an effect as to where they are drafted.
None of the quarterbacks in this class played in a predominantly pro-style offense in college. Clubs would have used the offseason program and the OTA's to work on the mechanics of the rookies and to give them time to learn their offenses. Without that valuable instruction period, how much value will a rookie quarterback have to a club? Their rookie years could be a wash, and if a club has a choice to draft a quarterback who won't play versus a player who will give them some production they may choose the latter. In scouting there is always a difference of opinion, and I am one who has felt for a long time that none of the top quarterbacks in this class are on par with some of the top quarterbacks in previous classes. I feel Cam Newton is the most talented quarterback in the class and a winner on the field but I don't trust his off-field behavior. If a club takes him in the top 5 they are saying that he will be the face of the franchise and with his off-field concerns (that have been documented) is this the player a club wants to be their leader? The club that drafts Newton will have answered that question internally. The other quarterback that has gotten a lot of play to be drafted early is Blaine Gabbert of Missouri. While he is talented, he is not close to being a starting NFL quarterback,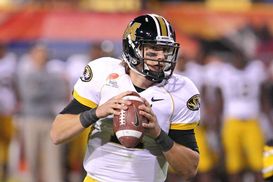 ICONAt times, Blaine Gabbert displayed indecisiveness in the pocket at Missouri.
Over the last couple of days, I looked at four game tapes on Gabbert. The games I viewed were Missouri versus Illinois, Texas A&M, Kansas and Nebraska. Missouri won three of those games and Gabbert from a statistical point of view had some good games and some average games. What I have seen is a big guy with great straight-line speed and a big arm. I have also seen a player who can be indecisive when making decisions, strictly looks at just one half of the field and gets flustered when pressured.
He consistently lines up 6-7 yards behind center, which is deeper than many spread offenses. I never saw him take a snap from under center. Many of his throws are determined pre snap and when one of those receivers isn't open he hesitates. You almost never see him look to the other side of the field. In four games, I don't think I saw him read more than half the field on 10 plays. The thing he consistently does when his predetermined reads are covered is retreat. You almost never see him step up and try and find an open man. Though he has great speed, he is not real quick footed and shows just average ability to avoid the rush.
The good news is he has a strong arm and throws a tight ball. On the shorter throws he shows a quick release with a semi over the top delivery. His accuracy and ball placement on the shorter throws can be very good. The problem is these receivers have to be open. When they aren't, Gabbert struggles with making decisions.
I saw him throw deep passes a number of times and his accuracy on the deep throws is very average. The other thing I noticed on the deep throws was that his throwing motion changed. On the short and medium range throws he has an over the top delivery. On the deep throws his release point is about 8-10 inches lower and seems to almost push the ball.
As a runner, he has speed but he is not elusive or quick footed. He seldom makes a defender miss in the open field. What he isn't able to do is keep a play alive with his feet. As I said above, he retreats and then just runs often throwing the ball just before he steps out of bounds.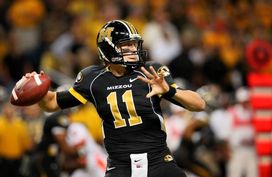 How much time will Gabbert need to ready himself for starting duty in the NFL?
While Gabbert had good numbers at Missouri in 2010, his final stats aren't close to Chase Daniel, who played in the same offense in 2008. Gabbert completed 63 percent of his passes for 3,186 yards and only 16 TDs. In 2008, Daniel completed 73 percent of his passes for 4,335 yards and 39 TDs. A huge difference in production! Daniel does not have the size and arm strength that Gabbert possesses, but he is far more accurate, instinctive and was a playmaker.
Overall, Gabbert is not ready to be a starting quarterback in the NFL. He is going to have to learn to take a snap from under center and drop back. His NFL coaches are going to have to fix the changes in his delivery and he is also going to have to learn to stay in the pocket and step up while reading receivers. He is also going to have to learn to read the whole field, something he has never done. This is not something that can be done overnight; it will take time. A club will probably draft him somewhere in the first round but I'm not so sure he is really a first-round talent. He is a long ways away from being ready to play and the lockout doesn't help him.