June 07, 2011 -
Greg Gabriel
What do scouts do in June and July?
Many people believe June and July are down months for NFL scouts. That's far from the truth. While it is during this time that personnel people get some vacation time it is also the time of the year when the top scouting departments are starting preparations for next year's draft. The pro departments are also getting a jump on things. Let's take a look at both.
College Scouting
The Blesto and National Scouting Combines had their spring meetings just before Memorial Day, so by now most scouts have received a copy of the combine scouting data from their offices. Most scouts will use these months to get prepared for the fall work. They will start watching tape from 2010 to get an idea of how the top players in their area played last year. They may also take a look at tape from the smaller schools that may have a prospect or two and get an idea of their talent. This way they know if they absolutely have to make a call on these schools. They may find after watching the tape that some of these small-school kids don't meet the criteria they look for. The opposite is also true; the small-school kid may really jump out at them and then the scout figures he has to make more than one stop at that school come fall.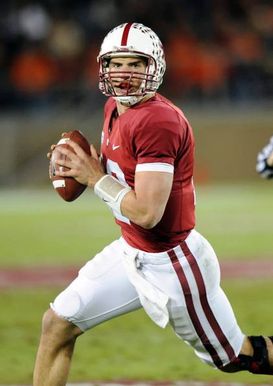 ICONStanford QB Andrew Luck is the likely top pick in the 2012 draft if he elects to come out.
Even though the scout gets a combine list that has players ranked, he may do his own rankings of the players by position in his area. Many times the scout's rankings are far different than the combine's rankings. The reason for this is the combine scout is looking for general overall talent while the club scout has to figure out if the player fits what the club is looking for at each position.
Scouts may also use this time to get some background work done on prospects. During the fall, most assistant coaches are busy with practice and game preparation so they don't have a lot of time to talk to scouts. Many of the top schools only have their pro liaison talk to the scouts in the fall so by calling a coach now, the scout can get more information under much more relaxed conditions. Over the years I have found that this can be very advantageous. Coaches are much more willing to give you good information when they are not under the pressure of the season.
When I was working for Chicago, I would use this time to watch tape of the top players at positions of need. Generally after the draft you know what you may need the following year. The reason you know this is your club may not have been able to draft players at all need positions; also, you know what players on your club will be coming out of contracts and who you may or may not want to keep. If I knew that a certain few positions were definitely going to be important, then I would try and watch tape on at least the top 10 to 12 players at that position. If I really liked them then I made sure I would see them 'live" in the fall.
Pro Scouting
June and July are great for pro scouts to get a jump on their workload. There are two main areas of concern that pro scouts need to look at. One is to start putting a book together on players who may be free agents the next spring and the other is advanced scouting.
Everyone in the league knows whose contracts are going to be up, so if you can look at three to four games of players you may have an interest in then you have at least two years worth of reports on those players. Again, during this period there is not much pressure to get things done quickly, so a scout can do a thorough job.
As far as advance scouting, the pro scouting can start to evaluate the out-of-division teams they play that season. As is the case of teams from the opposite conference, they only play some of these teams every four years, so it is imperative that they start early with the preparation. Also, when they look at teams with new coaching staffs or new coordinators, they have to go back and look at tape of the clubs the coaches came from — that gives them the best idea as to what these teams will run offensively and defensively.
Plaxico Burress
I'm sorry but I have to laugh when I read that the agent for Plaxico Burress says that he will be an "in demand" free agent. While Burress was an excellent receiver before he went to prison, he still has not played in over two years and it was his own lack of mental discipline that landed him there.. He will be 34 years old in August and at that age it is not easy to come back from a two-year layoff. Also, no one knows how the injury he sustained from the gunshot wound to his leg will affect him. Burress may be in good physical shape as far as weight and strength goes, but I doubt he can be anywhere close to being ready for football. It's not like he can run sprints inside prison to keep his speed up. Mike Vick was in his 20's when he missed time, Burress is much older. I agree a team will sign him but I can't see anyone risking much more than the veteran minimum to see if he can still play!