January 16, 2015 -
Greg Gabriel
What goes on in an NFL scouting department?
Within the scouting departments of the various NFL clubs, the scouting process is now in basically mid-season. While many of the Network draft analysts are already doing mock drafts, the reality is, NFL clubs aren't close to putting together a final board. That won't happen for at least another eight to ten weeks. While many clubs' scouting departments operate in a different manner, all want to come to the same conclusion, and that is putting together a final board for draft day.
During the fall, much of the base work is done, each school with a prospect has to be visited. If a school has a player or players who are considered top prospects, then a club may send in two or even three scouts for a fall visit. During these visits, the area scout is not only evaluating the player's talent and skill set, but he is also finding out about his background. This will include finding out about the player's family life, personal character and football character. The background and character information are just as important as a prospect's talent level.
First cut down
While much of the grunt work is done during the college season, it is in December that clubs start the cut down process and find a more workable number of players going forward. Many teams' scouting departments will meet early in December for about a week and eliminate players they feel aren't draft worthy or wanted as an undrafted free agent. This process takes the list from literally thousands to five or six hundred.
Scouts are often assigned cross-checks during this time. I always gave the scouts a very workable number of players to cross check, usually around 30 to 35 players. Many clubs will assign cross checks by position, that way the scout can "stack" the group form best to worst. Now that scouts have a more workable number to deal with, they can also do more character and background work on the remaining players in their assigned area.
All-star games
It is during the all-star games that the coaches enter the evaluation process. It's at these games that coaches are seeing many prospects in person for the first time. Coaches seldom look at every player at their position, but usually a group of players that have been assigned to them by the scouting director.
The coaches will not only look at their talent level but also their physical traits to see if they are indeed fits for the scheme they are coaching.
For the coaches, this process not only includes all-star games but also the combine and pro days. In essence, the coaches are using about a 10-week window in which to do their own evaluations.
February meetings and the combine
Following the All-star games and before the Combine, most scouting departments usually meet again for about a 10-to-14-day period. The prospect list is again trimmed down a bit at this time. Scouts are then usually assigned a group of players to watch closely at the Combine.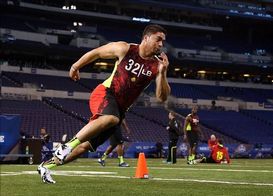 US PresswireAt the combine, the real tests are the personal and medical ones.
The trainers and medical staff are also assigned a group of players to look at very closely as the players go through their medical exams. Scouts have a general idea what injuries a player may have had during his career. When a player is going through his physical, the medical staff can request that an x-ray or MRI be done on a knee, shoulder, etc. to evaluate how that injury has healed or to see if there are arthritic changes happening in the injury area.
While many fans feel the workouts at the combine are the most important part, it's really the medical. There are many draft boards that go through drastic changes after the results of the medicals are brought into play. I have seen many top players over the years lose value because of the results of the medical exam.
Generally speaking, players "drop" because of two things, poor character or a bad medical exam.
While the workout is important at the combine, the prospects are expected to do well. The player's agents have spent thousands of dollars preparing each prospect for this week long event. Just about every player attending the combine has spent form four to six weeks at a training center practicing everything he will do at the combine. Each drill has become a learned routine, and because of that, scouts expect each player to perform well. It is not a surprise when a player has a great combine. The surprise comes when he does poorly. While the draft analysts like to say many players improved their stock at the combine, that really isn't the case, and the players that dropped, did so because they tested out as being less of an athlete than what was anticipated.
Pro Days
While prospects are expected to do well at the combine because all the drills are learned drills, that isn't the case at the various pro days. Coaches from various teams have more hands-on time at a pro day. They often have the players run drills that haven't been practiced. This gives the coach a better idea of a prospect's true athleticism and reaction skills.
With quarterbacks, pro days can be a waste of time, because many coaches really don't get to handle the workout. Often, the quarterback prospect has his "quarterback guru" run the workout. While he may throw 50 or 60 passes, each throw has been scripted and rehearsed many times before the actual workout. Like the combine, the prospect is expected to do well at these workouts.
If a club wants to get a more up close and personal workout with a quarterback or any other prospect, they will schedule a private workout with the player. At these workouts, the coaches are in charge, so to speak, and they can get a much better feel for the player. In recent years, more and more clubs are requesting private workouts with top prospects.
The Final Board
While the month of March is usually workout time, the month of April is used to finalize the draft board. Clubs have all the information as far as background and character checks, medical exams and workouts. All the reports by the scouts and coaches have been filed and a final board is put together. The scouts are brought in for final meetings and the board is set. I can guarantee you one thing: no two teams' draft boards are alike. A player could have a first round grade from one team and a third round grade from another.
Many times that happens just because the player may fit better within that team's offensive or defensive scheme. A big 6'3" – 350 pound nose tackle isn't going to be rated as highly by a team that runs a one gap 4-3 scheme as he is by a team that runs a two gap 3-4 scheme. It just stands to reason. A player who is a medical risk for one club may not carry that same risk with another club. The different teams' medical staffs often disagree as to the severity of an injury. Often, a clubs experience with a similar injury on another player leads them to raise or lower the medical grade on a current prospect. One thing is certain, each team attacks the draft process in their own manner. That said, they are all looking for the same result. They want to find the best players to help the team improve.