February 04, 2011 -
Greg Gabriel
What scouts do between now and the Combine
The period between the All-Star games and the annual Indianapolis Scouting Combine is hardly a dead time for scouts. Most clubs will have their scouts in for meetings starting next week and going until just before the start of the Combine. What they will do is go over each player scouted, usually by position. This can be a long, tedious process unless the list has already been cut down at an earlier date, but for most clubs it is 10-14 straight days of meetings that last 12-14 hours a day. It's probably the most grueling part of the scouting calendar but also a very important part.
Every person who saw the player during the season will report on him. Not only is the prospect's playing ability gone over but also his character and injury history. These discussions can become very "lively" because there are different opinions as to the players' talent. If I saw a player one way and the area scout felt drastically different about the player then there was only one way to solve the problem and that's to watch more tape. Somebody has to be right and it's not about WHO is right it's about BEING right! If the area scout and I watched tape together one of us would almost always see the others point of view and we could figure out what the player's value actually is. This may be a long process but in the end club has the right value on the player, and that is most important.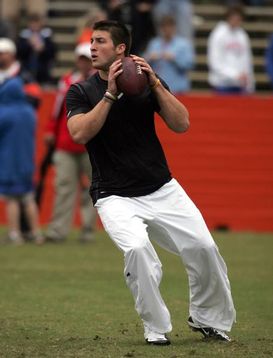 ICONThere were differing opinions on Tim Tebow before last year's draft.
When you talk about the player's character it is determined that if there are problems, is there more research that is needed or do you simply discard the player and take him off your "board?" In earlier articles I wrote that character is divided into two categories, one is personal character and the other is football character. In the evaluation meetings both are discussed. A player can have strong personal character and poor football character and if that's the case you may want to eliminate that player also.
When the injury history of a player is discussed, clubs will determine if they want their medical staff to closely examine certain players when they get their medicals done while at the Combine. If there is an abundant injury history then that player could be in for a huge battery of tests while at the Combine. I have seen at some previous Combines a player get as many as 4 or 5 different MRI's! If a club is going to make an investment in a player then they have to know everything about him.
At these meetings, it is also usually decided what players to assign to the different position coaches. Obviously you only want to assign to the coach players that are a fit for your scheme. I never wanted to overload a coach with a huge list of players. If you give him 15- 20 players to work on that is more than enough. I have seen some clubs give a coach a list as long as 35–40 players and it's just too much for the coach to do in a short time and expect him to do a good job. If he has a reasonable number of players he can do some tape work before he gets to the Combine and have a basic idea of the player's talent level.
When teams are at the Combine they have a chance to interview players in a formal atmosphere. Interviews usually start the day players arrive in Indianapolis. To make sure that the interviews are done in an orderly fashion, clubs are asked to submit the names of the players they want to interview a few weeks before the Combine starts. That way the staff of the Combine can schedule each player's interview.
Clubs are limited to a maximum of 60 interviews at the Combine, so during the early February evaluation meetings when a player is discussed it is also determined if an interview is needed. Many times, scouts already have interviewed prospects at the All- Star games. If that is the case, then no further interview may be needed. The Combine, though, is the first time that clubs are "face to face" with the underclassmen in the draft. So a good portion of your 60 interviews is used on the underclassmen.
In future posts we will talk about the day-to-day activities at the combine and what really goes on.
Want to work in the NFL? Click here to sign up for the NFP's "Chalk Talk at the Combine" Seminar February 25 in Indianapolis.