April 03, 2012 -
Greg Gabriel
What you should know about Claiborne's test score
A report earlier today stated that LSU cornerback Mo Claiborne scored a 4 on the Wonderlic test at the Combine. When a player scores that low it's an obvious red flag and clubs have to do their research on the player. Personally, I feel the league should find out who leaked the score and fire the individual. There are some things that should be kept private and this is one of them. Let's look at the process.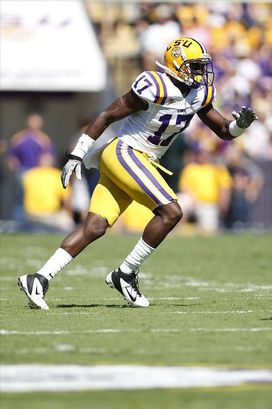 ICONLSU CB Morris Claiborne.
I for one feel the Wonderlic is obsolete when it comes to testing for intelligence in the NFL. It's not because the test isn't good, it's because the use of THAT test is no longer valid. The people from Wonderlic will tell you that the test is a good indicator of intelligence when it is taken ONE time under PROPER testing conditions. The NFL has been using this test for over 30 years. Prospects usually take the test as juniors on their testing day for Combine scouts in the spring of their junior year. The scores are distributed to all the clubs later that spring. If the prospect has taken the test, he is not supposed to take it again until he goes to the Combine. The problem is that while the prospect is at a training center preparing for the Combine, he takes a version of the test sometimes 4-5 times a week for up to 6 weeks. This makes the result of the test totally invalid when taken at the Combine. I have seen instances where a prospect's test score has jumped by as much as 20 points at the Combine and only because he has taken it so many times. The Wonderlic people will tell you that a jump by any more than 4 points is invalid.
Now knowing what I just wrote, let's look at the Claiborne situation.
When Claiborne came out of high school, the schools that recruited him knew he had a learning disability. I don't know much about his disability other than it has to do with reading. Everyone I have talked to tells me that Claiborne has great character and is a great kid. He knows and understands his disability and uses all the resources that LSU has available to control it and to help him get by in the classroom. When it comes to football he puts in extra time to learn and understand his assignments and it is not a problem. Will he need reps? Probably, but no more than the usual rookie would need. In saying that, Claiborne's test score was NOT a true indicator of his intelligence. He can and does learn.
Claiborne is expected to be drafted in the top 5 of this month's NFL Draft. What I suspect happened is a club drafting after 5 leaked the test score to try and scare off teams in the top 5 from drafting Claiborne. The clubs have known the results of these scores for weeks. If they had any questions about a player's ability to learn they have had plenty of time to do their research to feel if they are comfortable with drafting Claiborne. The team leaking the score is hoping that the public backlash for drafting a player with such a low score will scare them off. Unfortunately, this is dirty pool but it often happens this time of year in the NFL. Just remember, if you start to hear a lot of negative things about some highly rated players in the next few weeks, it's because a team who drafts later in the round wants the player to drop so they can have an opportunity to select him.