December 24, 2014 -
Greg Gabriel
Where will Jim Harbaugh end up?
Much of the talk around both the NFL and college football circuits is focused on where Jim Harbaugh will land in about another week, as it's a forgone conclusion that Harbaugh will no longer be the head coach of the San Francisco 49ers. If you ask Michigan fans, they feel a deal is already in place for Harbaugh to become the next head coach of their storied program.
As Lee Corso likes to say just about every week on College GameDay, "Not so fast, my friend." While there is a good chance that Harbaugh will become the next HC at Michigan, there is just as good a chance that he is the next leader of the Oakland Raiders, New York Jets or even the Chicago Bears. At this point, even Jim Harbaugh doesn't know the answer.
Before I talk about potential destinations for Harbaugh, I would like to share a little story with you.
When I started scouting for National Football Scouting in 1984 and then the New York Giants in 1985, my main area of concentration was the Big Ten. Over the years I spent a lot of time on the Michigan campus and became very fond of the school. I probably made 40-50 school calls to Michigan as well as attended at least 12 games at Michigan Stadium.
While working with the Giants, we drafted a number of Michigan players in the premium rounds. Tyrone Wheatley and Jarod Bunch were first round picks while Jumbo Elliott and Amani Toomer were second round picks. Needless to say, we liked Michigan players.
I also had a very good relationship with the late Bo Schembechler as well as an ongoing friendship with his son Schemy. In all honesty, Michigan was always one of my favorite stops.
My fondness for the school ended this week through no fault of the University, but rather their asinine fans.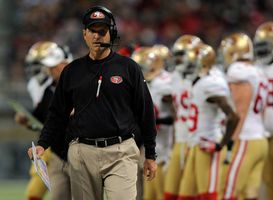 What are the chances Harbaugh winds up back at Michigan?
Two weeks ago I tweeted that in all likelihood, Jim Harbaugh would not become the next head coach at Michigan. Two weeks ago that was a very true statement, as Harbaugh wanted to coach nowhere but in the NFL. That was reported in various places by some very credible people. Harbaugh was done with the college game and wanted to coach only in the professional ranks.
Soon after my tweet, I started receiving several threatening, vulgar and obscene tweets from Michigan fans. In simple words, they said I didn't know what I was talking about and that my sources were worthless.
Of course, they can believe what they want, as that's what fans do. The problem is that with the recent news surfacing that Harbaugh may in fact become the Michigan coach, the assault on my inbox picked up dramatically in recent days. Over the course of 24 hours I received close to 100 tweets from Michigan fans, some of which are too disgusting to repeat.
And with that, I am done with Michigan. The fans of that school are some of the biggest losers in America.
Now, back to Harbaugh…
I have talked to several people very close to the situation over the last few days and this is what I know: Harbaugh would prefer to coach in the National Football League. The thing that brings Michigan into the equation is the money. I have been told, but it is not confirmed, that Harbaugh's representatives have basically agreed to the money portion of deal with Michigan. It ends there.
When Harbaugh is fired by the 49ers next week, he wants to find out what NFL jobs are available and whether or not he is a candidate for any of those positions. In a perfect world, he would like total control over personnel, but would accept a situation where he has more say than he had in San Francisco. The last thing he wants is to have a relationship like he currently has with general manager Trent Baalke. From what I am told, Harbaugh does have a list of potential personnel people he would like to work with him at his next NFL stop.
What Harbaugh and his agent have going for them is the essence of time. An NFL club is going to have to work fast to get a deal done or Harbaugh will be in Ann Arbor. This gives Harbaugh much more leverage than most coaching candidates ever experience. While the money may not be equal to the Michigan finances, it has to be close and, of course, the control he wants has to be a given.
Looking at what jobs may become available next week, the situation that may be best as far as the NFL would be the Oakland Raiders. Given the current structure of the Chicago Bears, more than just Marc Trestman being fired would have to happen. The other situation that could present itself as a very good NFL destination is the New York Jets. Both Oakland and New York want to turn their programs around and may give Harbaugh what he wants. And they may be willing to do it quickly.
One person close to the situation told me that he would put the order of preference for Harbaugh as Oakland first, Jets second and Michigan third. Another person had it Oakland, Michigan, Jets. The bottom line is that no one knows exactly what is going to happen except Jim Harbaugh and his agent, David Dunn. We can all speculate, but we won't know the answer for another seven or eight days, which will make watching the headlines fun. Happy Holidays, everyone!
Follow Greg on Twitter: @greggabe