July 25, 2013 -
Greg Gabriel
Which first-round defensive players will contribute most this year?
Even though three of the first four players taken in this year's draft were offensive players, the majority of the first-round selections were on defense. The final number was 17 defensive players. Bottom line in the NFL is defense wins games and if a defensive player is selected in the first round he is expected to contribute. In most cases this year I see that happening.
The first defensive player drafted was Oregon OLB Dion Jordan. Jordan has excellent athleticism and is a perfect fit for Miami's scheme. He will be a very good complement to Cameron Wake and gives the Dolphins another edge pass rusher.
The fifth pick in the first round was BYU's Zeke Ansah. While I believe Ansah has tremendous upside I don't see him as a starter right away. Ansah has only played football for three years and is still very raw. I see him more as a designated pass rusher in 2013. I'm sure in the second half of the season he will see more play time in run down situations.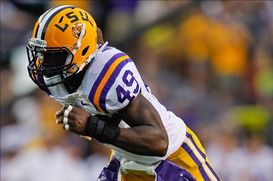 Barkevious Mingo can be an every down player right from the get go.
Cleveland took LSU's Barkevious Mingo with the sixth pick. At this time, Mingo is a much more advanced player than Ansah and I see him being an every down player right from the get go. I'd be shocked if he isn't in the starting lineup opening day. Mingo can be a future Pro Bowl-type player.
After trading Darelle Revis, the Jets had an obvious need at corner. Dee Milliner was the best corner in the draft and I expect Milliner to become a shutdown corner very early in his career. The Jets had two first-round picks, the other being defensive lineman Sheldon Richardson from Missouri. Richardson is big, fast and explosive. In time he should become the Jets best defensive line pass rusher. Richardson is a big time talent. The Raiders also had a big need at corner so their selection of D.J Hayden was not a surprise. Hayden should also be a starter by game one. He has excellent ball skills and speed.
One of the surprises of the draft was that Star Lotulelei was still available at No. 14 for Carolina. Two months before the draft there were many who thought he may be the first pick. He should become an excellent defensive tackle very quickly and solidify the Panthers interior defensive line. The Saints had an excellent defense in 2011 but they did not play as well in 2012. One of the reasons was their safety play and Kenny Vaccaro is just what the doctor ordered. He will start and provide the Saints with an upgrade at the position.
San Francisco has done an excellent job drafting the last few years but their selection of safety Eric Reid surprised me. While they had a need at the position and Reid fills that need and may start, I don't see him being more than a journeyman type player. I thought his coverage skills were average at best. The Steelers' selection of Jarvis Jones was a great pick. Jones has great natural pass rush talent and should become a productive pass rusher.
It was really amazing this year how good players at a position fell to teams with a need at that position. Such was the case with Atlanta getting corner Desmond Trufant, Indianapolis drafting Bjorn Werner and the Vikings selecting corner Xavier Rhodes. Rhodes should replace Antoine Winfield and Werner will replace Dwight Freeney at OLB. On passing downs Werner should play as a defensive end type pass rusher. In Atlanta Trufant will line up at right corner opposite Asante Samuel.
Green Bay needed an athletic pass rushing defensive end and Datone Jones was a perfect fit to fill that need. Early on he may not be an every down player, but you can expect him to be on the field for passing downs. Jones has big time pass rush potential. Denver doesn't have a defensive tackle with Sylvester Williams talent. Williams can play the run and is a very good inside pass rusher with a high motor. He will get a lot of play time as a rookie.
If not for character questions, Alec Ogletree may have been a top 15 selection. He is very aggressive with excellent cover skills. He upgrades the Rams at the linebacker position and should be very productive this year.
Super Bowl champion Baltimore lost one of the all-time great safeties in Ed Reed. The Ravens were fortunate that Florida safety Matt Elam was available for their pick. At 5-10 and 208 Elam is a little shorter than Reed but plays the game in the same manner. He is an aggressive hitter with good ball skills. While it may be hard to replace a future Hall of Famer, give Elam some time and he will make his presence felt on the field.