July 22, 2013 -
Greg Gabriel
Which first-round offensive players will contribute most this year?
Many rookie camps have already opened and before the week is out just about all 32 NFL clubs will have started training camp. With that said, many fans will start to wonder how much of a contribution their teams' first-round pick will make.
As of this morning there were still 14 unsigned players from the first round, including first overall pick Eric Fisher. All of the players selected from pick number 22 through 29 have also gone unsigned. As is the case almost every year, I'm sure that by the end of the week most if not all of these players will be signed. The players who miss practice time leave themselves open to falling behind and the more you fall behind the less likely you are to contribute early on.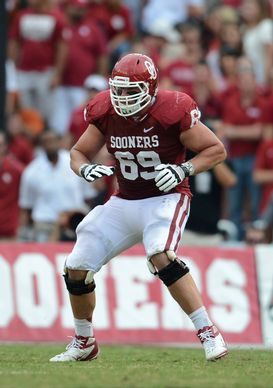 US PRESSWIRELane Johnson has experience at right tackle having played there in 2011.
Assuming that most will be in camp on time or shortly thereafter, I feel most if not all of the nine offensive linemen selected in the first round will be starters on opening day. The offensive line was the strength of the early part of the draft and the clubs who selected these players did so because of both need and the talent of the prospect. The one thing to watch is Eric Fisher (Kansas City), Luke Joeckel (Jacksonville) and Lane Johnson (Philadelphia) all played left tackle for their college teams last year and will be making the transition to right tackle with their NFL clubs. Of the three, only Johnson has experience at right tackle having played there in 2011. On paper it looks like an easy transition but it really isn't because the player is being asked to do everything the opposite of the way he is used to doing things as far as footwork and hand placement.
Guards Jonathan Cooper (Arizona) and Chance Warmack (Tennessee) could be dominating-type guards before too long. Both of these players are as good as any drafted at the position in years. Tackle D.J. Fluker, drafted by San Diego, will be an excellent run blocker from the get go but will need work on his pass protection skills. Kyle Long, drafted by the Bears, is very athletic and explosive. Still, he played only one year of major college football and missed OTA's but he is an intelligent kid who will pick things up quickly. Justin Pugh (Giants) can play guard or tackle. The most likely scenario is that he ends up at left guard for the Giants. He could also line up at right tackle. Dallas has a need at center and that is where Travis Frederick will line up. While many thought he may not be a first-round talent he still may have been the best center in the draft.
The position that may be the hardest for a rookie to come in and start right away is wide receiver. The college passing game isn't nearly as complex as the NFL game and it takes many receivers time to adjust. Still, the Rams' Tavon Austin should be an instant threat lining up at slot receiver. Both DeAndre Hopkins (Houston) and Corrdarelle Patterson (Vikings) are talented players but both were early entries and will need time to adjust to the pro game. In Patterson's case he only played one year at the major college level. Still, I expect both to be role-type players early in the season but with their natural talents they can still have some big plays while used in that role. If they aren't starters as rookies there may be many in the media who want to label them busts. That could be far from the truth. You draft a player to be a playmaker for a career not one year. With receivers you have to be patient and give them time to develop and feel comfortable. Unless he really has special traits, most receivers start to come on in their second year.
The player who may put up the best stats of the first-round offensive rookies is Cincinnati's Tyler Eifert. The Bengals already have a good tight end in Jermaine Gresham. Gresham is more of a "Y" type tight end while Eifert can play as an "H" back type or in-line at the "Y." With his speed, athleticism and hands look for the Bengals to create mismatches for Eifert much like New England did with its tight ends.
The only quarterback taken in the first round was E.J. Manuel from Florida State (Bills). Manuel played in a half-field read offense at Florida State so he too will need time to adjust to the complexities of an NFL passing attack. Still, Manuel is far more talented than Kevin Kolb. While I expect Kolb to be the starter opening day, don't be surprised if Manuel is the starter by midseason. The thing that Manuel can do that Kolb can't is keep plays alive and make plays with his feet. That alone will add a dimension to the Bills' attack.