July 05, 2011 -
Barry Dorey
Which rookie position group can contribute early?
In order to even consider writing this post, we have to assume there will be a new CBA within the next two weeks with training camps opening on time. If that's the case, then who from the current rookie class will be able to contribute the most and/or the earliest this season?
We all know that the rookies will be way behind once they get to camp. They have already lost a rookie mini-camp, a team mini-camp, OTA's and the learning portion of the offseason program. Usually it is during this time that the rookie class begins to learn the schemes and generally begin to figure out what it takes to be a pro. This year, on the first day of camp it will be their first exposure to their teammates and coaches. Everything is going to be new to them and they are not going to have much time to impress. Because there has been no offseason, coaches are going to trust veterans more than they may usually. Coaches are concerned with timing and making sure assignments are done right and they don't like mistakes. You throw a bunch of rookies in there without having had exposure, and they are bound to make one mistake after another. Because coaches are not going to have a lot of patience for mistakes that means the rookies may see less reps than usual. You can understand the coaches thought process — they have get the team ready to play the season and may only have six weeks to do so.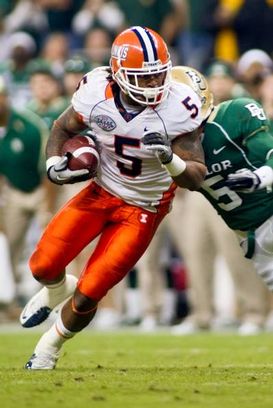 ICONMikel Leshoure and other rookie RBs may be able to make the most impact in their first seasons.
With that being said, who can contribute the earliest? My feeling is the running backs. That position more than any other relies on instincts. Yes, they have to know the playbook and that will take time, but in reality there are only so many running plays a team can run. Where a back will struggle is in pass protection and because of that you may see the majority of running backs who play early only play on run downs. It will take some time before coaches are comfortable with rookie running backs in protection. Why? They have to protect the quarterback!
While the running backs may have a chance to play the earliest on offense the ones who will struggle the most early on are the quarterbacks. Not having had those offseason reps is going to set the QBs way back. The only way I can see quarterbacks playing early is if the team scales back the offense or the starter gets injured.
Offensive linemen and receivers will also be slow to develop. I have written in the past that it usually takes a receiver (except for the few special ones) a few years to become comfortable in the offensive schemes. What happens is if a receiver is not comfortable with what he has to do he ends up playing slower because he has to think too much. Offensive linemen are almost in the same position. They not only have to have technique down, which takes time, but they also have to know the calls and be able to react instantly. This takes times and only a player with outstanding football character and instincts will be able to pick these things up quickly.
On defense, linemen probably have the best chance to play early, especially if they are outstanding pass rushers. At the least, the good pass rushers can play in passing situations and just be turned loose. It may take a bit longer to play on running downs only because the coaches have to be sure they know the defense. A simple mistake can lead to a big play because the defender is out of position.
While the ability to play in the defensive secondary is often determined by natural talent and cover skills, being comfortable in the coverages is extremely important. Just as a mental mistake by a defensive lineman can lead to a big play, a blown coverage by a defensive back can lead to a touchdown.
The only way these young players are going to feel comfortable at what they do is with a lot of practice reps and this year I'm afraid their reps may be at a minimum!