June 17, 2011 -
Greg Gabriel
Who are the lockout's biggest losers?
While the lockout has produced no winners, there have been some that have been affected more than others. Let's take a look.
Draft Choices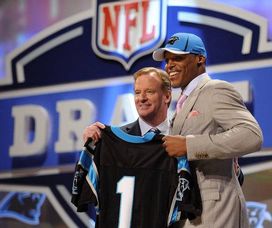 Rookies like Cam Newton have lost valuable time due to the lockout of adjusting to life in the NFL.
Draft choices usually report for a rookie minicamp within two weeks of the draft. This is an indoctrination period where they meet the coaches, find out what is expected of them and get their first look at the playbook. After May 15 the rookies can take part in the offseason program which includes the club's strength and conditioning program, daily classroom work, twice a week on the field work and OTA's. It is during this period that coaches begin to have a feel for what the new players can do. They see how they respond to coaching, how quickly they pick up either the offense or defense and what their work habits are like. The coaches then figure what impact (if any) the draft choices can have in their rookie year. Without all this work, which usually encompasses about 5 to 6 weeks, the draft choices will be way behind once camps open later this summer. While they still have very good chances of making a club, their contributions at least early in the season will be far less than in previous years.
Rookie Free Agents
Usually rookie free agents are signed within a few hours of the draft ending. Because of the lockout, no rookie free agents have been signed yet. None of these kids have a clue as to where they will be playing. On top of that, they lost time to impress coaches during the mini-camps, offseason program and OTA's. With a good impression in the offseason program, a coach can then plan as to how to utilize the player when camp opens. That won't be the case in 2011. When camps open, because the coaches lost all that offseason preparation time, they will not have the time to be "trying out free agents." Their main focus will be getting the team prepared to open the season. If an undrafted free agent does not show some "special" talent in the first week of camp he may have lost his opportunity to make a team.
Rookie Quarterbacks
Everything I wrote above holds true with the quarterbacks but even more so. Many of the rookie quarterbacks played in spread formations in college and have little experience playing from under center and reading the whole field. The offseason would have given them time to work on their deficiencies, learn the playbook and have almost daily work with the receivers and running backs. That isn't the case this year and these players will be way behind when they report to camp. Instead of being fairly knowledgeable about how things are done, everything will be new and it will take time for them to catch up. While some rookie quarterbacks may be starters when the regular season opens, they will not be nearly as prepared as they have been in the past.
New Coaching Staffs
I really feel sorry for these guys. It's June 17 and the coaches haven't spent any time with their players installing an offense and defense. These clubs are going to be way behind the other clubs in the league. In an ordinary year, a new coaching staff can have extra mini-camps as well as OTA's to give them time to install. This year, the first installation of schemes will be the first day of camp. In places like Carolina where a rookie quarterback is expected to be the starter it puts them even further behind.
New staffs also use the offseason program to find out about their veteran players. By just observing the vets in the weight room and on the field they find out who the workers and leaders are. It is also a time to build relationships with the players. In the NFL chemistry between the coaching staff and the players is extremely important. Now all of that has to be done at training camp when there is pressure to get the team ready for the opening game. These coach's jobs will not be easy this year, I just hope the owners give the staffs a mulligan because if they get off to slow starts it's through no fault of their own.