November 21, 2011 -
Barry Dorey
Who is Caleb Hanie?
With Chicago quarterback Jay Cutler probably being out the rest of the regular season, the job of leading the Bears into the playoffs falls on the shoulders of backup Caleb Hanie. Hanie has not had a lot of regular season experience since he has been in the league, and he has a huge job over the next two months. It's a job that will, in essence, define his career.
Just who is Caleb Hanie and how did he become a member of the Bears?
As Director of College Scouting for Chicago in 2008 I was much involved with the process of "recruiting" Hanie. Going into the draft we knew we wanted to either draft or sign as a free agent a young developmental quarterback. That class was not a very strong quarterback class, with only two being drafted in the 1st round. They were Matt Ryan and Joe Flacco. The 2nd round also had only two quarterbacks taken (Brian Brohm and Chad Henne). After that is was a crap shoot and the chances of getting a good developmental type were just as good in free agency as they were in drafting a prospect in the late rounds. What we wanted was a strong-armed athletic type with solid leadership skills and strong football character.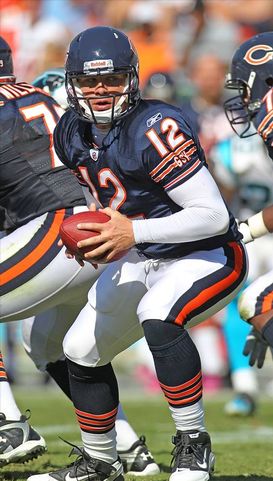 ICONCaleb Hanie will step in for Jay Cutler as the Bears starting QB.
During the evaluation process we knew that we weren't in position to draft a quarterback high because of other needs at running back and the offensive line. If you remember, our first two picks in 2008 were tackle Chris Williams, who is now a starting guard, and running back Matt Forte. In December 2007, I spent a good part of that month watching tape on a number of late round/free agent quarterbacks. By the end of that month I came up with 3 names…Hanie from Colorado State, Josh Johnson from the University of San Diego and Nick Hill of Southern Illinois.
Hanie was a two-year starter at Colorado State and though the team wasn't a big winner, Hanie had good stats, showed a strong arm, was athletic and tough. Hill led Southern Illinois to the semifinal game of the I-AA playoffs, losing to Delaware, which was led by Flacco. Johnson was a kid from a low level of competition who showed talent but was very raw. In his early years at San Diego he was coached by Jim Harbaugh, who had strong things to say about Johnson as a prospect. Both Hanie and Hill played in All-Star games so we were able to spend some "quality time" with each of them. We sent our quarterback coach (Pep Hamilton, now the offensive coordinator at Stanford) to the games and he probably spent a good 3-4 hours with each of the two, getting a good feel for their intelligence, ability to pick up concepts, personality etc. I was also at the games and sat in on the meetings and they were impressive. Neither quarterback was invited to the Combine, which can be a good thing when you like a down-the-line player. Johnson was at the Combine and had a poor workout so we eliminated him from consideration. Because neither Hill nor Hanie were at the Combine we invited them to Halas Hall for a physical and interviews. We told both that we liked their talent but that under no circumstances were we going to draft them. We wanted them as undrafted free agents and told them they would compete against each other for the 3rd quarterback job and that they were going to be strictly developmental players their first year.
After their visits I would call each of the two about every 10 days and reiterate what our plan was. I knew that both could get drafted but it was unlikely. What I wanted to do was develop a good relationship with each, so that if they didn't get drafted, they had a trust in me and then it wouldn't be that hard to sign them. As it turned out neither was drafted and we actually signed both within minutes of the draft ending.
During the offseason program and OTAs it became apparent that Hanie was clearly the more talented player, so we decided to cut Hill after about a week of training camp. What we didn't expect was for Hanie to play as well as he did in the preseason games. Going into the preseason, we felt that we could cut Hanie at the final cutdown and sign him to the practice squad. When he had two strong games it became apparent that cutting him would be to risky a move, so we kept him as the 3rd quarterback behind Kyle Orton and Rex Grossman. Through the season he only got reps as the scout team quarterback but you saw his talent, work ethic and passion for the game. Good things to build on.
In 2009, the Bears made the trade for Jay Cutler and Grossman wasn't re-signed, so Hanie became the primary backup. He only got to play a few snaps and threw only 7 passes during the regular season but like his rookie year he had a strong preseason.
In 2010, Mike Martz was brought in as the Bears offensive coordinator. After a few weeks in the offseason program, Martz felt that Hanie had talent to be a quality NFL quarterback but would prefer to have a veteran who knew his system as the primary backup to Cutler. By this time I had left the Bears, but the front office decided to wait and see how the preseason went before bringing in a vet. Hanie played well early in the preseason game but injured his shoulder. Because of the injury the Bears were forced to sign a vet and ended up signing Todd Collins. Looking back, the move probably hurt Hanie's development in Martz's system; he couldn't get the reps in practice during the week to develop. When Cutler was hurt during the season, Collins was the one to play and did nothing. It wasn't until the NFC Championship game last January that Hanie got an opportunity to play. Without the benefit of reps during the week, Hanie still played well in the second half, completing 13 of 20 passes for 153 yards and a touchdown. He also threw 2 costly interceptions, the last of which ended the Bears hope of making a comeback in the Championship game.
With six games to go in the 2011 regular season, Hanie gets his first real opportunity to show what he is. The Bears are in position to be a Wild Card playoff team with at worst a 3-3 record in the final six games. The schedule is in Chicago's favor, playing three games against AFC West clubs and Seattle in the next four games. Hanie is going to have to play well and the already strong running game is going to have to be even better.
I know this about Hanie — he is a gamer and a winner. His strong points are he is an excellent athlete with a strong arm and good accuracy. With his athleticism he can extend plays with his feet and is a good runner. His main weakness is his lack of regular season game experience. This I know: he is respected by his teammates, is a good leader and, now with two years in the system, feels comfortable. My gut feeling is he is going to play well and lead the Bears to the playoffs. The whole scenario couldn't come at a better time for Hanie. He signed a 1-year tender as an RFA before training camp. A strong showing will put him in good position as a UFA going into the offseason. If he plays well the Bears will have to pay him to keep him. Of course a poor showing could end his career. Knowing him the way I do, I bet that he will be one of the big stories of the last weeks of the 2011 NFL season.