December 02, 2011 -
Barry Dorey
Who is Dan Orlovsky?
On Sunday Indianapolis will start Dan Orlovsky at quarterback against New England. Orlovsky will be the third different quarterback to start a game for the Colts this season. The Colts started the season with Kerry Collins, and after he was shelved by injury they moved to Curtis Painter. Over a course of 9 games, Painter has proved that he is not a quality NFL backup. Now it's Orlovsky's turn to prove he is a worthy NFL quarterback. So just who is Dan Orlovsky?
Orlovsky was the 5th round draft choice of the Detroit Lions in 2005. Some other quarterbacks in that draft were Aaron Rodgers, Alex Smith, Jason Campbell, Kyle Orton and Ryan Fitzpatrick. Orlovsky played his college football at Connecticut. He was the quarterback when UConn was making the transition from I-AA to Division I football. He was one of the first stars of UConn football as they made the transition. While at Connecticut Orlovsky was a four-year starter who threw for over 10,500 yards and 84 touchdowns. He was invited to the Senior Bowl after the 2004 season but had an inconsistent week of practice. Coming out of college Orlovsky was viewed as a winner and strong leader but a marginal athlete. He ran in the 4.95 area and was not very quick. He was a pure dropback/pro-style passer who had trouble keeping plays alive with his feet and avoiding a strong pass rush. While he showed fairly good arm strength his overall accuracy was just adequate, thus he fell to the 5th round.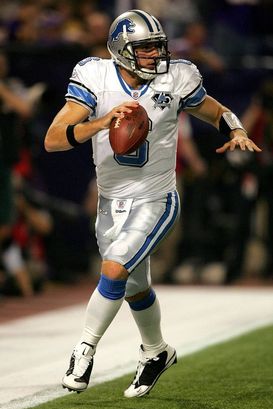 Dan Orlovsky was a 5th round draft choice of the Detroit Lions in 2005.
As a pro, Orlovsky has not done much. He played in two games as a rookie in 2005 completing 7 of 17 passes for 63 yards. He did not enter a game in 2006 and 2007 but got a chance to start a number of games in 2008 while still with Detroit. That year he completed 143 of 255 passes for over 1,600 yards and 8 touchdowns. Unfortunately he did not win a game as a starter, as 2008 was the famous 0-16 season for the Lions.
Despite his lack of experience he still won the lottery in free agency signing with Houston as a UFA in 2009. He got a 3-year deal reportedly worth around $9,000,000 but did play in a game as the backup to Matt Schaub. Houston cut ties with Orlovsky after the 2010 season and he signed with the Colts after the lockout ended in July. He did not show much in the preseason this summer and was let go at the final cut down. After Collins was injured and placed on injured reserve Orlovsky was brought back in late September. To date he has played in 3 games this season completing 14 of 21 passes with no touchdowns or interceptions.
So why has Indy made the switch from Painter to Orlovsky?
Obviously Painter couldn't get it done. In the games I have seen, Painter has shown a lack of top instincts and accuracy. He has competed only 54 percent of his passes with 6 touchdowns and 9 interceptions. Orlovsky, on the other hand, has leadership skills and has shown fairly good instincts as a pro. His lack of mobility and a bit of a slow delivery are his biggest negatives. Indianapolis has to find out about Orlovsky. With five games to play and a 2-game lead in the Luck Sweepstakes I doubt the Colts want to go on a winning streak but they need to find out if Orlovsky can be a good NFL backup. He will get more than a fair chance over the last third of the season. The oddity of this is if the Colts don't win a game, Orlovsky will be a part of the only two teams in NFL history not to win a game...something I'm sure he doesn't want to be known for. I've always had respect for Orlovsky's talent. My bet is he wins two games and that may be one too many!