December 09, 2011 -
Greg Gabriel
Who is Jeremy Lane?
A few weeks ago, I friend of mine called me and asked if I knew anything about a corner at Northwestern State by the name of Jeremy Lane. I said I didn't but I would make some calls. I talked to about five scouts, some who had seen him and some who hadn't. The scouts who had seen him all seemed to like him. I told my friend to get me some tape and I would tell him what I thought.
Now, after watching seven games (LSU, Nicholls State, Delta State, Lamar, SE Louisiana, Stephen F. Austin and Sam Houston) my feeling is there is no reason why all 32 teams in the National Football League should not have been in to Northwestern State to look at this kid. This is a tall and talented kid who makes plays and should be drafted and will make a team.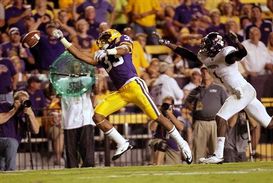 Jeremy Lane looked like he belonged on the same field when his squad faced LSU.
Lane is from Tyler, Tex., and played football and ran track in high school. He ran the 200, 400, long jump and the 4x100 relay. He has speed; I would say he plays to about a 4.48. He didn't get a chance to start until the last half of the 2010 season but played in all games and wound up with 33 tackles, 1 interception and 12 pass breakups. This year he increased his tackle total to 41, has 2 interceptions and 4 pass breakups. To be fair, in all the tape I looked at, he wasn't thrown at that often. In a couple games he was lucky if 3 passes were thrown his way each game.
Lane is a good athlete who is about 5-11 and 175. He has a lean frame but very long arms. He looks like he could gain 10-15 pounds without a problem. He is a fluid athlete with good play speed. He has loose hips and can pedal and turn. He shows no wasted movement in transition. He plays press coverage probably 65 percent of the time and that is his forte. With his long arms he has a good jam and is able to redirect receivers. He has the suddenness to stay with receivers through moves and the speed to mirror deep. At times he tries to get too physical with his jam and that came back to haunt him versus Sam Houston. He missed the jam and got beat deep for a TD. Still, though he is lean, he tries to be physical and is a good hitter and tackler. He needs to add some some upper body strength, as he will have some tackles broken if he doesn't wrap well. In saying that he shows some blowup hitting ability (Delta State, LSU)
In zone he is alert and shows good receiver awareness. He gets depth and plays good position. In the Stephen F. Austin game he showed his alertness in zone, coming off his zone to help out deep and getting a pick in the end zone. The area where he needs the most work is man off. While he shows fairly good skills, he still plays a bit loose in off and that's the coverage he will give up the most receptions.
He is very willing in run support and can be aggressive. The game that stands out is the LSU game where he had a big hit on a back near the goal line. What I liked about him in that game was he played with an attitude…like he was saying "you may be number 1 but I can play with you." While he did give up some catches, his overall play was good and he looked as if he belonged.
Overall, this is a raw but talented prospect. If I were still with the Chicago Bears, this is the type of player I would have a coach work out, get on the board and spend a lot of time with. Because of his natural physical traits he has a lot of upside. With his aggressiveness he will start out as a 5th corner but will be a good special teams player. With coaching and experience he has a chance to ascend to at worst a 3rd corner. He is an interesting guy who will probably get a lot of play from clubs after he plays in the old Texas vs Nation game that is now in Little Rock, Arkansas. If a club hasn't seen him, it's well worth your while to take a little trip to Northwestern State.