September 12, 2011 -
Greg Gabriel
Why didn't the Colts prepare for a Manning injury?
Watching Indianapolis play Houston on Sunday, it was evident that the Colts players have already given up on the season. They played with no enthusiasm or intensity and this was opening day. Clearly, they know that with Peyton Manning out for most if not all of the season, their 2011 campaign is lost.
Can Kerry Collins win some games for them? Yes, but neither he nor any other quarterback on the Colts roster can do anything close to what Manning does. Manning is one of the top quarterbacks in the NFL today along with Tom Brady and Aaron Rodgers. Needless to say, it's hard to replace a player like that.
Which brings up the question of why haven't the Colts prepared this? As far back as the 2006 season I have had the same thought. When it got to playoff time you had to figure that the Colts were praying that Manning stayed healthy. As Manning goes so go the Colts. Looking at their roster it was clear that if Manning got hurt, they had no one to pick up the slack. Since 2006 the primary backups in Indianapolis have been Jim Sorgi and Curtis Painter.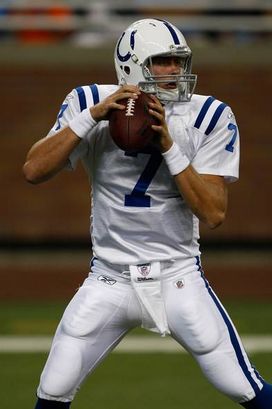 Curtis Painter certainly is not Peyton Manning. Then again, neither is Kerry Collins.
Sorgi who was drafted in 2004 and held the job from 2005 through 2009. Last year Painter was the backup and until about two weeks ago it looked as if he may be the backup again this year. When it became obvious Manning may miss some playing time this year it also became clear to the Colts that Painter wasn't good enough to get the job done. The Colts may have thought they had a worthwhile backup but I know few in the league who felt the same. There was just about a unanimous opinion that if Manning got hurt, the Colts were done. Fortunately for the Colts that never happened until this year. Sunday's game was the first game Manning has missed as an NFL quarterback because his durability has been remarkable. Yes, the Colts could feel he's invincible but is that reality?
Jim Sorgi was a 6th round pick in the 2004 draft and it wasn't until the 2009 draft that the Colts took another quarterback and that was Painter, who was also taken in the 6th round. There was thinking around the league that the Colts might address the situation in this past draft. Given that it was an above average quarterback class, Manning's age (35) and the fact that he has already had a surgical procedure it was a sound idea.
Why would the Colts pass on drafting a developmental quarterback? Well, their thinking at the time of the draft had to be that Manning was fine and they had a quality backup in Painter. The problem many clubs have is they overvalue their own players. They think what they have is better than what they can get in either the draft or free agency. Too often that's not the case and it comes back to haunt you. I have always thought that clubs should have an outsider who is not emotionally involved with the club to evaluate its players. This way you can get a fair and unbiased opinion.
This year the Colts really had two chances to get some backup help at quarterback. There was the draft and also free agency after the lockout ended. You might give them a pass for not drafting a quarterback but not going after a QB during free agency may be inexcusable. Manning had a 2nd surgical procedure on his neck in late May and free agency didn't begin until the end of July. The Colts had two full months to evaluate the situation with Manning. Yes, under lockout rules they couldn't talk to Manning but they could talk to the doctor who did the procedure. When Manning was complaining during the lockout about discomfort and not being able to work with the Colts training staff wasn't that a red flag? There were quarterbacks out there with valuable experience such as Matt Hasselbeck who may have jumped at the opportunity given the situation but the Colts chose to stand pat until after three weeks of practice and two preseason games — and it became evident that they knew they were in trouble. The cost of waiting was extremely high. To lure Kerry Collins out of retirement it cost the Colts a $2.5 million signing bonus and a $4 million salary. That's the price of being held hostage to a position when you have problems at a position.
Colts president Bill Polian is one of the most respected personnel executives in the league yet he is ultimately the man responsible for this happening. He either thought Painter was better than he is or thought that Manning was going to be fine. The Colts actions since the lockout ended says they thought Manning would be fine. Otherwise they wouldn't have given Manning that huge extension. Still in my thinking, upgrading the backup quarterback position was a situation that needed to be addressed a long time ago, not now because of an emergency. Teams like the Patriots have a history of drafting quarterbacks in the mid rounds, developing them and then trading them away for more than they originally paid. It's a prudent strategy and it pays off. Why haven't the Colts done the same?
Polian's lack of foresight in the situation could mean the Colts have a terrible season. If they keep playing like they did yesterday they will be lucky to win a game. Then again, maybe it was genius. If the Colts have a poor season, they may be in position to draft Andrew Luck. He could be the perfect heir to Manning in Indy! Sit and learn for a couple of years behind Manning then take over the reins of the club.