July 23, 2010 -
Greg Gabriel
Why do highly regarded players become busts?
When NFL teams begin the cutdown process in late August, every year we see players that were drafted high and had big expectations get cut and thus are labeled "busts." First, let's define what a "bust" is.
In my mind, a "bust" is a player who does not perform to expectations in relation to where he was drafted. A player drafted in the fourth round or later can't ever be labeled a bust, but former first- and second-round draftees who don't perform at a high level certainly can be put in that category.
Why doesn't the player perform at a high level? There are a number of reasons. An injury or injuries can take away from his natural physical traits, causing him to perform at a lower level. I don't ever consider a player in this situation a bust.
Why? Because injuries are an expected part of the game. It's unfortunate, but it happens. And the team has to deal with it. While management may be disappointed, so is the player. It's not like he wants his level of play to decrease.
Now in saying this, if a team drafts a player high and the player had a history of injuries in college and that history follows him into the NFL, then it's the club's fault and the decision makers should be held accountable.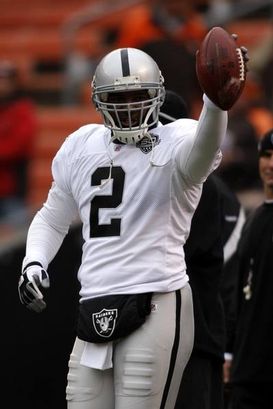 ICONDid JaMarcus Russell ever care about playing football?
But that is really not the main reason a highly regarded player "busts." He busts because he lacks "football character."
Football character is not the same as personal character. If you're grading character properly, they have to be separated.
Personal character is basically how a person lives his life. Is he a good person and citizen? Is he a good father, husband and teammate?
Football character is a player's passion for the game, his work ethic, his desire to be a great player, his intelligence as it relates to his position, his ability to take to coaching.
If you look through the years at a number of players who failed, you will see that in many cases they didn't love football and the game just wasn't that important to them. Football is a very tough game and if you don't love to play it, you won't be very good. There are many players who will get by for a couple of years on their pure talent, but in the end their lack of passion and football character will do them in. You can't play for the money — the game is too hard and competitive to do that. Coaches will see right through that and the player will be cut or traded.
A player with strong football character and marginal personal character has a chance to succeed at the NFL level because his football character will help him overcome his personal issues. On the other hand, if a player has weak football and personal character, he has no chance. The same can be said for the opposite. A kid with strong personal character and low football character won't survive, either. He won't have the drive or mental toughness to compete with those who do.
We drafted a player in Chicago a few years ago who was as good a person as you could find. He had a strong college career, was a good student and had a high level of talent. His problem was he didn't love the game or the grind that went with being successful. And so he failed. Other teams gave him an opportunity but it was met with the same result. Talent will always give you opportunity, but if the player lacks passion then it's just wasted talent.
The bottom line is that if you have a team where all or most of the players have strong football character, then you have a chance to win a lot of games.
How do we find out this information? If you have a strong scouting staff, they will get the pertinent information. A scout who does a great job networking at each of his schools has the contacts to find out just about everything. In saying that, it's not easy. You have to find the right people who will give you honest answers and then he has to dig — and dig some more. Having good scouts makes all the difference in the world when making draft day decisions.
Ready for fantasy football? Click here to purchase the Total Access Pass/Draft Guide from the NFP.