July 30, 2011 -
Greg Gabriel
Why the Bears need to re-sign Kreutz
Why do the Bears need to re-sign Olin Kreutz? In short, because he is the Chicago Bears. In all the years I have spent in competitive sports, including the NFL, I have never seen a leader like Kreutz. He has been with the Bears for 13 years and he controls the locker room, the meeting rooms and the practice field. He sets the pace for anyone else. On a daily basis if he is not the first player in the building he is one of the first and he is almost always the last to leave — hours after most of the other players have already left. He is an extremely hard worker and sets a great example for younger players on how to be a pro. His passion for the game is second to none.
Football is a tough game, and you have to learn to play with pain. I have seen Kreutz play through horrible pain and he never complains. He just waits until the end of the season, gets it fixed and prepares for the next season.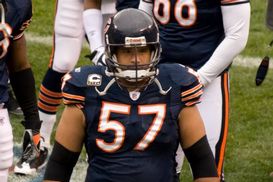 Olin Kreutz is the anchor of Chicago's offensive line.
He is the most respected player on that team and when he says something, everyone listens — both players and coaches.
Granted he is not the player he was five years ago. He is small by today's standards (he plays at 285 to 290 pounds) and is clearly on the last few holes of his career, but because of what he brings to the team as far as example and leadership you can't afford to not to have him. At this time there is no player on that team that has the unifying leadership qualities that Kreutz has. Until you can find someone to replace his presence, the smart thing to do is re-sign him. When things get tough, Kreutz is the man who rallies the troops!