October 18, 2014 -
Greg Gabriel
Will both Mississippi schools make the playoff?
The college football season has hit the midway point and we are beginning to gain an understanding of which teams will be left standing when the first ever playoff gets underway.
After six or seven games, many feel it's a good bet that either Ole Miss or Mississippi will be one of the four teams invited. A close look at their schedules says that might not be the case.
Mississippi State travels to surprising Kentucky on Saturday. The Wildcats sit at 5-1 and while they don't have the roster to match up against Mississippi State, the contest is in Lexington and could be classified as a serious trap game.
On November 15 the Bulldogs travel to Tuscaloosa to face Alabama. While the Crimson Tide might not have the powerhouse they've trotted onto the field over last few years, they are always tough when they play at home. The final tough matchup for State comes on November 29 against archrival Ole Miss. That game is also on the road and the loser could be out of the playoffs.
The three toughest games remaining on the Mississippi State schedule all take place on the road and it's entirely possible that the Bulldogs could lose two out of the three.
Ole Miss is in a similar situation, but when you look at their remaining schedule, two out of the three toughest games remaining take place at home.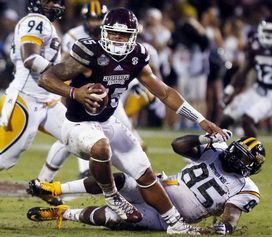 Can Dak Prescott and the Bulldogs run the table?
Next week Mississippi travels to LSU and while the Tigers might be struggling a bit this season, they are always tough in Death Valley. Auburn comes to town on November 1 and while the Tigers looked awful last Saturday at Mississippi State, they still have too many top athletes to say that will happen again.
Finally, Ole Miss hosts Mississippi State on November 29. Like I said above, the loser of this game most likely gets knocked out of the playoff picture.
When you compare the schedules, Ole Miss appears to have the advantage, but obviously each teams has six games to play and those matchups aren't won or lost on paper.
An interesting sidebar to their schedules is that on November 8, each of the Mississippi schools plays a patsy, with Ole Miss hosting Presbyterian and Mississippi State welcoming in Tennessee-Martin. Those games aren't going to help their strength of schedule when the playoff committee starts making decisions.
Notre Dame at Florida State
This week's marquee matchup takes place in Tallahassee Saturday night when No. 5 Notre Dame visits No. 2 Florida State. As I write this, Florida State is a 9-point favorite and when you look at both rosters, you can see why.
Florida State's senior class is loaded with prospects, the highest rated of which is guard Tre Jackson. In addition, tackles Cam Irving and Bobby Hart and guard Josue Matias are all have mid-to-high round grades. Receiver Rashad Greene has speed and is viewed by many as a mid-round type of prospect as is running back Karlos Williams. Tight end Nick O'Leary is one of the better tight end prospects in the country.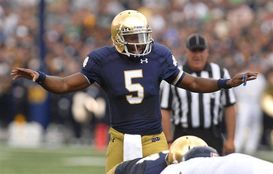 Golson and the Irish look to pull off a major upset Saturday night in Tallahassee.
And let's not forget about quarterback Jameis Winston, who has the talent to be the top overall pick in the draft when he decides to leave school. While Winston's talent says he is that good, his off-field issues will drop him considerably. Many NFL teams won't even consider Winston.
On defense, Florida State doesn't have any senior prospects, but many of the underclassmen who start will get drafted high when they come out. Some of these players include safety Tyler Hunter, defensive end Mario Edwards and corner Ron Darby.
Florida State has a deep roster with an abundance of big game experience. Notre Dame also has a very talented roster, but the bulk of their top players are underclassmen. In the senior class, there are only a few prospects. On offense, tackle Christian Lombard is a late-round prospect while tight end Ben Koyack is a late rounder or free agent.
On defense, the only real senior prospect is corner Cody Riggs. While Riggs is an outstanding college player, his size (5'9) will limit him some in the draft. Players like linebacker Jaylon Smith, defensive tackle Sheldon Day and defensive end Isaac Rochell all have the talent to be premium draft picks, but they are very young.
On offense, the Notre Dame playmakers are also underclassmen. Quarterback Everett Golson has some special to him and receiver William Fuller can fly, but again, they are young and relatively inexperienced.
Personally, I feel the winner of this game will be the team that makes the least mistakes. Golson can be suburb, but in recent weeks he has turned the ball over too often. Regardless of Winston's character, the guy can play and has come up big in too many games. With the matchup being a home game for Florida State, I feel the Seminoles will come out on top by seven.
Follow Greg on Twitter: @greggabe