August 24, 2013 -
Greg Gabriel
Will Cutler survive in Chicago?
When the Chicago Bears traded for Jay Cutler in April 2009, he was supposed to be the savior of the franchise.
In his three years in Denver under Mike Shanahan, he threw for over 9,000 yards and 54 touchdowns. When the trade was made, it was thought that Cutler was the missing link to take the Bears to a championship. To date, that hasn't happened. And it may never.
Cutler is in the final year of his contract and he is playing for a new coach. If he doesn't show Marc Trestman that he can get it done, the Bears may pass on offering Cutler a new contract and let him become a free agent. A big year could get Cutler a contract that is similar to the deals that Aaron Rodgers and Joe Flacco have received recently.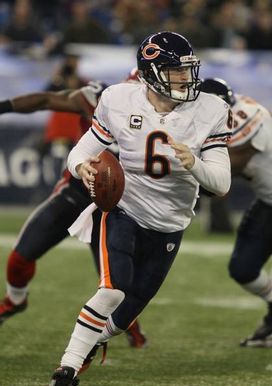 ICONCan Jay Cutler ink a long-term deal with the Bears?
What's at stake is 100 million dollars. That alone can and will put a lot of pressure on Cutler.
Does he deserve a similar deal? In my opinion, no. Not for the way he has played so far in Chicago. He has only gotten the Bears to the playoffs once in four seasons and that was 2010. In 2011 both he and the Bears looked strong and then Cutler broke his thumb. The Bears were 7-3 when Cutler got injured and on a 5-game win streak but they lost 5 of their last 6 games and were out of the playoffs.
Cutler's play has been inconsistent. While in Chicago he has had four offensive coordinators and is now on his second head coach. Some might say he is a coach killer. A veteran NFL executive told me that since Cutler has been with the Bears he has never been paired with the right coordinator and system. Cutler looked like he would become an all-time great when he was with Denver. In Chicago he has been average to say the least. In fairness, since Cutler has been in Chicago none of his coordinators have played to his strength. That is get a moving pocket, let him roll out or bootleg and have him throw on the run. With his athleticism Cutler can make plays with his feet and is very accurate throwing on the move.
Under Ron Turner, the offense was very conservative. Seldom did they go for the big play. When Mike Martz came in, he made Cutler adapt to his system. Martz was very stubborn and would not change his system to adapt to Cutler's strengths until midway through the 2011 season. When that happened the Bears went on a 5-game win streak and then Cutler broke his thumb. The following year, Mike Tice took over the offense and again didn't play into Cutler's strengths. The team struggled putting points on the board and Cutler was only comfortable throwing to Brandon Marshall.
Now the Bears are running Trestman's offense and it remains to be seen how Cutler will play. Trestman has the reputation of being an offensive genius and should be able to work well with Cutler. While the Bears haven't shown much of what they will do in the preseason, we have seen glimpses and so far it looks as if it favors what Cutler can do best.
Cutler's inconsistent play can't all be put on former coaches. Cutler has the physical tools to be great. He has a strong arm, a quick release and is athletic enough to extend plays with his feet. I don't think he is very good at reading defenses, though. He forces a lot of throws and turns the ball over far too many times, especially in the red zone. He has a tendency to stare down his primary receiver and seldom goes through a proper progression.
In last week's preseason game the majority of his throws went to Marshall. On his touchdown throw the only receiver he looked at was Marshall. He has to find a way to incorporate tight end Martellus Bennett, slot receiver Earl Bennett and the other wideout Alshon Jeffery. All of these receivers are very talented and when you include running back Matt Forte it can be said that his receiver group is as good as any in the league.
By the nature of the position, the quarterback is the leader of the team. Cutler has not shown top leadership skills. He can be moody and his body language on the sideline and playing field is not good. His teammates respect him but I would not say they really like him. He is tough and he wants to win but he has to find a way to change his on-field demeanor.
To say this is an important year for Cutler is an understatement. The Bears have to make a decision on if they want to keep him. They may have to because there may not be much if anything on the free agent market. Using their first-round pick next spring to draft a quarterback means the Bears will be in rebuilding mode. Trestman was not hired to rebuild, he was hired to get Cutler to play to his potential.
Can he do it? Yes, but it is not going to be an easy job. It will be fun seeing if Trestman can get the job done. But in all honesty if it doesn't work the failure will not be Trestman's, it will be Cutler's.
Cutler has gone through too many coaches in the past. The onus is on him to perform. He has the right coach, has the talent around him and now he has to get the job done. 100 million depends on it!