June 20, 2013 -
Greg Gabriel
Will the 2014 NFL Draft be similar to 2013?
In this past NFL Draft, we saw something we have never seen before. Three offensive tackles were drafted in the top four, five offensive linemen in the top 10 and nine overall offensive linemen in the first round.
The main reason this happened was because the best offensive linemen were the strength of the draft. There wasn't a group of top QBs that were worthy of a high first-round pick. The value of a good lineman was shown.
If a club lacks strength in the offensive line they can either draft and develop a player or buy one in free agency. But it's a lot cheaper to acquire one via the draft and sometimes a better solution.
Eric Fisher, Luke Joeckel and Lane Johnson were top players and worthy of their high draft status. But the 2014 Draft will have two offensive tackles who are arguably better players than Fisher, Joeckel and Johnson. You can watch tape of Taylor Lewan from Michigan and Jake Matthews from Texas A&M and come away saying these guys are better players.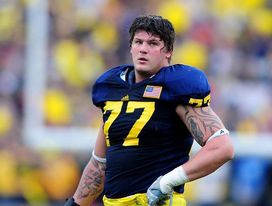 US PRESSWIREHow high will Taylor Lewan go in the 2014 draft?
I did tape work on both during the 2012 season thinking that both would be entering the 2013 Draft. My grades on Lewan and Matthews were higher than I had on Joeckel, Fisher and Johnson. Both Lewan and Matthews are big, strong, athletic and competitive. They are just what clubs are looking for at the tackle position. Lewan has played left tackle most of his career but 2013 will be the first year that Matthews will be playing on the left side. Switching sides will not hurt Matthews' draft stock. Lane Johnson played right tackle in 2011 before moving to left tackle last year and he got picked fourth.
I have talked to other scouts who have looked at all of these players and they also feel Lewan and Matthews could be better prospects. Does that mean they will go 1-2 in next year's draft? No, because how that draft looks as far as talent at the top of the board has not been determined yet and won't be for about another nine months.
If South Carolina defensive end Javedeon Clowney enters the Draft, he may jump to the top. Premier pass rushers always have great value. UCLA's OLB/DE Anthony Barr had 13.5 sacks in 2012. He too could be a top pick because of his ability to rush the passer.
While we didn't have a top QB in the 2013 Draft that might not be the case in 2014. Alabama's AJ McCarron might not look that great from a physical point of view, but all he does is win games and he does so in an NFL style offense. Georgia's Aaron Murray has the size and arm strength that clubs covet and Louisville's Teddy Bridgewater gets better with every game. With strong 2013 seasons all of these players could be very high draft picks just because of the value of QB position.
The point I'm making is that even though Lewan and Matthews may be better players at their position than the three players that went 1, 2 and 4 in the 2013 Draft that doesn't mean it will be the same in 2014. Quarterbacks and pass rushers have higher value to most clubs and if there are top players at those positions in next year's Draft they may get picked higher. It will be interesting to see how all these players play this coming college football season.