December 07, 2014 -
Greg Gabriel
Your 14 Sunday preview
Before we get into a discussion regarding Sunday's games, I first want to talk about a topic that has been getting a lot of press lately. Why has Robert Griffin III failed? The answer is simple: Griffin lacks football character. When you look at most busts throughout NFL history, it's mainly due to a lack in football character
We have talked about this before as there is a huge difference between personal character and football character. Personal character entails how a person lives his life, whether or not he/she is a good citizen, a good person, and good family person.
Football character, on the other hand, includes such things as a player's desire to be great, his work ethic, his intelligence as it relates to the position, his ability to be coached, leadership and his ability to get along with his teammates.
I have no doubt that RG3 has a desire to be great, but what he lacks is most of the other traits needed to have top football character. Going back to high school, Griffin has gotten by on his natural physical talent. Everything has been handed to him and that continued to the day he was selected by Washington. While that will work in high school and even at the college level, it won't in the NFL. Especially at the quarterback position.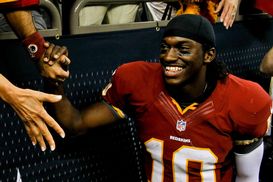 It's been a long time since there was a reason to smile regarding RG3.
RG3 has never been a hard worker, as he is the type who does just enough to get by. He never goes the extra mile and is not the most studious when it comes to studying and understanding the offense. Because of his lack of elite work habits, Griffin is not respected by his teammates. Many resent him, as they see the talent, but not the work.
Because RG3 is not liked or respected, he isn't and can't be a leader. Who is going to follow a player who doesn't do the work necessary to be a great or even good player?
As far as his ability to be coached, I have never been in a meeting room with Griffin or on the practice field, so I don't know firsthand. But I am told he is not the easiest guy to coach. He already thinks he's great and has all the answers. Those types are usually the worst to coach.
Going forward, RG3 can resurrect his career, but in order to do that he has to look at himself in the mirror and realize that his problems are all his own and brought on by his actions. He has to make the decision that he will do whatever is necessary to succeed. Can it happen? Of course, but right now I highly doubt it.
St. Louis Rams (-3.5) at Washington Redskins
The Rams may be down players due to injuries, but they are one of the best-coached and most competitive teams in the league. Jeff Fisher has gotten everything out of these guys. Washington, on the other hand, is at the opposite end of the spectrum. The Redskins are playing with their third quarterback this season and he is no better than a third quarterback. The team lacks consistent intensity and after losing four in a row, I can't see it getting any better. I'll lay the points with the Rams.
Denver Broncos (-10) vs. Buffalo Bills
I've got to hand it to Buffalo, as the Bills have played hard and competed every week. Doug Marrone has done a hell of a job preparing this team. The problem, however, is that they don't have the talent that Denver possesses on its roster.
The Broncos are undefeated at home and have won those games by an average of more than 12 points per game. Denver needs to win to hold on to the AFC West lead and I think that home streak continues with the Broncos winning by 14.
Tennessee Titans (+1) vs. New York Giants
I gave up on the Giants after I saw them blow a 21-point lead to an awful Jacksonville team last week. On top of that loss, New York sustained more injuries and now has 18 players on injured reserve. Many of those 18 are front line guys.
Tennessee is awful in its own right, but they are at home and playing a team that is just as bad. Take the points.
Follow Greg on Twitter: @greggabe