September 11, 2014 -
Greg Gabriel
Your college football weekend preview
Thursday night's showdown featuring the Houston Cougars at #25 BYU Cougars kicks off the third weekend of college football. Like last week, there are not many elite games to view. Many of the higher ranked teams are still playing the patsies on the schedule as they get ready for conference play.
To give you an idea of what I am talking about, here are some of the games on the weekend schedule:
#8 Baylor at Buffalo
Wyoming at #2 Oregon
Southern Miss at #3 Alabama
Louisiana-Monroe at #11 LSU
Kent State at #22 Ohio State
The best games of the weekend feature #6 Georgia at #24 South Carolina and Tennessee at #4 Oklahoma. The UCLA-Texas game at one time looked as if it was going to be a solid matchup, but Texas is no longer the powerhouse that it used to be.
NFL quarterback prospects
Everyone is always interested in how the top quarterback prospects for next year's draft perform. Through two games, I am not overly excited about any of them. Florida State's Jameis Winston struggled some in the Seminoles' opener against Oklahoma State. He completed 25 of 40 passes for 370 yards and a touchdown. He also threw two interceptions.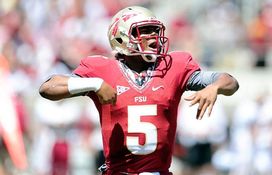 Would Winston consider returning to Florida State for the 2015 season?
While Winston is probably the best quarterback prospect available, he still has two more years of eligibility after this season and may need to use one of them. I won't debate that Winston will go high in the draft, but I will debate whether or not he is ready to make the jump. His accuracy and ball placement in the Oklahoma State game were not at NFL standards, where the window to complete a pass is much smaller than it is in college. In saying that, Winston still has at least 11 more games this season in which to improve.
Last year I wrote that both UCLA's Brett Hundley and Oregon's Marcus Mariota were not ready to make the jump to the NFL. Of the two, Mariota has shown the most improvement in his game.
In 2013, Mariota was an accurate short passer, but struggled on deeper throws. To date this season, I feel his decision making has been better as well as his accuracy. When you combine that with his rare athleticism, some clubs may rate him higher than Winston on their boards.
Hundley has also improved over 2013, but has not shown the improvement that Mariota has. In the UCLA opener against Virginia, Hundley put up good numbers (20 of 33 for 244 yards, no TDs or interceptions) but I thought his overall decision-making and accuracy were still a bit suspect.
UCLA may have won both games, but the Bruins have managed to barely get by Virginia and Memphis. Neither of those schools are looked at as having bowl teams for this season. How Hundley plays this week at Texas will tell a lot in regards to whether or not he is ready for the NFL.
Everett Golson
One name I am starting to hear as a potential top NFL quarterback prospect is Notre Dame's Everett Golson. The problem is that the people who are saying this are amateur draftniks who don't know how to evaluate a quarterback for the NFL. One such person said Golson could be a top-five pick. While Golson has looked very good in Notre Dame's first two games, he isn't close to being an NFL quarterback.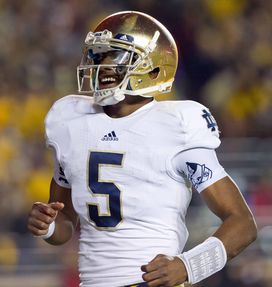 US PRESSWIREGolson has looked good early in 2014, but still has a long way to go to be a top NFL prospect.
To give you some history on Golson, as a redshirt freshman, he led Notre Dame to the National Championship game in 2012. He did it by playing conservative football and playing within himself. He did not show anything special as a passer.
Golson missed all of the 2013 season because of an academic suspension. He re-enrolled at Notre Dame this past spring and took part in spring practice. In the first two Notre Dame games, Golson has put up some very good numbers. He has completed 37 of 56 passes for 521 yards and five touchdowns and has yet to throw an interception.
Golson has a very strong arm and his ball placement can be good, but he does get wild with some throws. His release quickness is average, but he shows he can make good throws on the run. Still, he will measure under 5'11 and at about 195 pounds and doesn't have the thickest of builds.
While Golson has been a good early season success story, he is not a top NFL prospect and because of his size, may never be a top prospect. The people who say he can become a first-rounder next May don't have a clue what they are talking about. At best, Golson is a late-round prospect, but the reality is that he needs every rep he can get. He needs to keep playing well this season and come back in 2015 with another strong campaign. Then maybe he becomes a mid-round type guy.
The draftniks feel that because of the success of Russell Wilson, it opens the door for other short quarterbacks. While it may open the door a crack, it is not wide open. Don't forget, Wilson played five years of college football and had rare maturity. He still went in the third round.
When I was a young scout with the Giants, George Young told me, "Football isn't Hinduism. There is no such thing as reincarnation of a football player." The translation is there is only one Russell Wilson and it may be years before we see another 5'10 quarterback have success in the NFL.
Follow Greg on Twitter: @greggabe