November 23, 2014 -
Greg Gabriel
Your Week 12 Sunday preview
After positing a 3-1 record in three of the last four weeks, I was unhappy with a 2-2 performance last Sunday. With that in mind, I worked a little harder this week on my picks. Now, that certainly doesn't mean I will do any better, but let's hope so. Especially if you are foolish enough to bet on my picks.
New York Jets (+4) at Buffalo Bills (game in Detroit on Monday)
I am originally from Buffalo. I spent the first 50 years of my life in that fine city and I know all too well what lake effect snow can do to the area. I was brought up in the northern suburbs and, in most cases, those suburbs luckily don't receive much lake effect snow.
When I was a kid there were days when the southern suburbs and South Buffalo would get hammered with a foot of snow and it would be sunny where I lived. Such was the case this week, except far more to the extreme. I have two daughters who live in Buffalo, one in the northern part of the city and one in the southern part. My daughter in the north got about 8-10 inches of snow this week. My other daughter got at least five feet.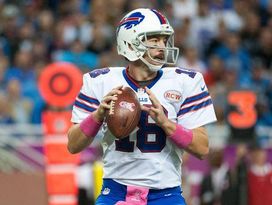 Kyle Orton and the Bills have been unable to practice this week due to the storm.
With that in mind, Ralph Wilson Stadium and the Buffalo practice complex are smack in the middle of the Snow Belt, which received well over five feet of snow. Most of the players also live in the south and couldn't get to the complex to practice.
Before "Snowageddon" hit, I felt Buffalo would both win and cover the spread. The Bills had blown out the Jets in New Jersey just a few weeks ago. Now, with all the distractions and very little prep time, I have to go with the Jets. This just may be the best play of the week.
New England Patriots (-7) vs. Detroit Lions
Right now, the Patriots are the hottest team in the NFL. They have won six games in a row and in the last three New England has won by an average of 24 points. On top of that, the Patriots have a 5-0 mark at home.
While Detroit is a good team, they are coming off a 14-6 loss to Arizona. It may be my NFC North bias, but I still don't trust the Lions to win in a pressure situation. Matthew Stafford is talented, but he is far from an elite quarterback. New England, on the other hand, has one of the best to ever play the game in Tom Brady.
Detroit's defensive line can cause problems for the Patriots, but Bill Belichick will find a way to neutralize that advantage. Lay the points with the Pats.
Denver Broncos (-7) vs. Miami Dolphins
The Broncos have had their share of problems on the road this year. But when Denver plays at home it's a different story.
Manning and the Broncos look to rebound after last week's humiliating loss at St. Louis.
In their last three home games, the Broncos have won by an average of 20 points. All three of those wins were against better teams than the Dolphins. The home field advantage Denver has is huge. Don't let anyone tell you that playing at 5,200 feet doesn't make a difference because it most certainly does.
The weather in Denver will be a factor, but not much. The forecast calls for it to be in the low 40s with wind. Being that this matchup is a late game, it could be a little cooler.
Miami has been inconsistent all year but they are an acceptable 3-2 on the road. Still, with Kansas City losing Thursday night, this game is very important for the Broncos. I see Denver winning by at least ten.
San Francisco 49ers (-9.5) vs. Washington Redskins
Things aren't going well for the Redskins. Washington has dropped two in a row including a 20-point loss to the hapless Tampa Bay Bucs at home last Sunday. Quarterback Robert Griffin III has been publically called out by head coach Jay Gruden and that won't help matters. I feel that RG3 is a fraud.
San Francisco, on the other hand, has won two in a row and both have been on the road. They need to play well and win in order to stay in the playoff race and they want and need a strong performance at home. Washington just so happens to be what the doctor ordered. This game could be a blowout, so lay the points.
Follow Greg on Twitter: @greggabe