November 30, 2014 -
Greg Gabriel
Your Week 13 Sunday preview
Before I get into our discussion on Sunday's games, there's something that I have to write about. As a 30-year NFL scouting veteran, it ruffles my feathers a bit when a sports writer who knows nothing about the evaluation business writes a story in November about who a certain team should select in the first round next April.
In this case, I am referring to an article in Saturday's New York Post written by Kevin Kernan. The title of the article is, "Why Jameis Winston would be a perfect fit for Jets next season." I read the article and had to laugh.
Does Mr. Kernan know anything about the success ratio of quarterbacks taken in the top-10 picks over the last six or seven years? He can hop on I-95 and take a drive down to Washington and see that "anointed" quarterbacks aren't all they are made out to be. RGIII is not the only top-10 or top-12 signal-caller who has busted out in recent years.
I recognize Jameis Winston's talents, as he has the "physical" talent to eventually be a good NFL quarterback. I emphasize "physical" because it ends there. The last person in the world the New York Jets need at quarterback Is Jameis Winston.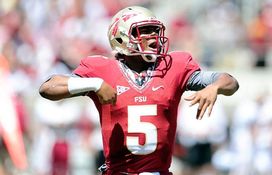 Would the Jets really be willing to roll the dice on a guy like Winston?
Winston has an abundance of character issues. There is no need for me to go over them, as there is something new added to his resume just about every week. On top of that, the evaluation process on the quarterbacks that will be in the next draft isn't even 50 percent complete. Don't forget, last year at this time many "experts" were saying that Teddy Bridgewater was a lock to be the first pick in the 2014 draft. If I recall correctly, Bridgewater got drafted with the last pick in the first round.
In Winston's case, the evaluation process really hasn't begun in earnest yet because he is an underclassman who hasn't declared for the draft. By league rule, scouts who go into Florida State aren't allowed to ask people involved with football operations anything about Winston. However, if the Florida State people say that Winston is leaving, then that opens the door to commence in-depth research. When and if Winston declares for the draft, scouts will be talking to many who are involved with the Florida State football program including coaches, trainers, weight coach and support staff. They will also talk to the academic advisor and most likely the campus police.
When we talk about Winston's issues, we can't say that everything is in his past. In the sexual assault case, while criminal charges weren't filed, Winston still has a campus hearing to go through within the next few weeks and then there will undoubtedly be a civil lawsuit. In Winston's case, the civil lawsuit may end up being worse than a criminal case would have been.
Does Mr. Kernan really think that the publicity from that case is something the Jets would want, especially after going through the soap opera seasons they have had over the last few years? Does he really think that the Jets would want a person of Winston's character to be the face of the franchise? I doubt it.
As for my Sunday preview, I didn't do very well last week, as one win isn't something we're going to celebrate. I had the correct teams winning, just not against the spread. And that's what counts.
Having babbled on about Jameis Winston for so long, I will make this short and sweet. Because there are only 13 games left this week on the NFL schedule, I'm going to pick just three games and hope I come out on the right side at least twice.
Miami Dolphins (-7) at New York Jets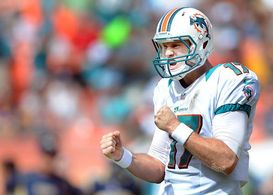 Tannehill and the Dolphins should manhandle the Jets on Monday night.
The Jets had everything going for them last week. Buffalo had "Snowageddon" to deal with and their practice schedule and routine was cut way short. Because of the snow, the game was moved to Monday night and played in Detroit. That gave the Jets, who were already coming off a bye, an extra day to prepare. All that extra day did was give them an extra day to prepare to fail as they got smoked by the Bills 38-3.
The Jets flat out quit in that game and, in my opinion, are the worst team in the NFL. Take Miami and lay the points.
Baltimore Ravens (-6.5) vs. San Diego Chargers
The Ravens are in the middle of a both a divisional and playoff battle. In order to keep pace with Pittsburgh, Cincinnati and Cleveland, Baltimore has to win. With the game being in Baltimore and San Diego traveling across the country and playing at 1:00pm eastern, it's a huge advantage for the Ravens. I like Baltimore to win by at least 7.
Cincinnati Bengals (-4) at Tampa Bay Buccaneers
This one is easy. If the Bucs couldn't beat a hapless, unemotional Chicago team, how are they going to beat a squad that is fighting for a divisional title? Saying the Bucs looked terrible in the second half last week is an understatement. Cincinnati should win this game easily.
Follow Greg on Twitter: @greggabe