September 28, 2014 -
Greg Gabriel
Your Week 4 Sunday preview
Many who pick games against the spread use history or other facts such as betting trends to form their opinion. I, on the other hand, use instinct based on how teams are playing during certain parts of the season. I don't pretend to be an expert, as I have only been doing this for a few weeks. Still, I'm 5-3 against the spread over the last two weeks, so as long as I'm ahead I'm going to keep picking.
Green Bay at Chicago
If you follow trends you should be all over Green Bay in this game. Bears quarterback Jay Cutler has only beaten the Packers once when starting for the Bears. He also has thrown 17 interceptions in games against Green Bay Based. Based strictly on those stats, you should be all over Green Bay.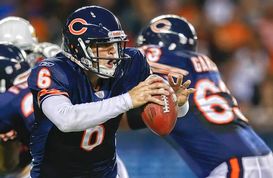 ICONLook for Cutler to buck the trends and defeat Green Bay this weekend.
I'm sorry, but I'm going with Chicago in this situation. Since losing to Buffalo in the opener, this Chicago team has won two straight on the road in difficult locations (San Francisco and New York). Now they are back home and are a two-point underdog.
Cutler is playing his best football since coming to Chicago and I can't see the Bears losing two straight games at home. And be sure to note that if Chicago wins they will be up by two games over Green Bay in the NFC North just four games into the season.
I say the trends are about to be reversed and not only do the Bears cover, they win outright.
Atlanta at Minnesota
Fortenbaugh likes the Vikings in this game. A week ago, Minnesota was a one-point favorite on the "look ahead" line, but after the Vikings lost Matt Cassel, the number shifted to Atlanta -3. Fortenbaugh also feels that the Falcons don't play well when they go outside the Georgia Dome.
I understand where Joe is coming from. And two weeks ago I may have agreed. Atlanta, on the other hand, had a breakout game last week when destroying Tampa Bay 56-14. On top of that, the Falcons have had 10 days in between games and will go into this matchup healthy.
Being a former NFL scout, I know how difficult it can be for a rookie starting his first game and that's exactly what Teddy Bridgewater will be doing here. Atlanta will throw a lot of different looks at Bridgewater and that will lead to turnovers. I'll take the Falcons and will lay the points.
Jacksonville at San Diego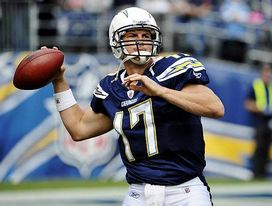 Rivers and the Bolts should cruise on Sunday.
For the same reasons I like Atlanta, I like San Diego, as rookie quarterback Blake Bortles will be making his first start for Jacksonville. The Jaguars were a poor team with no defense before Bortles took over. Nothing is going to change.
Yes, I know San Diego is giving up 13 points, which is a lot. They could be giving up 17 and I still would take the Chargers. This one is easy money.
Miami at Oakland
The Raiders are one of the three or four worst teams in the NFL. Guess what, so is Miami. After beating New England in the opener, the Dolphins have looked awful. Head coach Joe Philbin would not give quarterback Ryan Tannehill a vote of confidence during the week and that hurt Tannehill's already shaken psyche. If Tannehill starts poorly, Philbin will pull him.
While Oakland has not won a game, they play hard and rookie quarterback Derek Carr has shown improvement every game. I can see a breakout performance coming for this team on Sunday afternoon. The Raiders won't win many games this season, but they will win on Sunday. Take the points!
Follow Greg on Twitter: @greggabe