October 05, 2014 -
Greg Gabriel
Your Week 5 Sunday preview
As I have previously stated, I'm an amateur when it comes to betting NFL football games. Last week all but proved that point as I went 1-3 for the weekend. I was so bad that big guys in dark suits were knocking at my door looking for refunds on the bets they made.
I told them that I was even on the year (6-6), but they responded with, "Even means you lose because you have to pay the vig." I asked my new friends for one more chance, so if I don't at least break even this week, I'm out of business (and probably more than just that!).
Dallas Cowboys (-6.5) vs Houston Texans
Dallas has played very good football the last few games both on offense and defense, while Houston was lucky to edge Buffalo last week at home. Dallas owner Jerry Jones said last week that his Cowboys will be in the hunt for a playoff spot this year. He may be right.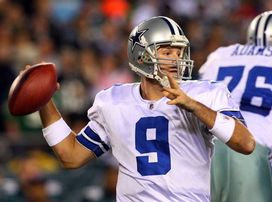 Romo and the 'Boys turned some heads during the month of September.
Tony Romo is off to his best start in years and the Dallas offense has too many weapons for Houston to stop. I can't see Ryan Fitzpatrick doing much against the surprising Dallas defense. Go with the Cowboys and give the points.
Cincinnati Bengals (-1.5) at New England Patriots
At first I was going to stay away from this game, as I felt there was no way New England could look bad two weeks in a row. But then I remembered that I have Cincinnati winning the AFC and going to the Super Bowl.
The Bengals are 3-0 and playing excellent football. They have had a week off to prepare and get healthy. New England, on the other hand, has a short week to prepare and that might not be enough time to fix all the problems they had at Kansas City.
Andy Dalton is off to the best start of his career and the Bengals have too many offensive weapons. A.J. Green, Mohamed Sanu, Jermaine Gresham, Giovani Bernard and Jeremy Hill will be too hard to stop. Lay the points and go with the Bengals.
New York Giants (-4.5) vs Atlanta Falcons
Last week I went with Atlanta to beat Minnesota and the Vikings made it look easy with their win. The Atlanta defense playing against a rookie quarterback in his first start was non-existent.
On the other hand, the Giants offense has come on strong over the last two weeks. First-round pick Odell Beckham is finally healthy and the explosive receiver may make his NFL debut in this game.
The Giants defense has also come on strong the last two weeks, while Atlanta's offense struggles away from the Georgia Dome.
You can never underestimate a Tom Coughlin-coached team and when they get on a roll they stay there for a while. The G-Men may win by 10.
Seattle Seahawks (-7.5) at Washington Redskins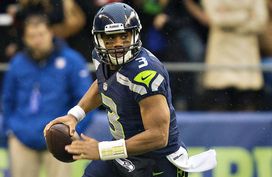 Wilson and the Seahawks may be too much for Washington to handle.
Before the Redskins were blown out by the Giants 10 days ago, everyone was jumping on the Kirk Cousins bandwagon. The Giants pressured Cousins and he threw four interceptions. Expect Seattle to do the same and the Seahawk defense is far superior to New York's.
Seattle is coming off a bye week and will have had 15 days of rest to prepare for this game. In their last two outings, the Seahawks lost at San Diego and just got by Denver at home. Pete Carroll does not settle for average play from his team and has them ready to come out hitting on all cylinders.
I can see Seattle winning this game in a blowout, so give the points.
Follow Greg on Twitter: @greggabe