October 12, 2014 -
Greg Gabriel
Your Week 6 Sunday preview
I know, I'm struggling a bit, but at least I'm not in the red. Last week we finished 2-2 once again. The game I messed up was the Cincinnati at New England showdown. Having worked with Bill Belichick for close to seven years, I should have known they were going to be ready for a nationally televised game. They blew out the Bengals and that may be a sign of things to come for the rest of the season in Foxboro.
If I know one thing, it's that the game to stay away from is the New England-Buffalo matchup. Buffalo is coming off a big upset win in Detroit and they want to look good for the Pegula's in their first game as owners of the Buffalo Bills. The problem is, New England looked like the Patriots of old last week.
Another game that is too difficult to call is the Chicago-Atlanta matchup. The Falcons find a way to play well in the Georgia Dome, yet they look horrible on the road. This game is in Atlanta but the Bears play better on the road than they do at home. Again: Stay away!
Carolina (+6.5) at Cincinnati
I thought the Panthers were outplayed by Chicago last week but got lucky and pulled out a home win. That won't be the case this week. Cincinnati is still the best team in the AFC North and they are playing at home. I look for them to bounce back and win by at least 7.
Pittsburgh (+1) at Cleveland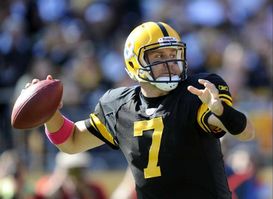 Big Ben and the Steelers should handle business on Sunday.
The Browns have played over their head all season. Brian Hoyer doesn't look pretty, but he does enough to win games.
Pittsburgh won on the road last week, but Jacksonville gave the Steelers all they could handle. Many handicappers will say go with the Browns. I'm just looking at who has the better team and who has the better quarterback. The answer to that is Pittsburgh, so take the points.
Dallas (+8.5) at Seattle
The Seahawks probably played their worst game of the season last week in Washington, yet they still won by 10. Dallas, on the other hand, has been one of the surprise teams in the NFC, going 4-1 over their first five games.
Seattle is a very difficult place to play and the crowd noise will have a big effect on Tony Romo and the Dallas offense, Even though their running game has been outstanding, I don't think the Cowboys will be able to move the ball against the tough Seattle defense. Take the Seahawks and lay the points.
San Diego (-7.5) at Oakland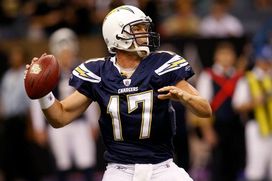 Rivers and the Chargers have been on fire over the first five weeks of the season.
Some may advise you to stay away from this game, as Oakland has a new interim head coach in Tony Sparano. You can change the coach, but you can't change the players. This is a bad football team and the Raiders are 0-4 for a reason. Sure, they have had a week off to get healthy and prepare under a new coach, but that won't be enough.
The Chargers, on the other hand, are playing very good football and Philip Rivers is having his best season in years. The Chargers have been winning despite being without their top two running backs. In their absence, rookie free agent Branden Oliver ran for 100+ yards last week. That may continue this week. Lay the points.
On the Jerry Angelo situation
Late Thursday, USA Today came out with an article in which former Bears general manager Jerry Angelo supposedly said that since he has been in the league, clubs have covered up hundreds of domestic violence situations.
I had a conversation with Jerry on Friday afternoon about the USA Today article. Angelo and I have a 30-year relationship as both coworkers and friends and I have no reason to believe that what he told me was nothing but the truth.
Angelo told me that the USA Today reporter called him about writing an article on Angelo's feelings about Rodger Goodell. Angelo said that he was upset with the way Goodell was being treated by the media and that he felt Goodell has done a lot of good while heading the NFL as its commissioner. He told the USA Today reporter about the numerous things that Goodell has done to help the NFL.
In part of the conversation, Angelo said he told the reporter that in his time in the league "hundreds of things had changed" and that phrase had nothing to do with domestic violence. While domestic violence was indeed part of the conversation, that quote had nothing to do with that area.
He told me when the article was published that he was livid at how his comments were misconstrued. He called the reporter and objected to what was written. USA Today did write a follow up article, but as usual, pretty much stuck to their side of the story.
Angelo also said to me, "Why in the world would I make a statement like that? It doesn't make sense, I don't know what happens with other clubs." As we all know, this became a he said, she said type of thing. All I know is that a man who I have known most of my adult life would not make such a statement.
I worked under Angelo for a little more than nine years as the Bears Director of College Scouting. My office was directly across the hall form Angelo's and I knew what was happening inside the Bears organization. I can honestly say that as far as I know, there was never a cover-up of any type in regards to a domestic violence situation. To the best of my knowledge, there was not a domestic violence situation with the Bears during my time there. So as a person who was there, I find it hard to believe that Angelo told a reporter that he was involved in any type of cover up. It's absurd.
Follow Greg on Twitter: @greggabe