November 02, 2014 -
Greg Gabriel
Your Week 9 Sunday preview
Week 9 of the NFL season got underway Thursday night with the New Orleans Saints beating up on the injury-riddled Carolina Panthers. With six clubs on the bye this weekend, we only have 11 games op tap for Sunday and Monday. Still, with the season having reached the halfway point, all games become important for teams still thinking about a playoff berth.
As for my weekly picks, I went 1-3 last week with my lone winner coming in the form of the Kansas City Chiefs blowing out the St. Louis Rams. Looking at this week's lineup, I'm confident that we will have a strong weekend.
Cleveland Browns (-7) vs. Tampa Bay Buccaneers
This is a game featuring two of the more surprising teams in the NFL this year. Cleveland with a 4-3 record is much better than expected and Tampa Bay at 1-6 is much, much worse.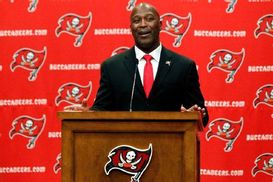 Things have not gone according to plan for Lovie Smith and the Buccaneers this season.
Cleveland is 3-1 at home and plays strong defense. The Bucs have not played well on defense all season and can have trouble scoring points. When teams from Florida travel north in the later parts of the season, the cold weather can affect their play. Sunday in Cleveland it's supposed to be in the low 40s with winds up to 20 miles per hour. While 40 degrees isn't necessarily cold, it will feel much colder for the Tampa Bay players.
While Cleveland quarterback Brian Hoyer hasn't looked like an All Pro, he does an outstanding job managing the game and doesn't turn the ball over. Lay the points with Cleveland.
Arizona Cardinals (+3) at Dallas Cowboys
Dallas is playing on a short week and coming off an extremely physical loss to the Washington Redskins. Cowboys quarterback Tony Romo injured his back in that game and is questionable to play on Sunday. The Cowboys had trouble with Jim Haslett's pressure package last week and the Cardinals' Todd Bowles will do more of the same.
Right now, Arizona is playing as well as any team in the NFL. The Cardinals have played well on the road with their only loss coming at Denver. They outplayed a talented Philadelphia team last week and I feel we will see more of the same this week.
Take the points, as Arizona will win this game outright.
Philadelphia Eagles (-2.5) at Houston Texans
Despite their close loss at Arizona last week, Philadelphia is still the best team in the NFC East. They are supposed to get some key players back this week in center Jason Kelce and backup running back Darren Sproles. Sproles is a top player on his own merit, but when he is playing, Shady McCoy becomes that much better for the Eagles. Kelce is the unquestioned leader of the Eagles offensive line and with him back in the lineup, the Philly line will be at full strength for the first time since the opener.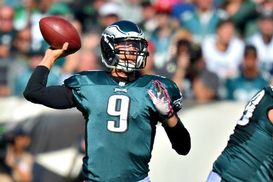 Look for Foles and the Eagles to bounce back in Houston this weekend.
Quarterback Nick Foles isn't playing to the Pro Bowl level he did a year ago, but he is still having an excellent season and I expect Philly to score a lot of points in this game.
While Houston is strong defensively, they are very average on offense. In a tight game you can't expect Ryan Fitzpatrick to be a difference maker. I don't think this game will be close with Philly winning by at least ten.
Kansas City Chiefs (-10) vs. New York Jets
Let's face it, the Jets are one of the worst teams in the NFL this season. Last week they got blown out at home by an average Buffalo team. Quarterback Geno Smith was replaced by Michael Vick after he threw three interceptions in the first quarter.
The Michael Vick we see now isn't the same Michael Vick we saw years ago when he was at the top of his game. Still, Vick will want to play well in front of his old coach Any Reid. The problem is that if anyone knows Vick's weaknesses and how to stop him, it's Reid.
Kansas City has won four out of its last five games and last week beat cross-state rival St. Louis by 27. Quarterback Alex Smith may be playing the best football of his career and Jamaal Charles is rounding back into form after an early season injury. I like the Chiefs to win easily.
Other Games
Just briefly, with the way New England has played recently, I like the Pats to defeat Denver. New England is getting three points at home, so this one should be easy. I also like San Diego getting one at Miami. I realize that the Dolphins have played well as of late, but when you look at the rosters, San Diego has stronger personnel and is better coached.
Follow Greg on Twitter: @greggabe