September 10, 2015 -
Zach Martin
2015 Division Preview Series: NFC West
This is part eight of our eight-part division preview series. We will pose two questions per team, one about offense and one about defense, and then predict each team's 2015 record and final standing within the division.

San Francisco 49ers

Cary Edmondson-USA TODAY Sports

How will the defense react to the team's tumultuous offseason?
No NFL franchise is more thankful for the 2015 season to start than San Francisco (well, perhaps the Patriots, but that's an entirely different article). Following a free agency period that cost the team such stalwart, long-time starters as Frank Gore, Anthony Davis and Mike Iupati on offense, the team was almost eviscerated on defense.
Linebackers Patrick Willis and Chris Borland retired unexpectedly (Borland citing health concerns), but Justin Smith's departure to retirement wasn't necessarily surprising. If you're counting, that's about a third of their starting defense gone within the space of a few weeks earlier this spring.
Former head coach Jim Harbaugh's calling card has long been a punishing defensive scheme and power running game, but what kind of team will his replacement, Jim Tomsula, put on the field? Can this defense not only recover from its personnel losses, but rebound to championship form?
Navarro Bowman, finally recovered from his devastating knee injury, will certainly have something to say about the production of the Niners' defensive unit, especially if his performance in the team's third preseason game against Denver is any example. While this group played admirably last year, that's an awful lot of bodies to replace in a single offseason.
Can Colin Kaepernick recapture his magic?
The Niners signal-caller was sacked a whopping 52 times in 2014, second only to the Jaguars' Blake Bortles. Kaepernick also managed just a single rushing touchdown, and teams no longer respected or feared his ability to run the read-option offense. He managed to complete just over 60 percent of his throws, completely ignored his Pro Bowl-caliber tight end (Vernon Davis, who I hear was actually employed by the team the entire season, which surprised me to no end: Davis had just 26 catches in 14 games) and posted an overall QBR of 55.8, just hovering around average.

Of course, his 10 interceptions and eight fumbles didn't help matters, as he was also graded by Pro Football Focus at a -10.1, good for just 20th place among QBs who took at least 60 percent of their team's snaps in 2014. That 20th place put Kaepernick behind Andy Dalton, Alex Smith, Teddy Bridgewater and pretty much everybody except Jay Cutler and Geno Smith. To compare, Aaron Rodgers was tops, graded at a 40.4.
So what's the problem? Kaepernick wasn't hurt, that we know of. Harbaugh had used him with success in previous seasons, could it really be as simple as a porous offensive line? If Kaep can find his 2012 mojo, this could be a 10-or-12 win team.
Sadly, I don't think that's the case.
Prediction: 6-10, fourth place
St. Louis Rams

Christopher Hanewinckel-USA TODAY Sports

What can we expect from the offense?
The Rams, well, they haven't been good. They have the NFL's worst winning percentage over the last decade. They haven't had a winning season since 2005, and haven't made the postseason since the year before that. They've gone through head coaches and coordinators on both sides of the football seemingly every year, but the results remain the same. Head coach Jeff Fisher, in his third year in St. Louis, seems to be facing a "win or you're fired" season in 2015, competing not only against the rest of the NFL, but also with fan apathy created by owner Stan Kroenke's quest to move the team to Los Angeles.
The Rams made some splashy moves in the offseason in an attempt to bring the offensive unit up to the level of the defense, drafting running back Todd Gurley 10th overall and trading the tragically oft-injured Sam Bradford to Philadelphia in exchange for Nick Foles, upon whose right arm the season may well rest.
Fisher's offense is a power run scheme, which shouldn't require much highlight-reel playmaking from Foles, but the problem is the offensive line and Fisher's inability to stick with a running back. Tre Mason, who came on midway through last season after Zac Stacy stalled, is injured and doubtful for the opener against Seattle. Gurley remains out, according to Fisher, but this is also the same coach who said Bradford was "his guy," and Austin Davis was "his guy" last season, immediately before benching Davis. I don't entirely trust him, is what I'm saying. The line could start as many as two rookies, and position switching up and down the line has forced players out of their comfort zone and hasn't provided much to hope for in the team's preseason action.
The wide receivers are talented, but not consistent; Brian Quick remains the most talented of the group, with Kenny Britt a semi-reliable counterpart. The Rams still haven't been able to figure out how to use speedster Tavon Austin after two years, and Stedman Bailey can't find enough touches to showcase his abilities in the slot. Jared Cook hasn't earned his money at the tight end position, but I expect the team's new offensive coordinator Frank Cignetti may have some tricks up his sleeve to showcase the talent hiding on this roster. Can Gurley make an impact when he eventually takes the field? Can this team realistically get away with winning games 10-7 or 13-10?
Is the defense really as good as advertised?
The defensive line certainly can be, last year's Twilight Zone start notwithstanding. Aaron Donald, Robert Quinn, Chris Long, Michael Brockers and newcomer Nick Fairley have both the pass-rushing and run-stuffing ability to make offensive lines lie awake sweaty in the nights, and their depth is impressive. The issue is the secondary and linebackers. Defensive leader James Laurinitis is a warrior, to be sure, but the secondary can't seem to cover anyone, as evidenced by a total breakdown in the team's preseason game against the Colts.
Coordinator Gregg Williams' second year at the helm of this defense could help with coverage breakdowns, but the loss of starting cornerback E.J. Gaines for the season is a blow the team couldn't afford; thankfully, the best passing offense in the division is the Cardinals, but games against the Steelers and Packers will be the measuring stick for how this defense can perform.
Prediction: 10-6, third place, Wild Card berth (sixth seed)
Arizona Cardinals
Matt Kartozian-USA TODAY Sports

How explosive can the offense be with a full season of Carson Palmer?
After their scintillating 9-0 start to 2014, the wheels came off this organization after losing their starting quarterback; the team finished 11-5 and lost their playoff opener on the road to the sub-.500 Carolina Panthers. The offense managed just 12.4 points per contest in the games following Palmer's injury, with two of those losses coming against the eventual division champion Seahawks (a combined score of 54-9, by the way). However, Palmer running this offense at peak efficiency can be scary for opposing defenses.
Larry Fitzgerald seems to be in the twilight of his career, but I still believe in him. Michael Floyd won the award for most grotesque preseason injury, but can be a competent contributor when healthy.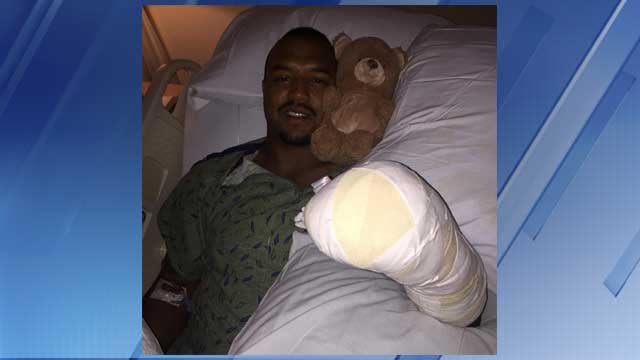 Instagram
You don't want to know what it looked like before surgery, trust me.
All that said, the guy I'm man-crushing on is John Brown. He is fast, has great ball skills and provides the Cardinals with a talented deep threat and screen guy who can produce matchup nightmares. With Palmer healthy last season, the offense scored 25 per game, and there's no reason to believe that won't be the case this year. Better usage of the running backs (Beanie Wells' 2011 season is the only 1,000-yard rushing season since 2008), and some semblance of a ground game could help this offense push to even higher production, scoring 30 or more per week, and that's reason for Arizona fans to rejoice.
Remember though, that's all predicated on the health of a 35-year-old quarterback with reconstructed knees. Ask Rams fans how fun that experience is.
Can they figure out how to beat the Seahawks?
As I mentioned earlier, the Cardinals lost both of their games to Seattle by a combined 54-9 score; obviously, the combination of terrible backup quarterbacks and the Seahawks defense was a recipe for disaster, but the Cardinals' issues with their northern foes go even deeper. Let's take a look at the results since 2012, when the current "dynasty" in Seattle began:
Week 1 2012: W, 20-16 @ AZ

Week 14 2012: L, 58-0 @ SEA

Week 7 2013: L, 34-22 @ AZ

Week 10 2013: W, 17-10 @ SEA

Week 12 2014: L, 19-3 @ SEA

Week 16 2014: L, 35-6 @ AZ
Break that down any way you want, it's not impressive. Each loss was by at least 12 points, and there was only one win at home, which all helps to explain why the Cardinals can't seem to clinch this division. In 2015, the Cardinals head to CenturyLink Field in Week 10 (following their Week 9 bye), and host the Seahawks in Phoenix to close out the season, which could be a game that determines the division champ.
Depending on how factors out of their control work out, like Kam Chancellor's holdout, Marshawn Lynch's health and the integration of Jimmy Graham, this could be the Cardinals' year to finally become kings of the West.
However, with a murderer's row of games leading up to that Week 17 tilt (home against Minnesota, at Philadelphia, home against Green Bay), it could also very well be meaningless.
Prediction: 10-6, second place, Wild Card berth (fifth seed)
Seattle Seahawks
Orlando Ramirez-USA TODAY Sports

Is Jimmy Graham the answer?
The Seahawks gave up their starting center, Max Unger, to acquire Graham from the New Orleans Saints; this move was quickly classified by many as a direct result of the final play of Super Bowl 49.
The Seahawks have not been good in the red zone during the Russell Wilson era, so the addition of Graham makes sense. He's accrued more than 20 pass targets inside the red zone in three of the past four seasons, and I don't expect that number to drop precipitously in Pete Carroll's "run, then run, then run again, then have Wilson run a little, then maybe pass" offense. I don't see Carroll making a huge change to his scheme, instead incorporating Graham's freakish talents into what's already made the team two-time defending conference champions.
Looking at Graham's career splits against NFC West teams provides a look at how he'll fare, perhaps:
Cardinals: 2 GP, 9 receptions, 134 yards, 2 TD
Rams: 3 GP, 7 receptions, 85 yards, 0 TD
49ers: 4 GP, 20 receptions, 150 yards, 2 TD
Granted, these numbers stretch back five seasons, and that much time's worth of defensive turnover and such for each team, but the data is there: Graham has not been otherwordly against NFC West defenses. Division games are still the most important ones a team will play during a season, and for Graham to justify his presence he needs to come up big in those contests.
While Graham may not record 140-plus targets, he provides Seattle with a great safety valve and could push them back to the Super Bowl, if only...
Just how bad is the offensive line?
In limited preseason action, Wilson was sacked three times on 40 dropbacks. The foundation of this offense has always been a power running game, but questions among the starters remain:
Drew Nowak, the team's ostensible starter at center to replace Max Unger, has this featured as his career highlights on his official Seahawks profile:
Signed with Jacksonville as an undrafted rookie free agent after the 2012 NFL Draft, switching from defense to offensive guard. Spent 2012 on injured reserve (foot) and signed to the Jaguars active roster in December 2013 and appeared in two games on special teams. Released by Jacksonville on August 29, 2014 after training camp. (Source)

Nowak played defensive line for his entire college career at Western Michigan. He spent all of last year on the practice squad. In his 103 preseason snaps, he graded out at a -1.2 overall, and a -1.9 on run blocking.
Starting right tackle Garry Gilliam is perhaps best known for this play:
In his 151 preseason snaps this season, Gilliam was graded at -1.6 overall, and a whopping -4.7 as a run blocker.
"But Zach," you might ask. "What about Russell Okung, J.R. Sweezy and Justin Britt? They're quality returning starters!"
2015 Preseason:
Okung: 41 snaps, -3.3 overall, -1.8 run blocking
Sweezy: 75 snaps, -2.8 overall, -2.6 run blocking
Britt: 85 snaps, -5.4 overall, -3.0 run blocking
In fact, the only offensive lineman currently on Seattle's roster to post a positive PFF grade was center Patrick Lewis (3.3 overall, 5.2 run blocking), currently listed as Nowak's backup.
(Caveat: Lynch only had two carries during the preseason, as most of the carries went to Christine Michael, who's no longer on the team.)
If the Seahawks have a weakness, it's the offensive line. Wilson may be talented, and recently filthy rich, but the Seahawks may not be the power-running steamroller we're used to seeing, and it may cost the team against quality defensive lines.
Prediction: 11-5, first place, first-round bye