September 20, 2015 -
Dr. David Chao
Dez Bryant foot fracture and bone graft: Top 10 things to know
Dez Bryant foot fracture and bone graft: Top 10 things to know
The most discussed injury of Week 1 was centered on if Dez Bryant would indeed return in the 4-6 week timeline as expressed by Cowboys owner Jerry Jones and head coach Jason Garrett. As Sunday Week 2 starts, big
news broke that his surgery involved a bone graft
. What does this all mean? Here are the top ten things to know about Bryant and his potential return.
1) Fracture is a Jones fracture
The injury was initially announced as a 5
th
metatarsal fracture but there are
several different spots
the bone on the outside of the foot can break. An avulsion fracture of the base would heal most quickly and not need surgery. A distal shaft fracture could need surgery and fit in a 4-6 week return. A Jones fracture is the most common 5
th
metatarsal break for a wide receiver. In the end, multiple sources have confirmed the more difficult Jones fracture.
2) What is a Jones fracture and why it is significant?
The fracture is not named after Jerry, the team owner, or Julio, the Falcons star receiver, who missed 2013 with the injury. It is named after Sir Robert Jones, a British surgeon, who first described the fracture in 1905. It is known as a problem fracture due to its poor blood supply. The break occurs at the junction of the metaphysis (base) and diaphysis (shaft) and is considered a watershed area that heals poorly and is prone to chronic (stress) injury.
3) Typical treatment and recovery for Jones fracture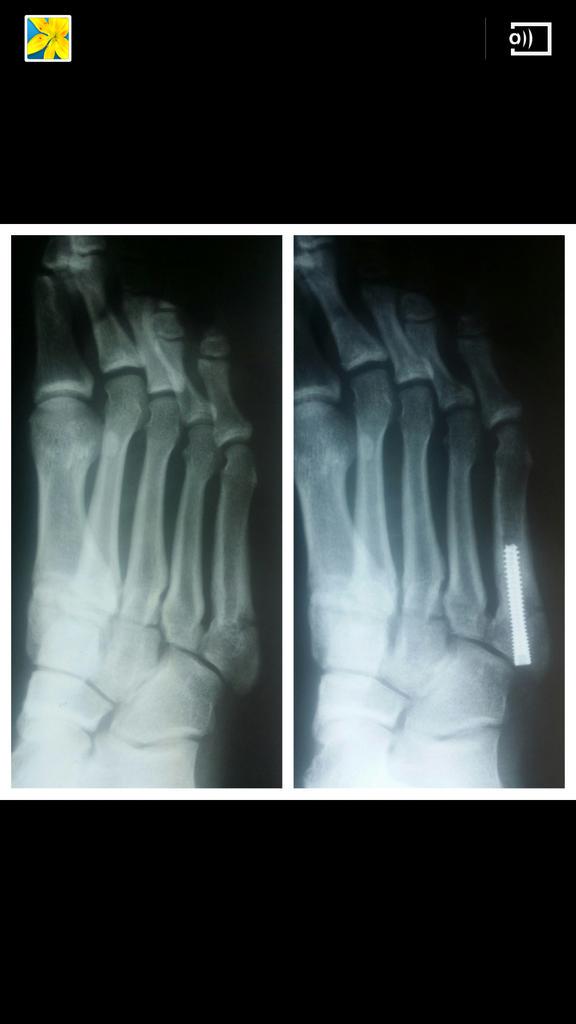 Before and after surgery for a Jones fracture. Unnamed patient of mine, not Dez Bryant. A screw is typically used to fix the fracture and is inserted down the shaft of the 5
th
metatarsal and is more effective than casting. Acute fractures tend to heal better than chronic ones as this once again has to do with blood supply. Expected healing of a typical acute Jones fracture in the NFL is 6-8 weeks for return to play.
4) Is 4-6 weeks reasonable?
The initial timeline was always
somewhat optimistic
before news of bone grafting, but I did have one player beat that return. In 2001, I inserted a special screw in DE Marcellus Wiley's foot (permission granted) and he returned in 3 weeks, played 14 games and made the Pro Bowl; however, that is not typical. 4-6 weeks was always going to be hard for a WR but now there is no way that will happen.
5) Bone graft usage creates significant worry
Bone graft is not typically used when repairing primary Jones fractures. The use of bone graft indicates the surgeon feels Bryant's fracture might not heal with traditional methods. The usual procedure does not involve opening the fracture area and disrupting blood flow to the site. Bone graft would indicate the doctors felt the benefit of graft outweighed the negative. To me this signals that Bryant has a chronic component to his injury and healing may not be automatic. A straightforward acute fracture would not require bone graft. Medically, there is no fracture needing bone graft that heals in 6-8 weeks. Likely a bone stimulator is also being used as the doctors seem to pulling out all stops on this injury.
6) Not all bone graft the same
The hope is that Bryant had non-structural bone graft of cancellous (spongy bone) from the calcaneous (heel bone). If it were a cortical or structural graft from the hip (iliac crest), Bryant's season would be over. The hope is that marrow elements were aspirated from the heel and inserted by a needle technique and no incision into the fracture was needed.
7) This is an IR/dfr injury
Without news of the bone graft, this injury was already one that would seem a perfect fit for short-term injured reserve. With the news of the bone graft, it definitely would be a smart move medically. In my opinion (I haven't seen the x-rays), the need for a bone graft makes this a longer recovery. My initial 6-8 weeks estimate is now even optimistic. Ian Rapoport of NFL Network is reporting 10-12 weeks and I would not disagree with the estimate. To me it is a minimum eight week injury with the bone graft, possibly longer. The Cowboys have kept Bryant on the active roster to date.
8) Will Bryant return to be 100%
Assuming the fracture heals, Bryant will definitely return to be a dominant player. Careers have been derailed by Jones fractures, but none to my knowledge, have been ended by one. Of course when Bryant first returns, there may be an acclimation period before he is fully effective.
9) What are the potential complications?
There is no guarantee that Bryant will return this season. NBA player Kevin Durant had a much-publicized second surgery last year. Julio Jones had his healed 5
th
metatarsal fracture re-break in 2013 to end his season. These complications have to do with the poor blood supply of the area and overall. Fortunately, re-fracture and non-union occur less than 10% of the time. Bone graft indicates there was worry of problems, but it performed in the hope to increasing chance and speed of healing.
10) Cowboys are not stupid
If a team makes a decision that doesn't make sense, that just means we don't have all the facts. Dallas has a top medical staff and there is nothing in this column that is news to them. I am confident Bryant is getting top care. I previously tweeted several reasons why Bryant has not been placed on IR/dfr: a) the team is just being overly optimistic (doubt it), b) the team knows something we don't about quick healing as they have seen the X-rays (less likely now that news of bone graft is out), c) Bryant is so important to the Cowboys that they want to keep him active in case he would be ready before 8 weeks (he might be that important, but team has to know it's unlikely he will be back before eight weeks), d) maybe it is that important to keep Bryant mentally involved or e) the Cowboys don't need the extra roster spot now and want to keep the IR/dfr spot in case something else happens. With news of the bone graft with the screw placement, there is a new possibility. Maybe the Cowboys are waiting to see if Bryant is going to need season-ending IR and before using their only short-term IR slot. I hope not. The team stands by its hope of Bryant returning early. Reports surfaced that the Cowboys routinely use bone graft on their Jones fractures. Teammate DeMarcus Lawrence last season missed 11 weeks before returning to play from his similar injury.